EPFL Foundations Day 2022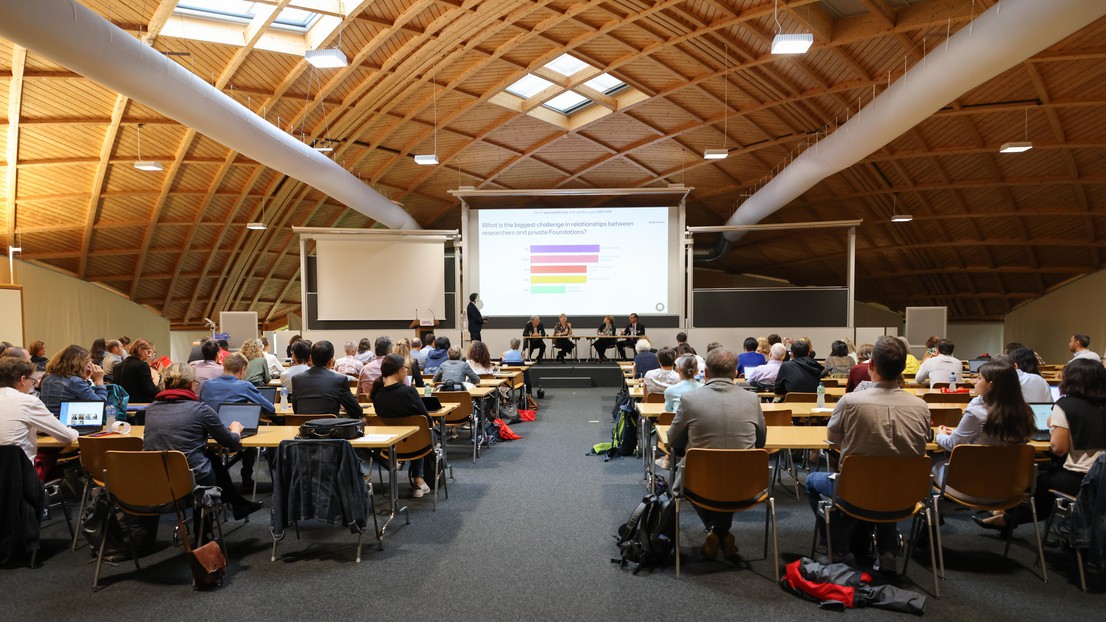 On September 15, 2022 the Research Office welcomed Swiss and international Foundations at the EPFL Polydome for a full-day of talks and networking opportunities with researchers from across Switzerland.

The 2022 EPFL Foundations Day kicked off with a panel of donors discussing philanthropic support to research.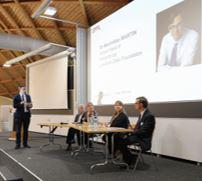 Aline Freiburghaus, Co-Director of SwissFoundations,warned researchers that "if you have seen one foundation, you have seen one foundation". To write a successful proposal, "you must understand the DNA of a foundation"."Relations are essential", said Dr. Margrit Leuthold, President of the Synapsis Foundation. So much so that foundations may even be interested in supporting the "plumbing" of research projects, added Dr. Maximilian Martin, Global Head of Philanthropy at Lombard Odier. Dr. Theodore Hodapp, Program Director for Science at Gordon & Betty Moore Foundation, brought a US perspective to the panelpraising the agility of US foundations relative to federal funding.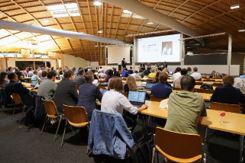 The foundation sector is "heavy and discrete", said Aline Freiburghaus, Co-Director of SwissFoundations, but also "diverse, resourceful and adaptable", added Marta Lazarowicz, from the European association of foundations (Philea).
The plenary sessions were animated by a rich portfolio of Swiss, European and International grant-making foundations. We learnt the ins-and-outs of their funding mechanisms and got some insights on future calls.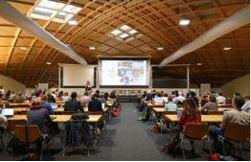 Foundations dived into the nitty-gritty of their funding instruments. For instance, Prof. Lothar Thiele, President of the Hasler Stiftung, presented the "Open Support" scheme. Dr. Hans Widmer, Program Director of the Novartis Forschungsstiftung, took us through "FreeNovation" and Dr. Peggy Janich, Head of the Research Funding Department at Swiss Cancer Research Foundation,introduced the"International Fellowships". Karim Skandrani informed us that Réseau Romande Science et Cité supports projects that share its values and that operate for a "scientifically informed citizenry". Dr. Richie Kohman, Chief Scientific Officer of the Wyss Center for Bio and Neuroengineering explained the Wyss mission: conquering the "Valley of Death".

Carlo Mango, Head of Research and Technology Transfer at Fondazione Cariplo stressed theimportance of building multiannual and multilevel collaborations with the supported projects. Bénédicte Bernaux, Head of Scientific Philanthropy, joined us from Paris to explain how the AXA Research Fund accompanies researchers at different stages in their career via dedicated funding instruments. Finally, Dr. Carly Strasser, Program Manager for Open Science, presented the Chan Zuckerberg Initiative funding instruments.

Foundations also shared with us extremely valuable recommendations and insights. Dr. Theodore Hodapp, Program Director for Science at Gordon & Betty Moore Foundation, advised researchers to learn about the history of the foundations they are applying for. Dr. Marco Vencato, Deputy Director of Gebert Rüf Stiftung recommended participants to look up previous grantees on the foundation's website and get in touch with them before applying. "Volkswagen Stiftung supports researchers who are willing to take risks", clarified Dr. Henrike Hartmann, Head of Funding. And "research that can be transformative", echoed Dr. Theodore Hodapp of the Gordon & Betty Moore Foundation.
Throughout the day, EPFL grantees shared their experiences on how to best approach foundations. "You don't need to convince only a few reviewers, but ALL of them", said Prof. Yimon Aye, recipient of a FreeNovation grant and a Swiss Cancer League grant. Prof. Elisa Oricchio shared how Fondation Pierre Mercier pour la Science, Fondation Leenaards and Swiss Cancer League supported her at different stages in her career. "To fund your research from basic to applied you need to diversify your funding portfolio", explained Prof. Hilal Lashuel, holder of several Michael J Fox Foundation grants.

Nathalie Morandini-Siegrist, Head of Stakeholder Relations at EssentialTech, talked about the importance of learning from partners in the Global South and developing social business models with the support of foundations. Danièle Rod, Director of the Swiss Polar Institute, presented Fondation BNP Paribas, as well as the programmes and expeditions they funded. We also had the chance to hear from Hasler Stiftung grantee Dr. Maria-Alexandra Paun, from Branco Weiss and ELISIR fellow Dr. Can Aztekin and AXA Chair Prof. Brian Ford.

An ongoing poster display showcased the excellent research conducted at EPFL with the support of foundations.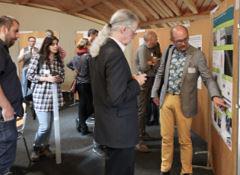 Networking breaks and the apéro allowed participants to meet up with foundations and discuss.
Want to see more?
Have a look at the presentations, posters and photo gallery of the event at go.epfl.ch/FD22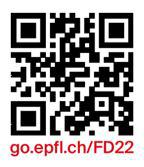 ---