EPFL ELLIS Unit Launch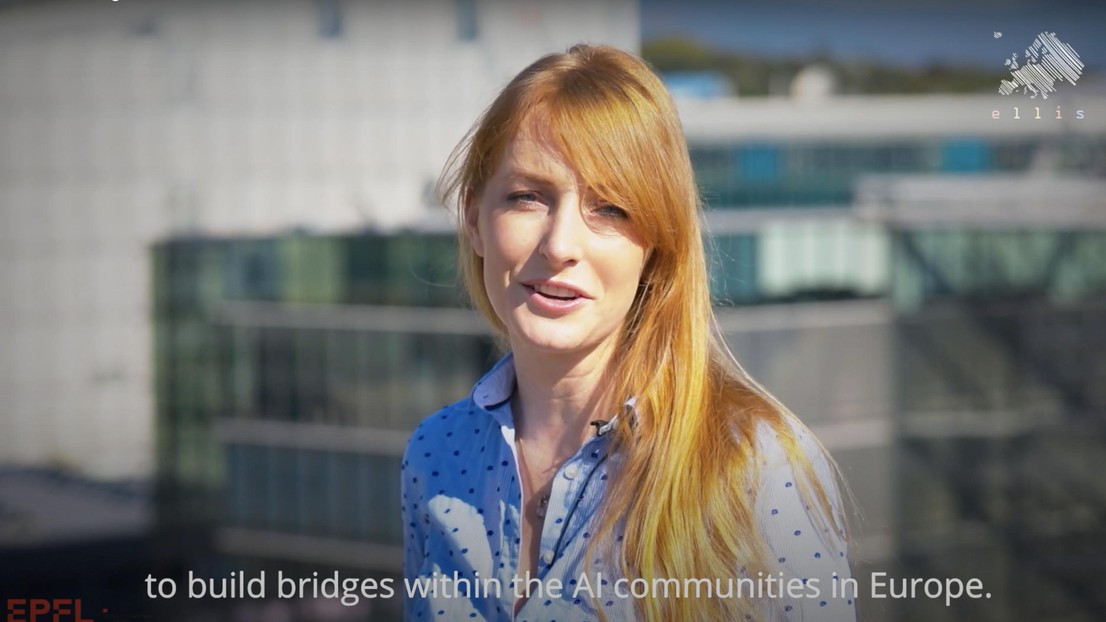 On September 15, 2020. The European Laboratory for Learning and Intelligent Systems (ELLIS) inaugurated 30 research units during a live virtual ceremony. 

Established in December 2018 at the Conference on Neural Information Processing Systems (NeurIPS), the European Laboratory for Learning and Intelligent Systems (ELLIS) is a pan-European scientific organization that focuses on research and the advancement of modern AI.
In these challenging times, how can Europe stay competitive? By attracting and enabling the best minds, by creating impactful ecosystems around leading AI research, and finally by bringing Europe's leading AI hotspot together. ELLIS has developed a plan encompassing the ELLIS Research Programs, the ELLIS Ph.D. & Postdoc Programs, and the ELLIS Sites to meet its ambition. 
ELLIS is an ambitious project that aims at bringing together the brightest minds in Learning and Intelligent Systems and developing innovative research, that will impact critical domains like autonomous systems, healthcare, medicine, or sustainability. EPFL is proud to be an integral part of this visionary effort.
As part of their strategy, on September 15, 2020, ELLIS inaugurated its 30 research units during a live virtual ceremony. Spanning 14 European countries, the ELLIS network comprises numerous world-class universities. Among the other prestigious institutions, the EPFL is honored to host one of the first such ELLIS units in synergy with the Center for Intelligent Systems (CIS). 
Jan Kerschgens, EPFL ELLIS Unit Executive Director and Executive Director of CIS explains: "We believe the Swiss Federal Institute of Technology Lausanne (EPFL) represents the ideal environment to host an ELLIS Unit. The EPFL has a strong research reputation and track record in AI and machine learning. Further, ELLIS aims to have an economic impact and create jobs in Europe. The EPFL has built a whole ecosystem around entrepreneurship by housing start-ups in its Innovation Park. » 
The ELLIS units were selected based on scientific excellence by a committee of leading scientists from several different countries. The full list of institutions can be found below.
ELLIS Units
Alicante (Nuria Oliver, Foundation ELLIS Unit Alicante)
Amsterdam (Max Welling, University of Amsterdam)
Berlin (Klaus-Robert Müller, TU Berlin)
Cambridge (Carl Rasmussen, Jose Miguel Hernandez Lobato, University of Cambridge)
Copenhagen (Ole Winther, University of Copenhagen)
Darmstadt (Stefan Roth, Technical University of Darmstadt)
Delft (Robert Babuska, Delft University of Technology)
Edinburgh (Chris Williams, University of Edinburgh)
Freiburg (Wolfram Burgard, University of Freiburg)
Genoa (Nicolo Cesa-Bianchi, Lorenzo Rosasco, Massimiliano Pontil, Italian Institute of Technology and University of Genoa)
Heidelberg (Oliver Stegle, German Cancer Research Center, EMBL, University of Heidelberg)
Helsinki (Samuel Kaski, Aalto University)
Lausanne (Pascal Frossard, EPFL)
Leuven (Matthew Blaschko, KU Leuven)
Linz (Sepp Hochreiter, JKU Linz)
Lisbon (Mario Figueiredo, Instituto Superior Tecnico)
London (Arthur Gretton, University College London) 
Munich (Daniel Cremers, Fabian Theis, Massimo Fornasier, Technical University of Munich, Helmholtz Zentrum München)
Oxford (Yee Whye Teh, Stephen Roberts, Michael Wooldridge, University of Oxford) 
Paris (Gabriel Peyre, PaRis AI Research Institute, DataIA Institute, Sorbonne Center for Artificial Intelligence)
Prague (Josef Sivic, Czech Technical University) 
Radboud (Marcel van Gerven, Radboud University Nijmegen)
Saarbrücken (Bernt Schiele, Max Planck Institute for Informatics, Saarland University)
Technion (Shie Mannor, Technion – Israel Institute of Technology)
Tel Aviv (Amir Globerson, Tel Aviv University)
Turin (Barbara Caputo, Politecnico di Torino)
Tübingen (Matthias Bethge, Bernhard Schölkopf, University of Tübingen, Max Planck Institute for Intelligent Systems)
Unimore (Rita Cucchiara, University of Modena)
Vienna (Christoph Lampert, IST Austria) 
Zürich (Andreas Krause, ETH) 
EPFL ELLIS Unit Contact: 
Pascal Frossard, EPFL Ellis unit Director
Jan Kerschgens, EPFL Ellis unit Executive Director 
Maulde Cuérel, EPFL Ellis unit Communications Officer 
Press inquiries ELLIS Society:
Valerie Callaghan, Public Relations Officer, Max Planck Institute for Intelligent Systems
Source : ELLIS EU
---