EPFL celebrates its new graduates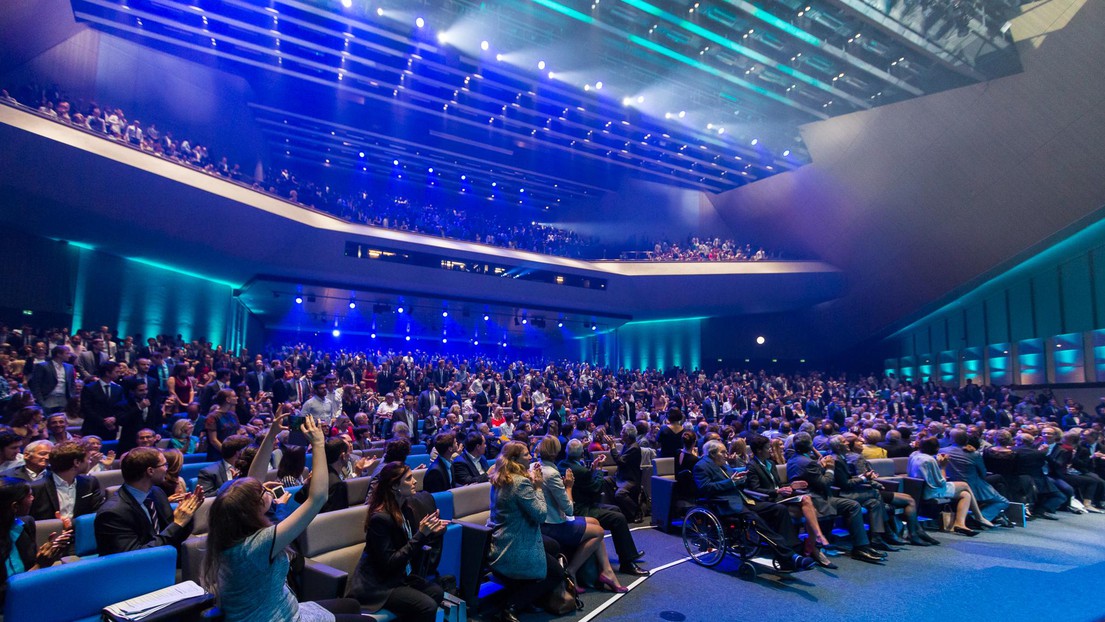 On Saturday, 976 new alumni were honored at EPFL's Graduation Day held at the SwissTech Convention Center. It was an emotion-filled day for the students, who received their Master's degree, and for EPFL President Patrick Aebischer, who was officiating for the last time.

Nearly 3,000 people were in attendance Saturday morning at the SwissTech Convention Center for the Magistrale, EPFL's annual Master's degree awards ceremony that takes place soon after the fall term begins. 976 students received the coveted degree in front of family members, professors, political figures and other guests.

This was the final graduation ceremony for Patrick Aebischer, who will step down shortly after 16 years as president of EPFL. In his remarks, he proudly reminded the students that they were graduating from a school "that has what it takes to help society improve." Following his speech, the former presidents of Agepoly came to thank Mr. Aebischer on behalf of all EPFL students in an emotional moment that brought a standing ovation from the entire audience.

5.95 average
Awards went to the top three students in the 2016 graduating class: Raphäel Pierre Zacharias (with an average of 5.95), followed closely by Rachele Ossola and Fiona Seibold. The youngest member of the 2016 graduating class was Hadrien Espic, who completed his Master's when he was only 21 years old. Suzanne Ratte received the merit prize for the unorthodox route she took: a nurse by training, her interest in chemistry brought her to EPFL where she completed her Master's degree. Professional snowboarder Mathieu Schaer received the sports prize for successfully balancing his time between high-level competition and the classroom.

Every year, students select the school's best professors, who receive the Polysphere Awards. This year's winners were Richard Nguyen (Golden Polysphere), Donna Testerman, Flovia Noca, Yann Barrandon and Amin Shokrollahi.

Honoris causa doctorates
At this year's Magistrale, EPFL awarded honoris causa doctorates to two researchers: Daphne Koller, the cofounder of Coursera, and biologist Emmanuelle Charpentier, who reminded the students of the importance of fundamental research.
This year's Alumni Awards went to Irina du Bois, Roland Loos and Silvio Napoli.

Preview of EPFL's upcoming open house
Attendees also got a sneak preview of EPFL's upcoming open days, scheduled for 5-6 November 2016. They were shown the video clip – featuring Claude Nicollier – that will soon be shown in local cinemas.

Photos taken by the students in the photo booth provided will be available starting Monday on the media library website.


















---