EPFL bioengineering team wins global iGEM competition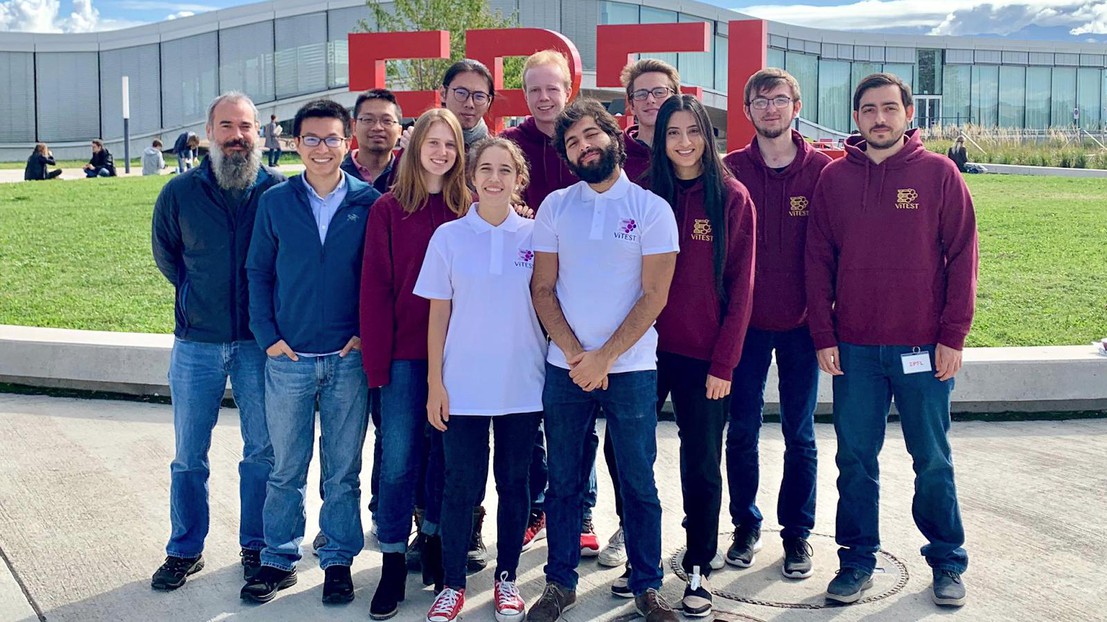 EPFL's student bioengineering team has won the Grand Prize of the 2019 International Genetically Engineered Machine (iGEM) competition, as well as the Best Environment Project. Their winning project, ViTEST, is a diagnostic test for grapevine disease.

The International Genetically Engineered Machine (iGEM) is a worldwide synthetic biology competition in which hundreds of high school and university teams compete with original projects that they developed at their home institutions. Each year-long competition culminates in the "Giant Jamboree" in Boston, where the teams present their work to ~120 judges.
This year, EPFL's iGEM team has won the competition's "overgraduate" division (one or more team members are older than 23), taking home the Jamboree's Grand Prize.
The iGEM team also won two other awards: Best Environment Project and Best Integrated Human Practices, and were nominated for Best Part Collection, Best Presentation, and Best Wiki.
Led by Professor Sebastian Maerkl and two graduate students Shiyu Cheng, and Chun-Jie Cai the team consists of nine students:
Luc Gabel: Bachelor in Life Sciences engineering
Leonard Karsunky: Bachelor in Life Sciences engineering
Stefania Konstantinidi: Master in Medical Orientated Robotics
Laura Kvedarauskaite: Bachelor in Life Sciences engineering
Dana Mozaffari: Master in Chemical Engineering
Theo Nass: Bachelor in Life Sciences engineering
Junyan Qian: Bachelor in Microengineering
Konstantinos Ragios: Master in Life Science engineering
Hana Samet: Master in Microengineering
See the complete 2019 iGEM results
Introducing ViTEST
The winning project is named ViTEST. It is a diagnostic test for two grapevine diseases that currently plague European winegrowers: flavescence dorée and bois noir (black wood). Both diseases are caused by different Phytoplasma parasites, a devastating type of bacterium causing irreparable damage to plants worldwide. There are currently no low-cost and fast field-based diagnostic tests available.
ViTEST offers a proof-of-concept solution: a rapid and easy-to-use test that can be performed in under two hours in the field and without needing laboratory equipment or special training. With ViTest, farmers can detect deadly plant diseases more easily and prevent loss of crops while cutting down on pesticides, and ensuring a sustainable future. ViTEST is in the early development phase, but initial test results are promising and indicate that a fully functional diagnostic test could be developed in the future.
The science behind ViTEST involves cell-free synthetic biology and "toehold switches", which are becoming promising tools for molecular diagnostics. Toehold switches are bits of mRNA that can turn on or off a specific gene, which means that they can be used to control the expression of a given protein, making them powerful biological detectors.
The EPFL iGEM team extracted and amplified DNA from the Phytoplasma bacteria causing Flavescence Dorée and Bois Noir, as well as grapevine genomes. The amplified DNA can then be transcribed into RNA which triggers the toehold leading to the expression of a reporter enzyme to produce a readable signal.
---
---