EPFL awards 1179 Master's degrees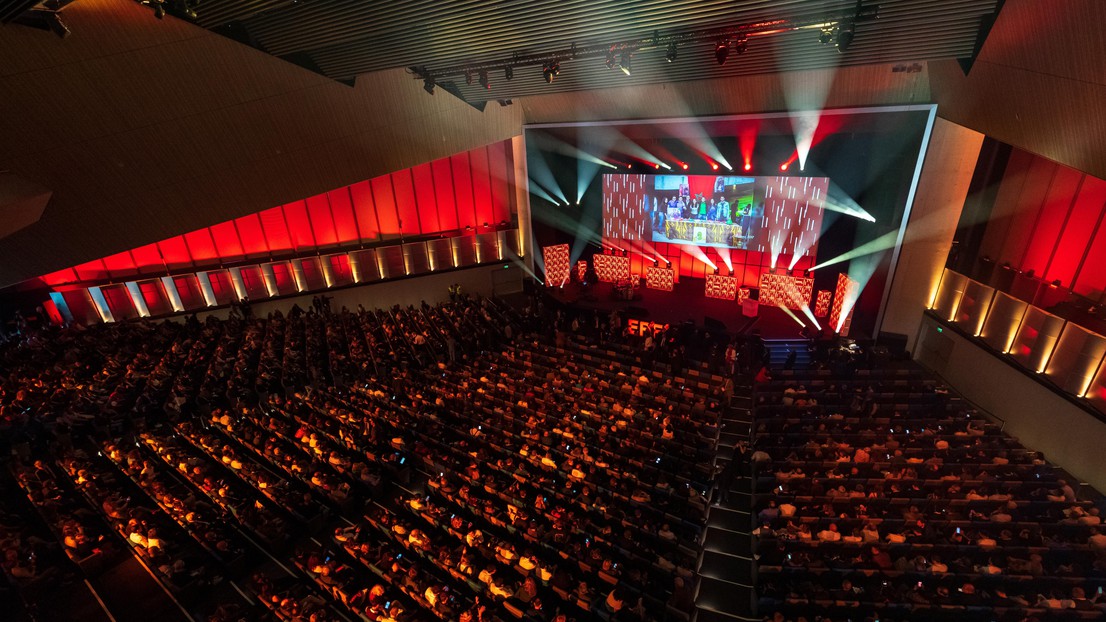 At this year's graduation ceremony, EPFL handed out Master's degrees along with distinctions for various individuals – from the top first-year student to two Doctor Honoris Causa laureates – in front of a live audience once again.

Was it the Caribbean warmth of Cuban-Swiss singer Yilian Cañizares? EPFL President Martin Vetterli's rousing speech? The enthusiastic congratulations from Swiss President Guy Parmelin? The heartfelt bursts of applause? In the end, it was surely a combination of all of these things that made EPFL's graduation ceremony a unique and unforgettable event. It took place at the SwissTech Convention Center on Saturday, 2 October, in front of a live audience. A total of 1179 Master's degrees were handed out, along with awards for the School's top students and best teachers (see below) and two Doctor Honoris Causa degrees.
In his remarks, President Vetterli made sure that, in addition to their technical education, the new graduates would be leaving EPFL with a number of social and societal takeaways, too. "Your experience here, while uniquely diverse, has a solid Swiss foundation," he said. Bits of advice included: "Don't forget how complex human nature is," and "Keep cultivating the network of contacts that helped you here in your studies, no matter where your careers take you." And he called on the recent graduates to "Remain humble, because scientific discovery is a venture that's always moving forward, never entirely finished. And remain steadfast, because the knowledge you acquire is part of the very foundation of our civilization."
President Parmelin continued in the same vein, praising the resilience of students who have successfully graduated in the midst of a pandemic and their "ability to adapt in order to move forward." He added: "Your success is also the success of a proven training system, a Swiss academic program with high standards."
The graduation ceremony also gave EPFL an opportunity to honor two individuals whose numerous career accomplishments have combined scientific progress with human values. Lorraine Daston, an American historian of science, was awarded a Doctor Honoris Causa "in recognition of her driving role in broadening our understanding of the history of science and technology, and of the exceptional work she has done leading collective efforts at the Max Planck Institute for the History of Science in Berlin, initially as department head and subsequently as director." Soumya Swaminathan, an Indian pediatrician and chief scientist at the World Health Organization, received a Doctor Honoris Causa for her research and leadership, which have resulted in the worldwide dissemination of scientific knowledge about tuberculosis, HIV and, more recently, the COVID-19 pandemic.
Martin Vetterli also congratulated Anna Kiesenhofer, who won the gold medal in road cycling at the Olympic Games in Tokyo and is a post-doc student in mathematics at EPFL.
Two Alumni Awards were handed out at the ceremony, to individuals nominated by the EPFL Alumni Club. One award was given to Claudia Clopath, who graduated with a PhD in computer science in 2009; she has led a remarkable international career at the crossroads of neuroscience and artificial intelligence. The other went to Pierre-Alain Ruffieux, who graduated with a PhD in chemical engineering in 1998 and is now CEO of Lonza; he has built a solid career in the pharmaceutical industry, directly helping to improve the well-being of individuals and society and to promote Swiss industrial know-how internationally.
Awards for students
Youth award:
François Schiavini, physics, born in December 1999
Merit award:
Nicolas Bollier, a Swiss certified electrician who holds a Master's degree in electrical engineering
Sports award:
Nathan Wanner who, alongside his Master's studies in architecture, competed in high-level track and field events
Highest Master's GPA (tied):
Riccardo Tenderini, mathematics, 5.94
Highest Master's GPA (tied):
Lingjing Kong, communication systems, 5.94
Third-highest Master's GPA:
Clément Firat, physics, 5.92
Highest Bachelor's GPA:
Camille Frayssinhes, life sciences, 5.84
Second-highest Bachelor's GPA:
Philémon Bordereau, mathematics, 5.81
Third-highest Bachelor's GPA:
Kevin Rizk, mathematics, 5.79
Highest first-year GPA:
Julie Bannwart, mathematics, 5.98
Awards for teachers
The Credit Suisse award was given to Martin Jaggi, a tenure-track assistant professor at the Machine Learning and Optimization Laboratory.
The EPFL student association, AGEPoly, handed out awards to the School's best teachers. This year's winners are:
School of Basic Sciences and PolySphère d'Or award:
Paolo Ricci
School of Life Sciences:
Julian Shillcock
School of Engineering:
Pedro Reis
School of Computer and Communication Sciences:
Michel Schinz
School of Architecture, Civil and Environmental Engineering:
Kristin Schirmer
College of Management of Technology:
Nicola Winzenried










---
---