EPFL awards 1,072 Master's degrees this year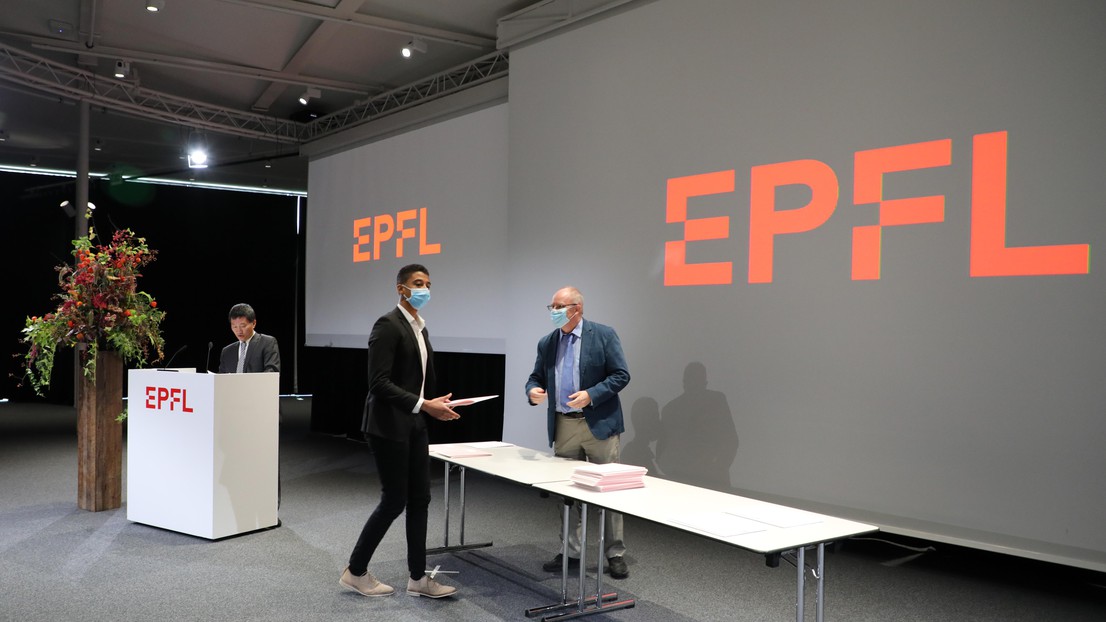 This year's Master's degree graduation ceremony took place a little differently, but that didn't make it any less moving or memorable for the young graduates.

In a break with tradition, the 2020 Magistrale took place without the public in attendance, a distinguished outside speaker or a Doctor Honoris Causa. However, it was held in person and with all the dignity – and festivity – warranted by such an event. A total of 1,072 Master's students received their degrees during this unprecedented ceremony held over two days, 2–3 October, in the time of COVID-19.
In keeping with the sober tone, the ceremony was not held in the large auditorium in the SwissTech Convention Center (STCC), but rather in its less-prestigious smaller rooms, in certain auditoriums and in the Rolex Forum. Despite the more spartan setting, attendees were dressed just as elegantly with smiles beneath their masks and, for a few of them, tears in their eyes. Each graduate could invite up to two people, and the attendees were divided by section into groups of under 300 people each. Social distancing was maintained inside the rooms.
EPFL President Martin Vetterli addressed the graduates virtually this year, with a speech that had been prerecorded on the STCC's large stage. "Dear EPFL alumni, you are more than scientists, engineers and architects: you are also, most importantly, citizens of the world. With the degree we are granting you today, you have the chance to have a real impact. You also have a duty towards society and the future of our planet," he said.
Surprise guest Thomas Wiesel
The ceremony included awards for outstanding students and the Polysphère awards for the best teachers (see insets). Also on hand to congratulate the students was a surprise guest: local comedian Thomas Wiesel. In a two-part video filmed at the Satellite and at Place Cosandey, he adroitly and playfully poked fun at the School and its students. Even this year's sober tone didn't stop people from enjoying Wiesel's jokes. And as Chloé Carrière, the EPFL student who hosted the ceremony, pointed out: "Thomas didn't go easy on us, but he did save us from a 2.5-hour-long ceremony." His video lasted 38 minutes.
Alumni Awards
Wiesel's video was followed by the handing out of degrees, although this year it was performed by section heads and with the required social distance between each person.
The Alumni Awards will also be given differently this year: a separate ceremony will be held at the Rolex Learning Center on 13 November, from 12:15pm to 1:15pm. The 2020 winners are Leila Schwery-Bou-Diab, who graduated with a chemistry degree in 1999 and is now the Vice President of Value Chain Management for a Johnson & Johnson company, and Robert Mardini, who graduated with a civil engineering degree in 1996 and is now the Director General of the ICRC. The ceremony will be followed by a panel discussion, with President Vetterli, on the societal impact that EPFL is making through its alumni.
Awards for teachers
The EPFL student association, AGEPoly, handed out awards to the School's best teachers. This year's winners are:
- School of Basic Sciences and PolySphère d'Or award: David Strütt
- School of Life Sciences and PolySphère award for best-adapted teaching methods for the pandemic: Sylvain Roy
- School of Engineering: Anna Fontcuberta i Morral
- School of Computer and Communication Sciences: Sabine Süsstrunk
- School of Architecture, Civil and Environmental Engineering: Luca Rossi
And for students
Several students were recognized with awards for their outstanding performance:
- Youth award: Margot Coste-Sarguet, born in 1998 (21 years old), now graduated with a physics degree and a 5.36 GPA.
- Merit award: Raphaël Mottier; before coming to EPFL, Mottier obtained a degree in general culture and completed a carpentry apprenticeship, then worked as a carpenter (supervising an apprentice himself) before deciding to get an architecture degree at EPFL. He completed the CMS preparatory class and has now graduated as an architect.
- Sports award: Laure Hoffmann, who has now graduated with a mechanical engineering degree; Hoffmann is a track and field runner (mainly 800m) and was a semifinalist in the European championships in Berlin at the same time as she was completing her Bachelor's degree. She competed in the 2019 IAAF World Athletics Championships in Doha.
- Second-highest Master's GPA (tied): Sofia Giampietro, mathematics, 5.90 GPA.
- Second-highest Master's GPA (tied): Alexandre Carlier, computer science, 5.90 GPA.
- Highest Master's GPA: Kelian Häring, physics, 5.91 GPA.
---
---