Engineering Industry Day hits the ground running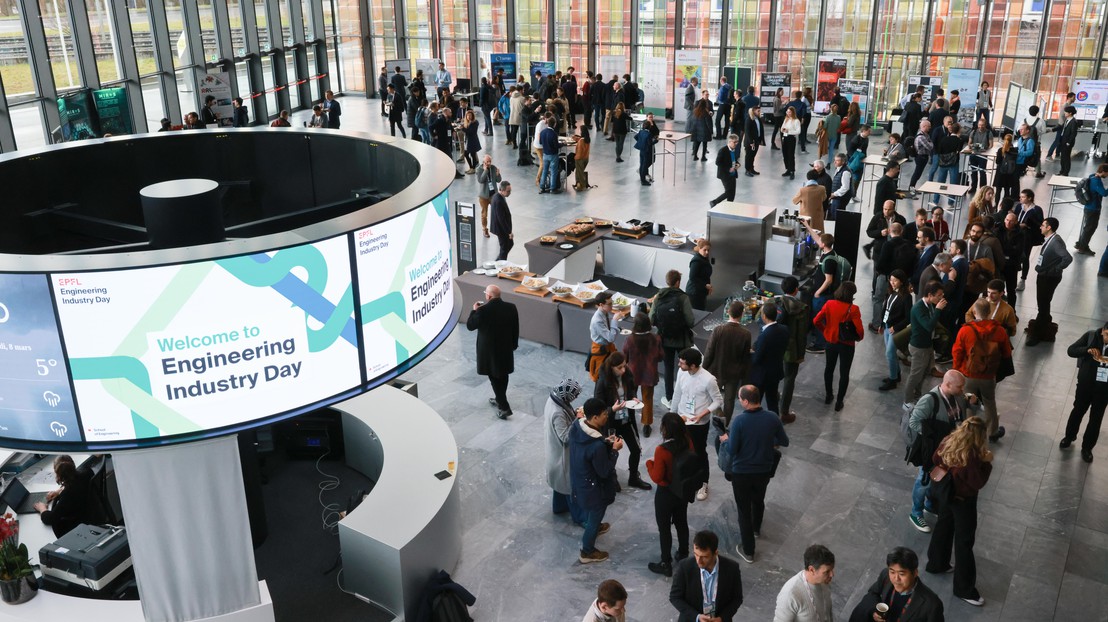 After a three-year break due to the pandemic, EPFL's Engineering Industry Day enjoyed a successful fourth edition on March 8th, when representatives of academia and industry converged at the SwissTech Convention Center to tackle the latest challenges and opportunities in engineering entrepreneurship.

Like previous editions, the 2023 Engineering Industry Day, organized by the School of Engineering (STI) and Vice Presidency for Innovation (VPI), aimed to create connections and spark new collaborations between members of academia and industry. This year, an updated program focusing on four cutting-edge themes in engineering research gave scientists and company representatives a firsthand look at one another's latest activities, as well as the chance to network.
More than 350 members of industry from over 200 different companies registered for the event, as well as a comparable 300 academics, including more than 40 professors.
Responding to key trends in engineering
School of Engineering Dean Ali H. Sayed opened the event with a talk on key trends in engineering research and education, including convergence of electronics, materials, and biology; blending of virtual and physical worlds; emphasis on sustainable design; and increasing impact of data and networks.
He stressed in particular the importance of partnerships with industry and supporting entrepreneurship within the school.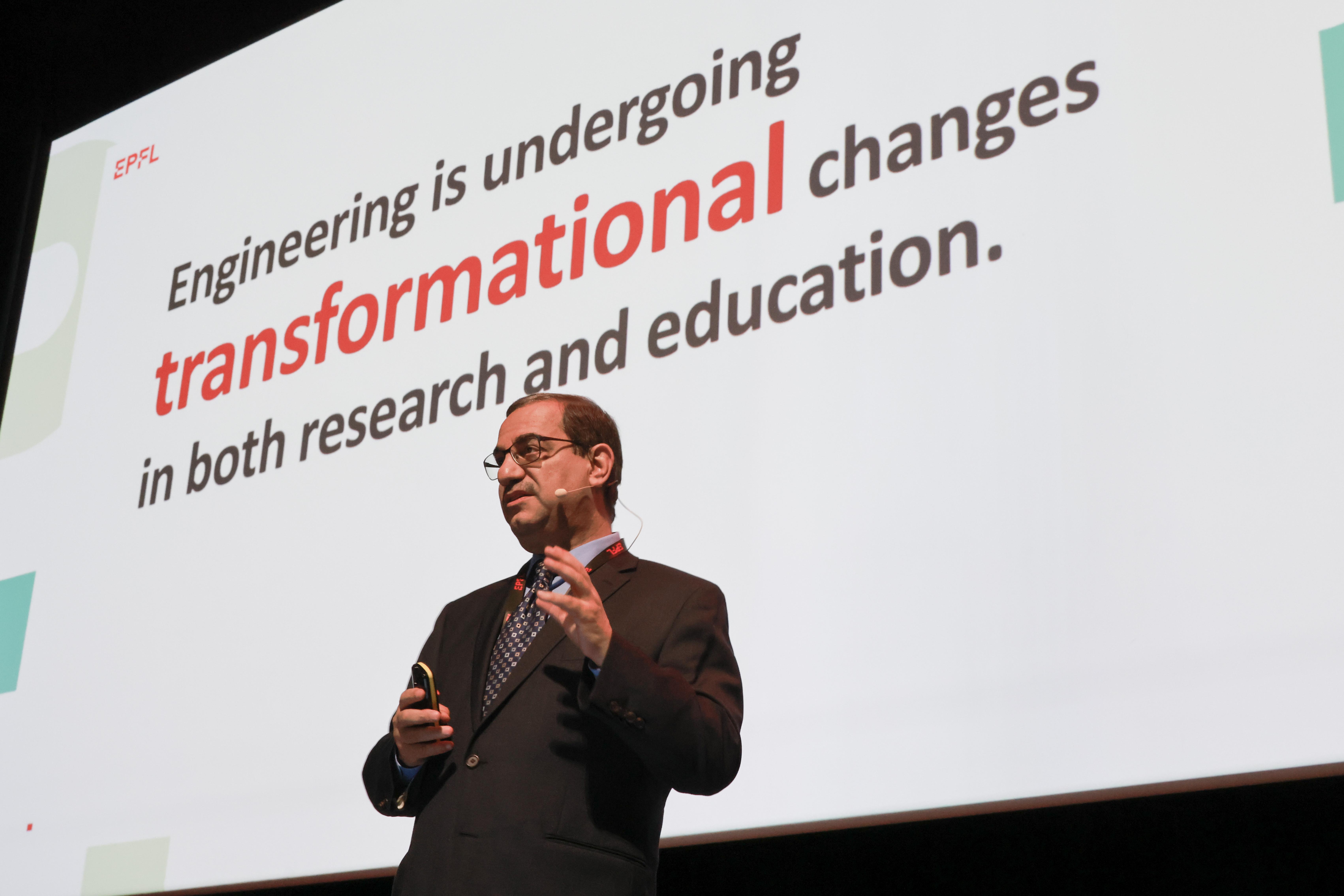 "Industry is a very strong partner for us, and that's why this event is very important," Sayed said, addressing the industry representatives in the crowd. "About half of EPFL patents and start-ups originate in STI, and events like the Engineering Industry Day give you an opportunity to interact with the people behind them."
Research valorization: risks, rewards, and realities
A dozen plenary presentations led by STI professors covered the event themes of Energy and Materials, HealthTech, Manufacturing and Robotics, and Intelligent Systems. For each theme, start-ups introduced their latest innovations, and researchers and entrepreneurs teamed up to present current examples of successful collaborations with companies like Swisscom, Nespresso, Meyer Burger, and Carl Zeiss. These talks provided valuable examples of how lab results can be valorized in an industry setting, and speakers didn't hesitate to speak openly about challenges and opportunities driving the process – from market research and securing funding, to building partnerships and managing intellectual property.
EPFL Vice President for Innovation Ursula Oesterle closed the day's talks with a fitting perspective on "innovation as a journey", in which she outlined the process of bridging the gap between research and industry.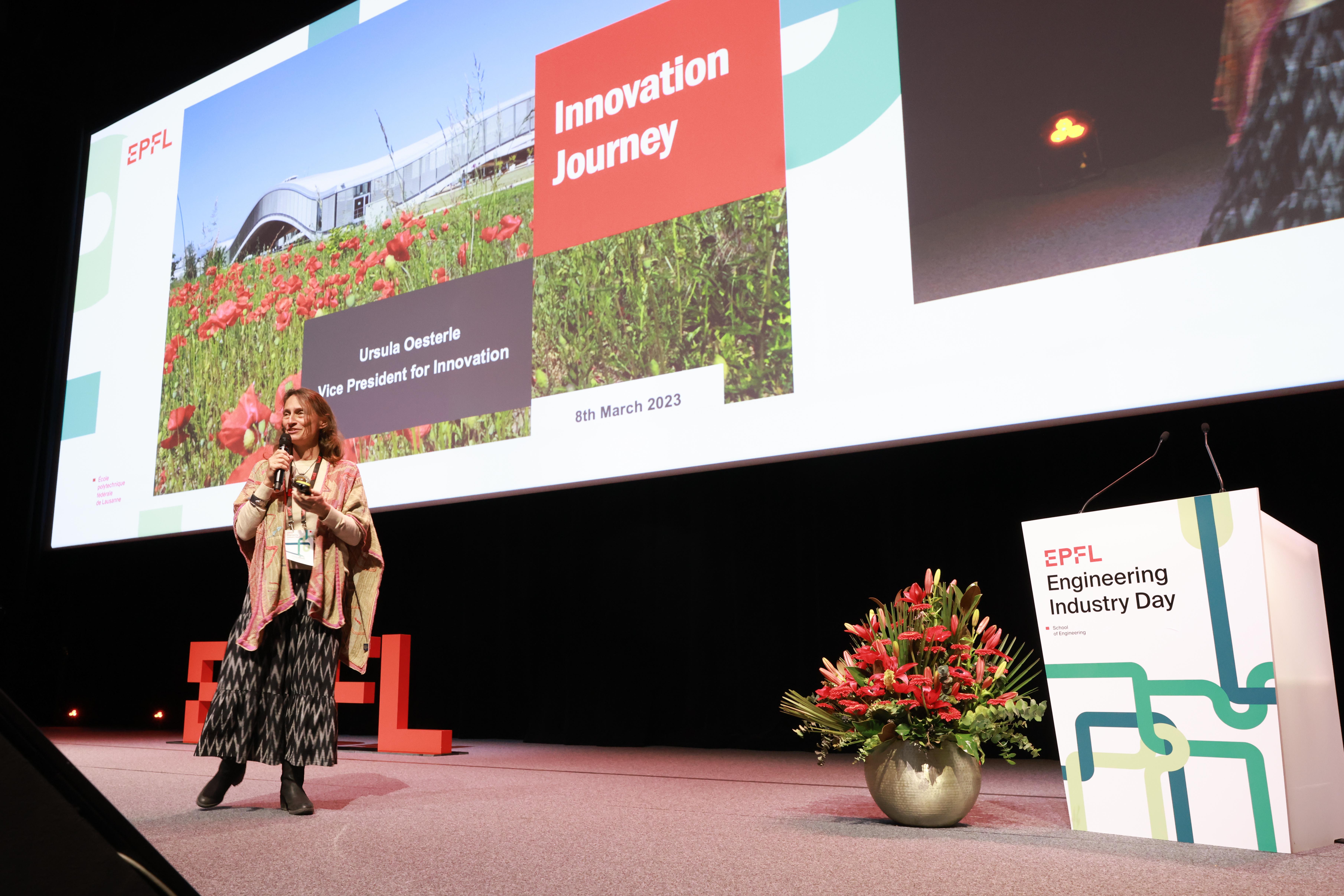 "The classic 'Death Valley' between academia and commercialization is linked to two different business models: academia seeks out great research and publications, and functions on much longer timescales, while commercialization is much faster-paced, and there is a customer at the end of the process. We have to collaborate to help make this gap smaller," Oesterle said, emphasizing the VPI's commitment to facilitating such exchanges.
A wide-ranging series of thematic roundtables on a dozen topics including AI in engineering, sustainable computing, open innovation, workforce performance, and intellectual property completed the day's events. Nearly 30 exhibition booths showcased the work of EPFL centers and institutes, start-ups, internal services, partners, and student associations, providing additional opportunities for participants to meet, talk, and discover.
Check out the carousel below for a selection of photos from the day, or view the full album here.







---
---