Engineering discovery and fun at the EPFL Open Days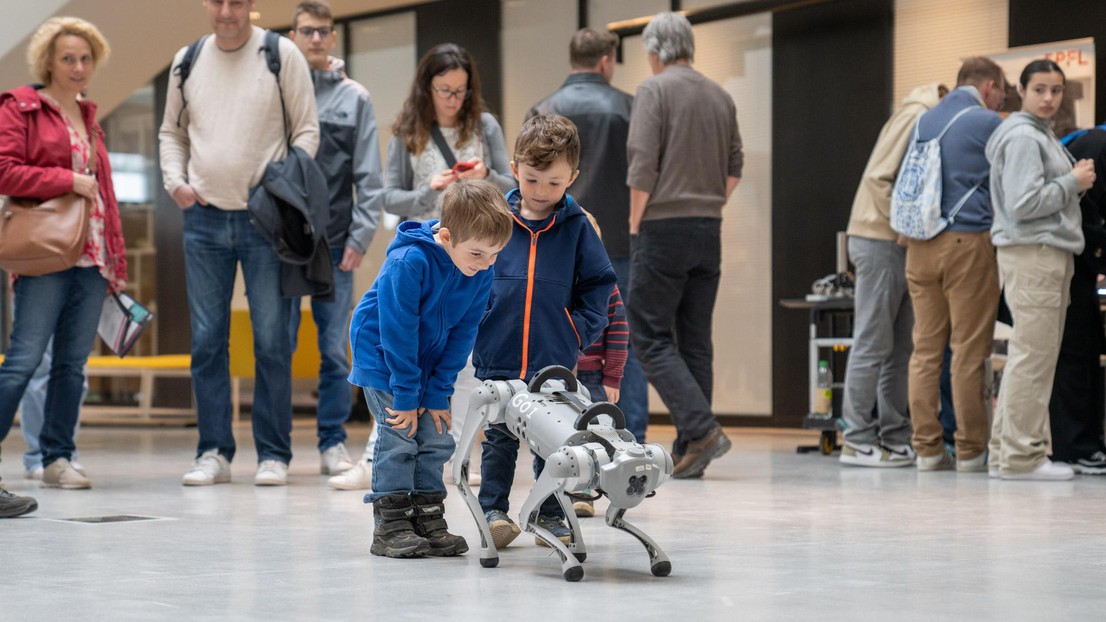 Members of the public enjoyed more than 20 engaging and educational activities on a wide variety of engineering topics, animated by researchers from the School of Engineering, at the 2023 edition of the EPFL Open Days on April 29 and 30.

From energy and quantum computing to robots and semiconductors, the activities organized by researchers from the School of Engineering (STI) all had one goal in common: to open up the diverse and technical world of engineering to a broader audience, and to demonstrate the impacts this essential research is having on our planet and society.
In addition to providing information, and bringing STI innovations and equipment out of the lab for display to the public, the STI Open Days sessions gave participants a chance to get hands-on. For example, a workshop by the Institute of Materials invited children and teenagers to discover metal recycling by casting a tin alloy coin themselves, while researchers from the Galatea Lab helped visitors make engravings using a robotic laser fiber controlled by a haptic interface. Both children and adults even enjoyed taking a break to play table soccer…against an opponent controlled by a robot!
Five key themes
As the first EPFL Open Days since 2019, this year's edition focused on five key topics for the school: climate change, health, space exploration, artificial intelligence, and basic research. STI had something to offer from each of the themes, including an interactive demonstration from the Laboratory of Construction Materials on the development of low-carbon footprint cement and concrete; a booth dedicated to research on new, resistant materials and designs for space satellites; a presentation of a robotic microsurgeon; and an artificial intelligence workshop that allowed participants to create music and take a walk in virtual reality.
STI faculty also participated in several talks. Christophe Ballif of the Phototovoltaics and Thin Film Electronics Lab spoke on "The major role of solar and wind on the energy transition", while David Atienza of the Embedded Systems Lab and Mario Paolone of the Distributed Electrical Systems Lab Power Systems Group both participated in the roundtable discussion, "IT for Sustainability and Sustainability for IT: Are both possible?". According to Dean of Engineering Ali H. Sayed, "this event provides a wonderful outreach opportunity to society at large, our younger generation, and future students about the breadth of engineering ingenuity, and about our transformative research and education."
A news item published by EPFL on Monday reported that President Martin Vetterli was delighted with the success of this year's event: "EPFL wants to be a force for change in addressing major challenges like the climate crisis and the energy transition. But leading the way in education and research and driving innovation aren't enough – we also need to engage with the public. Through that dialogue, we can help deepen people's understanding of today's societal challenges and the solutions we're seeking."
Overall, EPFL welcomed some 25,000 attendees over the weekend. Around 200 free activities were on offer, including demonstrations, talks, performances, lab tours, booths and games, thanks to the efforts of 1,500 EPFL researchers, students and staff.

























---
---