"Encouraging collaboration with partners from the Global South"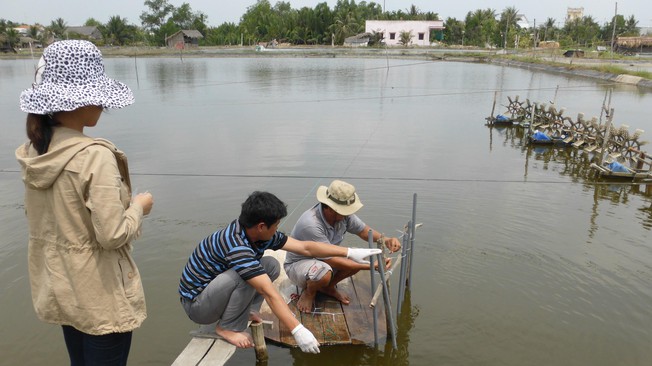 © DR Installing passive samplers for the determination of antibiotics inside a shrimp-farm pond in Vietnam
11.12.16 - On 15th November 2016 was held the bi-annual CODEV Seed Money Conference. EPFL researchers and their partners discussed their collaboration experiences with participants and presented their results achieved and impact generated. They also talked about the opportunities and challenges to take their seed money projects to the next level.

Speakers included Dr. Negar Ashari Astani and Prof. Ursula Röthlisberger (LCBC), who presented her lately collaboration experience with Iranian partners on the project « Computational and experimental design of low cost solar cells with enhanced efficiencies », Prof. Christophe Moser (LPAD), who showed the highlights of his project « Contactless sensing and temperature regulation in an infant incubator for developing countries », implemented this year with Indian colleagues. On a subsequent session, Dr. Felippe De Alencastro (GR-CEL) and Prof. Katrin Beyer (EESD) presented preliminary results of their work in Vietnam and Colombia respectively, and discussed their collaboration prospects. Further speakers included: Dr. Sandor Kasas, Dr. Yves Pedrazzini and Dr. Nicolas Wyrsch.
Click here to see all the presentations
About CODEV Seed Money Programme
Recognizing the crucial role of science, technology and innovation as driving forces behind sustainable development, the CODEV Seed Money Programme seeks to enhance the interconnections of science and society by promoting partnerships between researchers from EPFL and countries in the Global South.
Distributed on a competitive basis through an annual Call for projects, seed money grants were provided to 89 projects between 2005 and 2016 totalling CHF 915,000, enhancing collaborations in some 40 countries in Africa, Asia and Latin America.
The seed money grants act as a catalyst to reinforce the interest in North-South scientific cooperation across the campus and supports researchers in the preparatory phase of new projects. Over the years, we have observed that partners benefitting from seed funding who generate preliminary results and gain experience working together have proved more successful when they later compete for major grants. Moreover, these collaborations usually turn personal motivation to respond to major world challenges into meaningful and gratifying scientific engagement.