Computational thinking unites art, education, and culture at ArtLab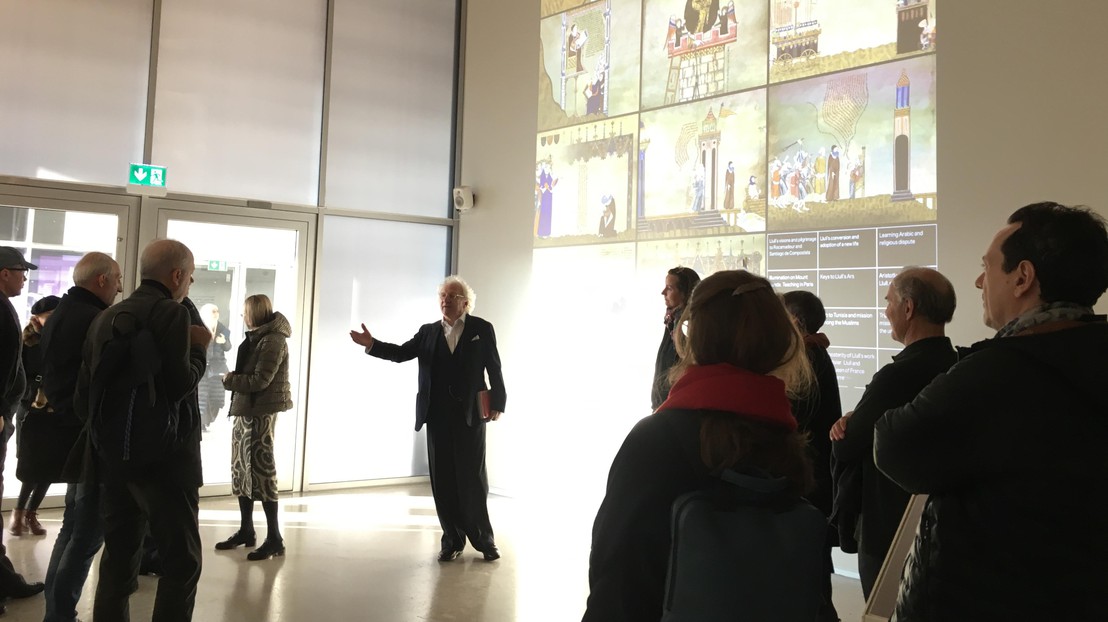 At the Thinking Machines – Machine Thinking symposium on February 14, expert talks on issues ranging from the birth of cryptography to engineering education and cultural preservation shared a common thread: computational thinking.

The event was organized by the EPFL College of Humanities (CDH) and ArtLab in connection with the current exhibition, Thinking Machines: Ramon Llull and the ars combinatoria. Llull was a 13-century Catalan philosopher who pioneered a new way of generating knowledge, and mechanized it using combinatorial wheels bearing letters and symbols. The symposium provided a forum for participants to explore the interdisciplinary reverberations of Ramon Llull's work, which has computational thinking at its core.
Following a guided tour of the exhibition, the event was opened by CDH Director Béla Kapossy and Professor Sarah Kenderdine, Director of ArtLab and head of the Laboratory for Experimental Museology eM+.
"Computational thinking is at the heart of EPFL's mission, and the task of this exhibition is to bring new optics to its definitions through time and across disciplines," said Kenderdine, who realized the Thinking Machines exhibit at EPFL.
A "universal grammar of knowledge"
The first two speakers of the day were Amador Vega of the Universitat Pompeu Fabra in Barcelona and Siegfried Zielinski of the European Graduate School in Saas-Fee, Switzerland. Both are co-creators of the Thinking Machines exhibition, as well as co-authors of DIA-LOGOS: Ramon Llull's Method of Thought and Artistic Practice. The book, initiated by the ZKM Karlsruhe and published by Minnesota Press with support from EPFL, was launched as part of the symposium. The publication was also generously supported by Ernst von Siemens Stiftung.
Vega and Zielinski provided historical perspectives on the origins of Llull's philosophy as well as its modern relevance for art, media, politics and religion.
"The universal grammar of knowledge invented by Llull began life as a general grammar of religions inspired by two basic principles – difference and concordance," Vega explained. He argued that an analogy could be drawn between "ars" and "art" through Llull's expression of a "science of relationships whose essential harmony is guaranteed by difference."
Computational thinking for engineers
Roland Tormey, Coordinator of the EPFL Teaching Support Centre, shed light on the concept of computational thinking – defined as "solving problems by drawing on concepts fundamental to computer science" – and its role in engineering education.
He argued that engineering education is undergoing a paradigm shift with the fourth industrial revolution, and that teaching students to think computationally by using abstraction, algorithms, and automation will equip them to solve a variety of problems.
"This is what we're trying to educate students to do: it's not about solving this problem, but solving them in general using tools of visualization and modeling," he said.
Tormey added that as computers become more advanced, the engineers of tomorrow must also acquire skills that go beyond problem-solving, such as problem-framing, addressing ethical and legal dilemmas, and making lifecycle cost decisions.
"This exhibition stems from the conviction that it's not only possible, but pertinent and natural, to think about what we teach and how we teach it in the context of [Ramon Llull's] thinking," he concluded.
From cracking codes to preserving the past
Bill Sherman of the Warburg Institute in London brought a new perspective to the history of computation by arguing that the Renaissance invention of the printing press for widespread communication, and the development of cryptographic methods for secrecy, are in fact "two sides of the same coin".
"The first age of print saw an explosion of interest in secret languages," Sherman told the audience. He presented several encryption systems based on typography, combination and permutation – reminiscent of Llull's wheels – designed to make "anything signify anything".
Two final speakers addressed specific challenges that have emerged in the wake of the Thinking Machines exhibition, like sharing historical artifacts with the world while protecting them from damage, decay, and even active destruction through conflict.
Nicolas Ducimetière, Vice Director of the Geneva-based Bodmer Foundation, described how digitization has helped conservators resolve the "paradox" of simultaneously exhibiting and preserving irreplaceable artifacts. In 2015, the Bodmer Foundation's commitment to restoring historical texts and making them available to researchers and the public earned it a spot on UNESCO's Memory of the World Register. A major part of these efforts, Ducimetière said, included digitizing the Bodmer's own collections, as well as those of libraries and universities throughout the region.
Finally, Macarios Jabbour, Executive Director of the Maronite Library of Aleppo, described the urgent and at times dangerous story of the rescue and digitization of hundreds of archival manuscripts, some of which date back to 1590, in the midst of the war in Syria. Jabbour noted that – bringing the day's discussions full-circle – one of those documents was an Arabic translation of a manuscript, "Ars Brevis", by none other than Ramon Llull.
Read more about the exhibition Thinking Machines: Ramon Llull and the ars combinatoria (PDF).
---