Competing in the Hydrocontest with a new boat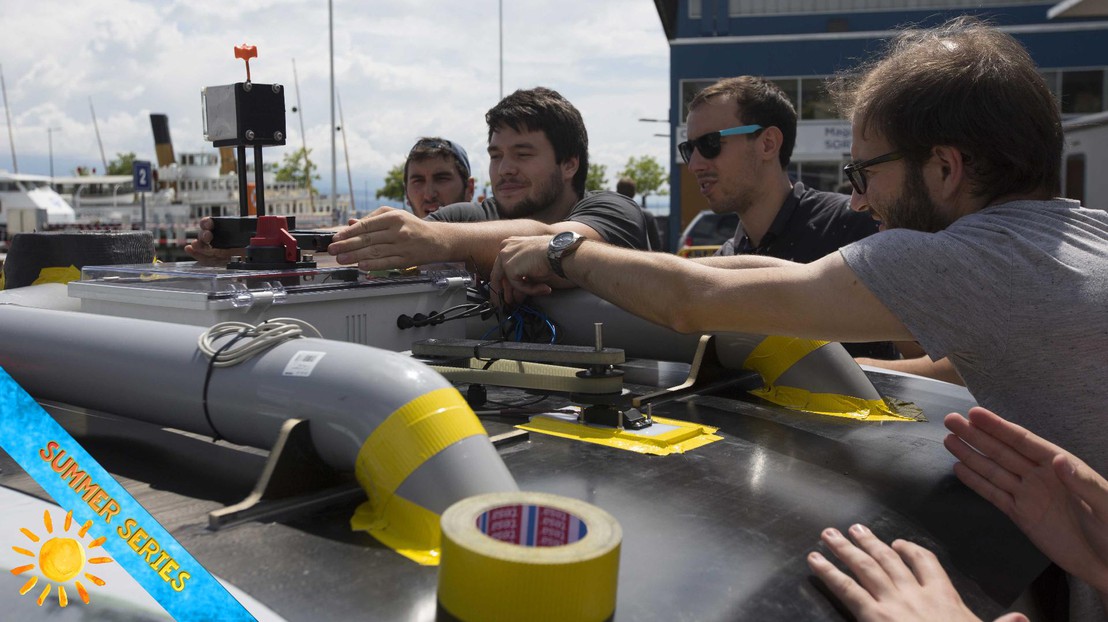 Summer series - Students' projects (6/9). On 11 August, the three Swiss universities that will compete in the upcoming Hydrocontest – EPFL, HES-SO Fribourg and HEIG Yverdon – will unveil their boats in Yverdon-les-Bains. EPFL's team is now putting the finishing touches to its new boat.

With the student competition just a month away, the pressure is on for Hydrocontest EPFL Team. "We need to know all the weak points in our two boats so that we can avoid any unpleasant surprises during the actual competition," says Sébastien Jaffaux, a Bachelor's student in mechanical engineering and the team's communications manager. That's why a handful of students has been meeting up almost every day during their summer vacation at either the lakeside headquarters of the Compagnie Générale de Navigation (CGN) – the Lake Geneva ferryboat operator – or the EPFL-UNIL sailing center, to thoroughly test their two prototypes. The Hydrocontest will be held from 2 to 9 September in Saint-Tropez, France. Like last year, three Swiss teams have signed up: EPFL, the Universities of Applied Sciences and Arts of Western Switzerland in Fribourg (HES-SO Fribourg) and the School of Business and Engineering (HEIG) in Yverdon. The three teams will showcase their boats for the public on 11 August, from 10am to 7pm, at the Parc des Rives du Lac on the Yverdon-les-Bains lakefront.
The competition is devoted to nautical and maritime energy efficiency, and more than 30 teams will take part this year. Each team will compete with two miniature remote-controlled boats powered by batteries provided by the event organizer. A bit like Laurel and Hardy, one of the boats should be fast and light and run for a long time, while the other, with 200 kg in ballast, is meant to simulate a cargo ship.
Half catamaran, half hovercraft
EPFL has taken part in the event since it was first held in 2014, and this year's team is going in confident. They believe that their light bifoiler, which was launched in 2016, could win. "We minimized drag by using only two foils, which means our boat can outpace the others. The flip side of the coin is that our boat is more unstable – it's sort of like flying a drone without a stabilizer," says Kevin Delizée, a Master's student in mechanical engineering and vice president of the Hydrocontest EPFL Team association. The trick is to really fine-tune the boat and then pilot it expertly.
The EPFL students are also entering a promising new 'heavy' boat into the mass transport category, which they have dominated twice in years past. A cross between a catamaran and a hovercraft, their new boat has two sources of propulsion: Archimedes' buoyancy force acting on the two hulls, and a fan-generated air cushion contained between the hulls by fore and aft skirts.
Valuable partners
The upcoming competition will cap off a year of endless hours of work for Delizée, who conceived and designed the new boat as part of two semester projects. "What drives me? It's just been a lot of fun!" He and close to a dozen other students got out of bed every morning at the crack of dawn for five weeks in order to build the boat in a workshop in Ecublens provided by Décision SA, one of the team's main partners.
The project taught the students many things. In addition to the mechanical and technical know-how they picked up, they experienced some real-world challenges first-hand: project and team management for starters, and then fundraising and the quest for partners. This year, Hydrocontest EPFL Team embarked on a partnership with CGN, which gave them access to a large expanse of open water in the port used by their belle-époque-era ferryboats. "For CGN, this link-up with EPFL is a great opportunity to build bridges in areas that are important to our company and will support our development. We have put in place a solid and forward-looking partnership that will pay off for the students, the school and CGN in terms of energy efficiency, technology intelligence, innovation and hands-on experience," says Irwin Gafner, CGN's Technical Director. One small yet memorable result of this partnership: the sight of the EPFL students' little remote-controlled boat being tested in the shadow of the century-old fleet.
Contact: [email protected]
---
---