Comics in the new age of artificial intelligence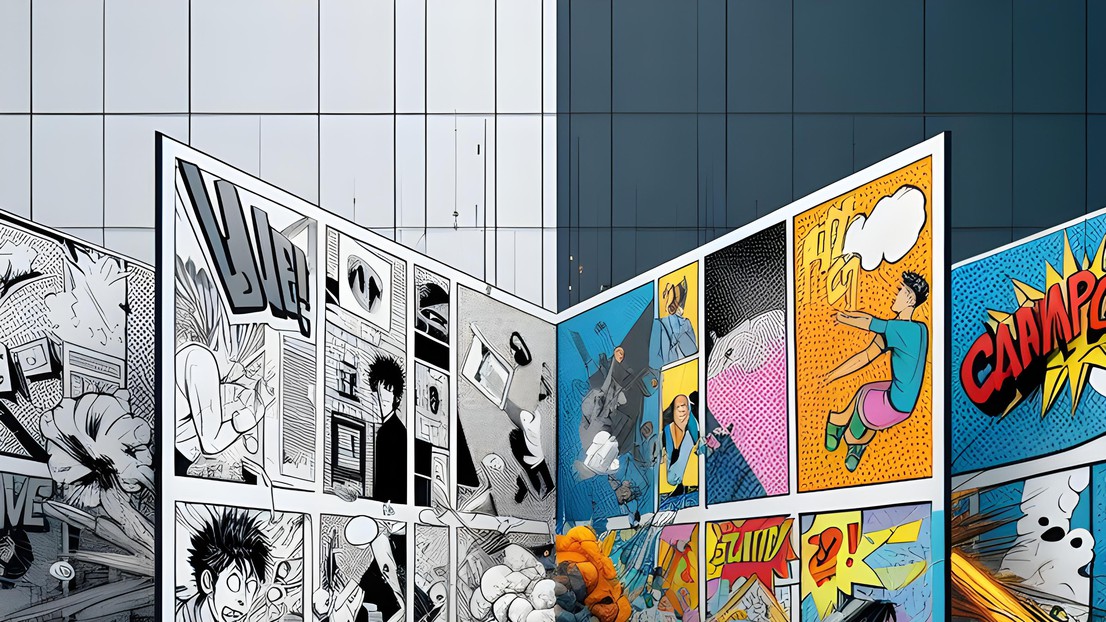 Cut/Paste, a new exhibition at EPFL Pavilions, Pavilion A, delves into the history of comics and showcases how artificial intelligence is changing the art and adapting classic 1950s narratives for today's varied mediums.

"Wham, Bam, Kapow" - all traditional comic book style fight words that evoke memories of Batman and other iconic cartoons from the 1950s and 60s. Contrast this with comics in China, Korea and Japan today, sometimes partially generated by a computer and available online, and you have the story of a constantly evolving form of art and narrative.
EPFL Pavilions' new Cut/Paste exhibition takes visitors from yesteryear's scissors-and-glue edits to today's artificial intelligence powered transformations, exploring the development and transformation of comics together with advances in technology. It's the culmination of a four year collaborative project between EPFL's Image and Visual Representation Lab (IVRL) and Computer Vision Laboratory (CVLab) in the School of Computer and Communication Sciences (IC), the University of Lausanne and Geneva's Comic School (ESBDi).
"From cave drawings and presentations to movies and sharing swipeable images on our phones, the way that humans tell stories has constantly changed through time. Our project has focused on the evolution of comics in the last century, analyzing how the analogue stories of the early artform can be ported over to electronic media," explained Prof. Dr. Sabine Süsstrunk, head of the IVRL.
Before the digital age, authors and publishers used scissors and glue to reformat their pages, transitioning from magazines to albums formats or from albums to pocket formats. The advent of the digital age didn't eliminate printed media but added new variations to this ever-evolving art, which now appears on screens of many different sizes. Fortunately, digital technologies also offer new tools to facilitate the reconfiguration of the graphic narrative.
As part of the project, researchers at EPFL developed Deep Learning (AI) models and tools for self-supervised segmentation, style transfer and depth perception, all important creative aspects of comic design. These models could allow future artists to automatically retarget their comics to diverse formats (smartphones, Ipads, TVs etc.), without the need to redraw, as well as creating new immersive ways to interact with their content.
The researchers worked with the comic school, ESBDi, in Geneva with the idea to see how students could use AI to help them in their creative process, changing dimensions and narrative and even creating 3D comics that slowly move when you scroll that would make them more immersive.
Yet, while AI may enhance the creative and viewing aspects of comic design, since the explosion of ChatGPT into the public domain a year ago there are increasingly questions around the potential harmful impacts of artificial intelligence on society, including creativity and jobs.
"We had interesting feedback that AI is raising the entry bar to comic design. At first sight, AI might seem to do a better job than a newcomer, potentially reducing the incentive to start out. On the flipside, AI offers incredible and powerful tools that artists could leverage in their creation process," said Mathieu Salzmann, with EPFL's Computer Vision Laboratory (CVLab), also part of the School of Computer and Communication Sciences (IC) and a (co)-principle investigator curator of the project.
Cut/Paste will give visitors the opportunity to delve into both the history of comics and their media, as well as take part in interactive AI experiences, representative of the possible development of comics and comics retargeting.
Peter Grönquist, a research engineer and the exhibition's curator, also with EPFL's IVRL, imagines the progression of comics on smartphones and tablets to readers accessing them in the metaverse, 'being' the character walking through scenes that are constantly evolving.
"I grew up with comics and I'm a huge fan. This exhibition feels personal and it's fun to see the comics in context. People that grew up with newspaper comics will be able to see the history of how they have changed - you can touch them, you can generate comics, take pictures and transform their style into different formats. This show brings you back to childhood and takes you to the future. It's very exciting!"
Cut/Paste: Reconfiguring Comics in our Digital Era
10.11.2023–7.1.2024
EPFL Pavilions, Pavilion A
Tuesday to Sunday, 11 am – 6 pm
Free Entry
go.epfl.ch/CutPaste
The exhibition stems from the Sinergia project "Reconfiguring Comics in our Digital Era", funded by the Swiss National Science Foundation, overseen by Sabine Süsstrunk, Mathieu Salzmann, and Raphaël Baroni.
---
---