Claudia R. Binder appointed dean of ENAC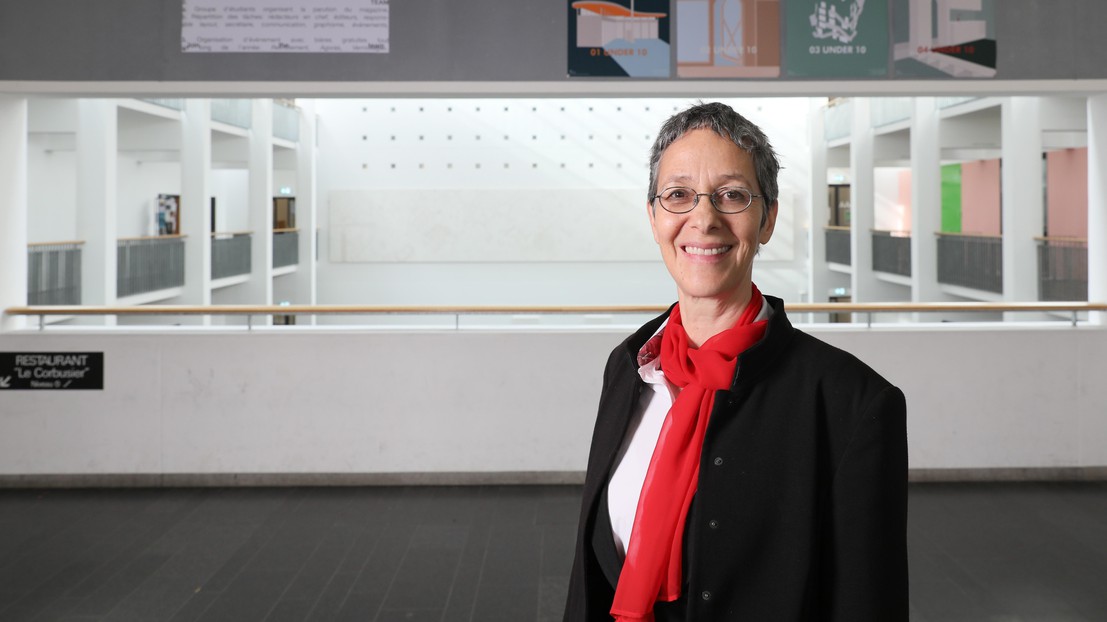 Professor Claudia R. Binder will take over as the new dean of ENAC on 1 January 2020. We spoke with her about her plans to make the school a center of excellence in advancing the sustainability of our natural and built environment.

You have been appointed dean of ENAC until 2024. What do you hope to achieve during this time?
We are facing an array of challenges with major implications for our society. These challenges include climate change – as reflected in the growing #FridaysForFuture movement [a series of climate marches led by activist Greta Thunberg] – the depletion of our natural resources, the energy transition and the relentless pace of urban development. To tackle these challenges a holistic approach is required. At ENAC, we have a major strength in this respect: our skills in architecture, civil and environmental engineering give us unique competencies and synergies for developing cross-cutting innovations. Along with my colleagues at ENAC, I want to advance that potential by creating the boundary conditions for excellence in research, teaching and innovation for a more sustainable built and natural environment, on both the national and international stage.
How do you plan to get there?
I plan to build on and foster ENAC's excellent performance and successes in this respect: the NeighborHub, which won the 2017 Solar Decathlon; the Smart Living Lab in Fribourg, specialized on the built environment of the future; the Transportation Center; the Habitat Research Center; the Alpine Research Center in Valais; and our close ties with EPFL's Energy Center. Beyond the excellent research and teaching, our research ecosystem has given rise to a number of highly promising spin-offs. My goal is to leverage these achievements and position ENAC as a center of excellence in advancing the sustainability of our natural and built environment. This will be done across all three of EPFL's core missions: teaching, research and innovation.
Can you give us concrete examples?
Recently, there have been new initiatives emerging at ENAC, as are CLIMACT "Center for Climate, Impact and Action" in cooperation with the University of Lausanne and the Center of Digital Infrastructure. Together with my colleagues, I aim at exploring the role of research clusters linked to ENAC related initiatives and addressing key topics related to the sustainability of the built and natural environment. One issue I would also like ENAC to engage in, is to reflect on how digitalization can be used to stimulate sustainability, and how big data can help scientists build a collective wealth of knowledge, in order to help policymakers build livable cities. These efforts will be carried out in association with the other EPFL faculties and EPFL's Tech4Impact initiative, which aims to find technology-driven solutions to major societal challenges. Through the latter, we will be able to turn our research into innovations that will benefit society.
Do you have any initiatives planned in education?
Tomorrow's engineers and architects will be required to work collaboratively in complex, fast-changing environments. So I would like to further foster our unique "Design Together" program, where students in architecture, civil engineering and environmental engineering join forces to find novel solutions for a sustainable future. Along the same lines, I aim at supporting and developing our "Student Kreativity and Innovation Laboratory" (SKIL), where ENAC students can suggest course subjects that will equip them for today's challenges. Both SKIL and Design Together encourage students to develop creative and innovative solutions for our pressing problems and have generated several spin-offs – all of which serves EPFL's mission of innovation.
What do you see as ENAC's role within EPFL?
EPFL provides our school with a dynamic, stimulating research and learning environment. It is for us a distinctive possibility that numerous labs in other EPFL schools are also studying sustainability-related issues. Basing ourselves on ENAC's unique disciplinary composition, which allows for bridging to other faculties, we aim at sharing and integrating knowledge with members of the other faculties of EPFL and across Switzerland for further developing the sustainability field.
Looking at Switzerland as a whole, and even internationally, what do you see as ENAC's strengths – and what challenges will it face – over the coming years?
The researchers of the three institutes of ENAC architecture, civil and environmental engineering have excellent track records and are internationally recognized. It is rare that these three disciplines are found together under the same roof. This forward-thinking structure gives us such unparalleled scope for innovation. This also implies that students and researchers from our three different disciplines need to find a common language and think creatively to deploy their full potential. So one opportunity we have is to further develop our unique approach, which can be done by embracing the digital revolution already under way and setting up processes that facilitate cross-disciplinary collaboration. This is especially important at a time when our society is facing complex problems that cannot be solved from the perspective of just one field. How will climate change affect our mountains and our urban lifestyles? How can we prevent our cities from becoming suffocating hot in the summer? These are just two of the many questions we will be able to tackle at ENAC over the coming years, if we all work together.
BIOGRAPHY
Claudia R. Binder joined EPFL in March 2016 and set up the Laboratory for Human-Environment Relations in Urban Systems (HERUS) at ENAC; she also holds the La Mobilière Chair on Urban Ecology and Sustainable Living. Her research involves analyzing, modelling and assessing the transition of urban systems towards sustainability. She looks in particular at how we can better understand the dynamics of urban metabolism, what characterizes a sustainable city, and what drives and hinders transformation processes. She does so by combining knowledge from natural, data and social sciences. Her research focuses on food, energy, and sustainable living and transport in urban systems.
In Switzerland, Binder was appointed to the Research Council, Programs Division of the Swiss National Science Foundation (SNSF) in 2016 and serves on the Steering Committee of the SNSF's National Research Program 71, "Managing Energy Consumption", and the Swiss Competence Centers for Energy Research (SCCER). She is also a member of the Steering Board on Sustainability Research for the Swiss Academies of Arts and Sciences. In 2019, she was elected as a member of the University Council of the University of Munich (LMU).
At EPFL, Binder is the academic director of Design Together, a cross-disciplinary teaching initiative. She was appointed to the management team of the Energy Center in 2018 and as head of the working group on EPFL's energy and sustainability strategy in 2019.
---
---