"Choosing EPFL was one of the best decisions of my life"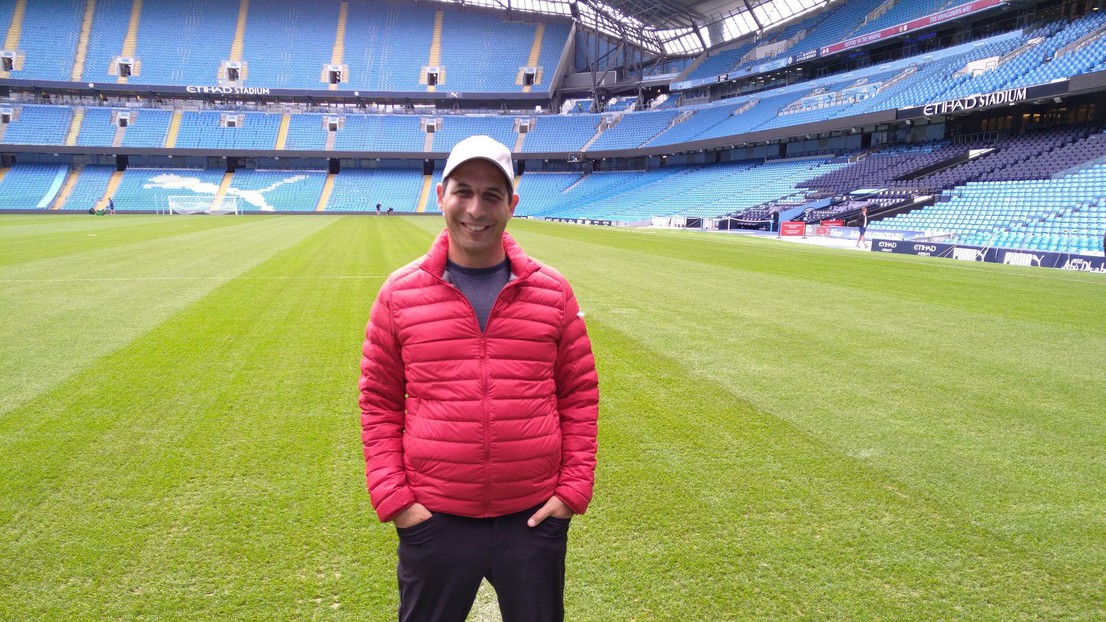 Dr. Horesh Ben Shitrit has been on an amazing sports journey since his Ph.D. at EPFL. The technology he developed is used by the NBA in the United States as well as the English Premier League. Now a new joint project with EPFL is looking at developing 3D avatars of sports players.

Horesh Ben Shitrit doesn't consider himself a mad sports fan but for the past decade his professional life has been deeply embedded in the ins and outs of everything from volleyball and basketball to football (soccer), tennis, and horse-jumping.
This all began in 2009 when he was undertaking his Ph.D. in EPFL's Computer Vision Laboratory (CVLab), led by Prof. Pascal Fua, part of the School of Computer and Communication Sciences (IC). "Following a bachelor's and master's in electrical engineering, I switched to computer sciences and my Ph.D. was in the computer vision domain, specifically on tracking multiple people using multiple cameras," says Horesh. "The highlight was tracking people in sports games. We had a project in Switzerland with the International Basketball Federation (FIBA) in 2010-2012, generating 20 terabytes of data, and the outcome of this research was the basis for my first startup: PlayfulVision". 
A few years later, PlayfulVision was sold to a US-based company Second Spectrum which has recently been purchased by the much larger UK-based company Genius Sports, putting Swiss technology, developed at EPFL, at the heart of some of the biggest sports leagues in the world.
"We analyze video footage to provide the official performance data of the players in team sports. We work with top leagues such as the NBA in the US and the English Premier League. As well, we work directly with the sports teams, analyzing video footage and providing statistical information on how they are playing and can better prepare for matches," Ben Shitrit said.
"We also work with broadcasters such as ESPN and BT Sports, providing additional information through video augmentation to enhance the experience of TV viewers and crowds at events. For example, recently we had a cool project with Marvel, taking the Marvel Comics theme and converting a full NBA basketball game. For football, for the first time, we added a mini-map of the players' locations as well as the ball while showing the live game" he continued.
Looking back, Ben Shitrit reflects on where the last decade has taken him, and his company. "I find it quite amazing that the technology we developed in the lab is used by the best sports leagues in the world and billions of people watch its results. Obviously, I didn't achieve this success by myself but with colleagues and supporting management at Second Spectrum and EPFL, among them, Dr. Charles Dubout, Rishabh Dugar, and Pierre Walch. This has been such a great journey together."
Looking ahead, Ben Shitrit is excited about how sports tech is evolving and how Second Spectrum is working to scale up its products for more teams, leagues, and other sports. "We have initiated an Innosuisse project jointly with EPFL to develop 3D avatars of players, enhancing, even more, the video augmentation that we possess presently. We are also developing what we call positional pose estimation where every person in the team is described by 17 key points or more, enabling the tracking of considerably more specific information regarding each and every player."
"In basketball, for example, one would know which hands they are 'shooting' with or whether the hands are 'blocking'. In football, one would know which foot is 'kicking'. These micro-movements are super important, and we can analyze them by only using cameras installed in the field. In addition, the limb-tracking feature allows us to introduce the automatic detection of offside situations in real-time. This is where the industry is presently going," he continues.
Finally, Ben Shitrit's message to current students, who may be interested in following the start-up route towards business success? "I think that EPFL is a great place for entrepreneurs. During my Ph.D. studies, we enjoyed a great environment and technology where we could suggest projects and just try them out. I don't think many Ph.D. students utilize this resource, but it is possible to mentor Masters or Bachelor students in semester projects and then see what works and what doesn't. Towards the end of my Ph.D., I also received an innovation grant directed by a business coach, courses on how to create start-ups, as well as training and lab space – all of these resources have helped me to start and grow. So, take advantage of all these opportunities. As soon as you leave EPFL, these may disappear!"
---