Carmen Sandi wins the first Ron de Kloet award for her work on stress
Professor Carmen Sandi at EPFL's Brain Mind Institute, has won the first Ron de Kloet award from the STRESS-NL consortium.

The STRESS-NL is a consortium of different institutions that "envisions that combining forces between researchers across the Netherlands ranging from preclinical to clinical stress research is needed to advance our knowledge and the stress field as a whole." The consortium's aim is to "change the current way of performing stress studies, by combining knowledge, efforts, and sharing data, but also joining efforts to emphasize the importance of fundamental and applied stress research to funding agencies, the government and the general public".
Sponsored by Corcept Therapeutics, the Ron de Kloet award for Stress Research will be given annually during the Stress-NL meeting to "an "international researcher who has made outstanding contributions to our understanding of stress in adaptation, resilience and vulnerability for disease." The awardee also delivers a lecture on the topic of stress during the annual STRESS-NL meeting.
This year, the very first Ron de Kloet award has gone to Professor Carmen Sandi at EPFL's Brain Mind Institute. Sandi directs the Laboratory of Behavioral Genetics, where her research focuses on three main areas:
The neurobiological mechanisms involved in the formation of social hierarchies and their modulation by stress and anxiety.
The mechanisms through which early-life stress promotes the risk of psychopathologies, with a main focus on the emergence of pathological aggression.
The mechanisms linking altered neuroplasticity during development and pathological aggression.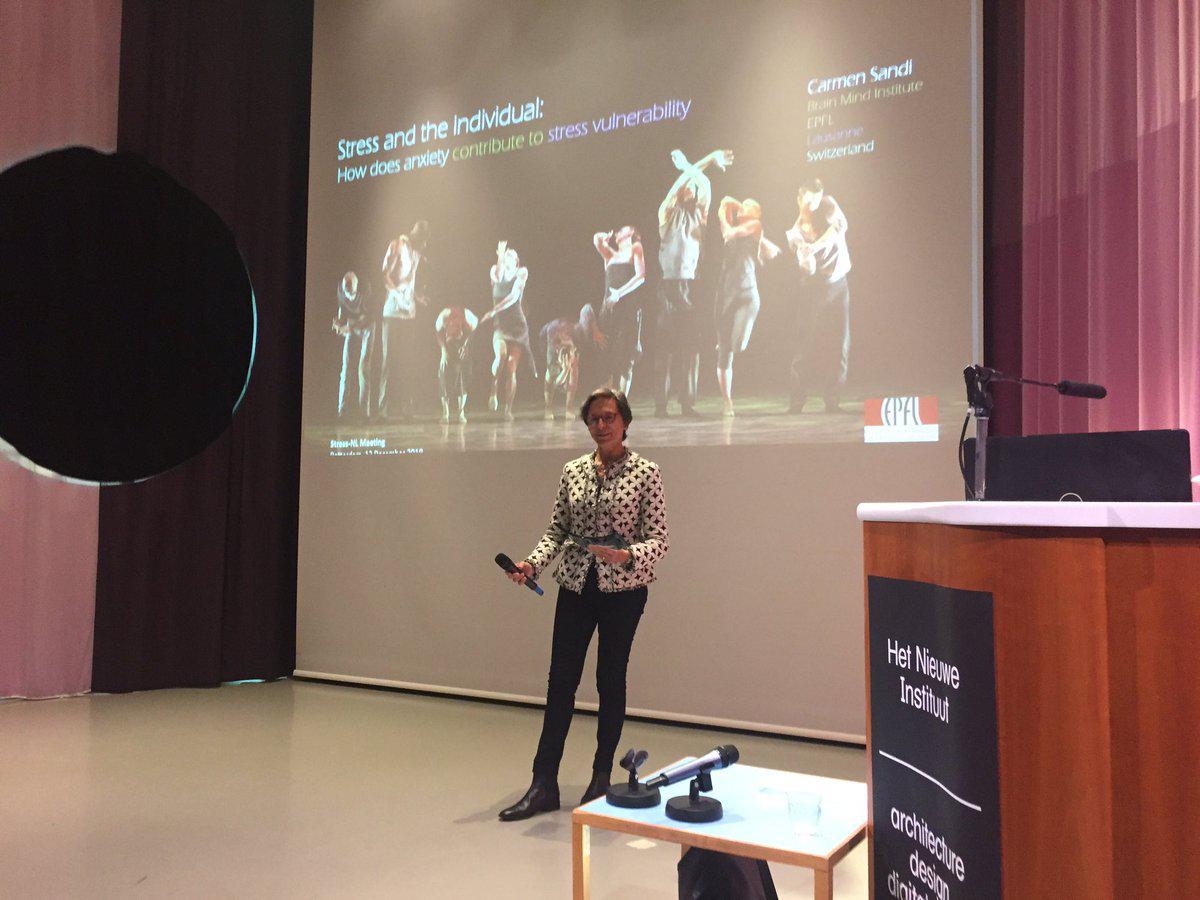 Carmen Sandi receives the very first Ron de Kloet award at the 2018 Stress-NL meeting for her "excellent contributions to stress research" (credit: Erno Hermans (@ErnoHermans))
"Stress is an ever-growing problem in our society and one of the most critical factors for our physical and mental health," says Sandi. "Although a bit of stress might help us focus our attention when performing certain tasks, excessive stress can be extremely detrimental, frequently leading to the development of psychopathologies such as anxiety and depression. So there is currently a need to reinforce research on stress biology to develop appropriate prevention and intervention strategies, while another way to facilitate healthy coping under stress will probably come from technologies like virtual reality and neurofeedback."
---