Campus trees: a growing population to protect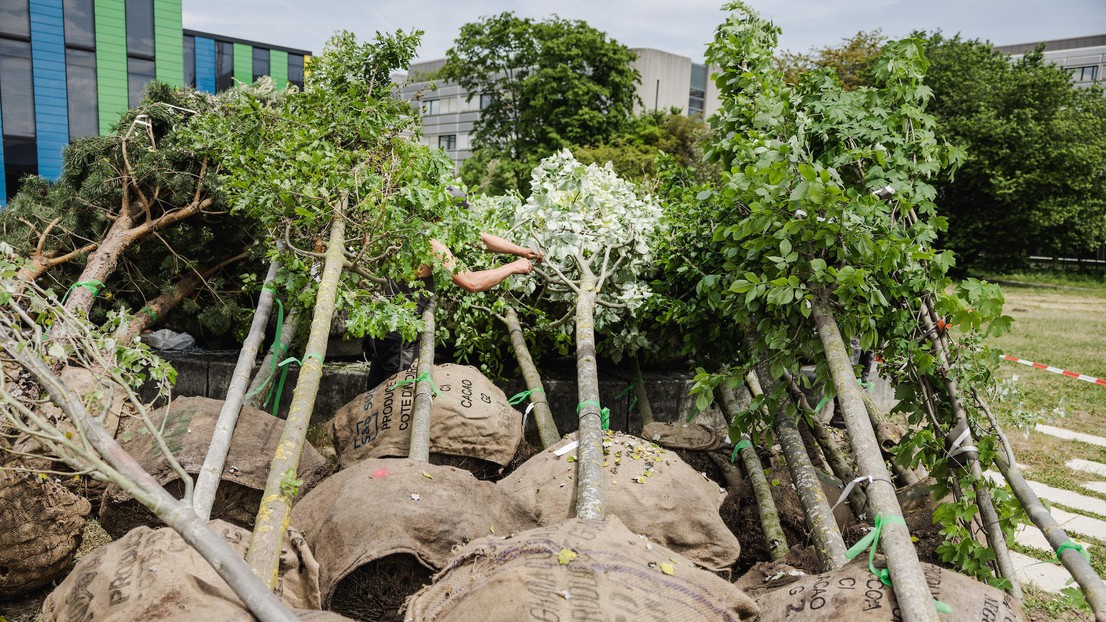 There are over a thousand trees on the EPFL campus, and they are constantly increasing every year. The aim is to double this tree population. How do we go about achieving this? And what are the challenges?

1,362 trees of around 70 species currently reside on the EPFL site. During the winter of 2022-2023, the Outdoor Spaces team of the Sustainability Unit planted 200 trees of 30 different species, 30 fruit trees of old varieties and 450 shrubs of 20 different species on the Ecublens campus.
The planting of a further 200 trees and new shrubs is scheduled for winter 2023-2024, with the aim of planting 1,000 trees in five years, thus doubling the number of trees on campus.
The tree species have been selected for their adaptability to the warmer climate expected in the Lausanne region in the coming years, as recommended by a study commissioned by the City of Lausanne (see article "Arborisation urbaine lausannoise et changements climatiques" in the French version).
Monitoring and felling
Since 2022, the entire tree stock has been monitored annually for health and safety. This inventory lists 65 trees that need to be felled quickly for health reasons (ash trees affected by chalarosis: an acute fungal disease) or to prevent potential damage to people or property.
Three felling campaigns have been organized for 2023 (April, August and December). Trees felled are subject to a formal felling request to the municipal authorities, who impose compensation.
Maintenance
A network of tensiometer probes provides information on the availability of water in the soil, combined with weather data: if necessary, the team in charge of outdoor spaces receives a watering notice associated with the recommended volume of water. These targeted waterings, providing large quantities of water but spaced out over time, are designed to encourage deep root development, enabling trees to become self-sufficient more quickly.
This alert is also used to control the watering of trees in tubs, which, like all new plantations, are fitted with porous watering bags that dispense 80 liters of water in three days. Maintenance is carried out by a team of student assistants specially recruited for the task.
Trees in air-pots
The trees planted in tubs are tactical urban planning elements that will be installed in 2022 as part of the prefiguration of the Campus Piéton project and the parklets designed to eliminate private car parking on avenue Piccard. These planters are "air-pots" comprising mineral substrate around the tree root ball, inside a highly air-permeable perforated container.
This technique is used in nurseries to stimulate the root system and enable trees to be replanted all year round, with a high proportion of successful re-vegetation, even outside the uprooting period (November to March). In nurseries, trees can be maintained in this way for up to five years. It is planned to plant a series of these trees in autumn 2023.
Root damage
The Ecublens campus is experiencing a sharp rise in the number of ground voles (over 200 per hectare), which take refuge underground, attacking young roots for food and exposing roots through their galleries. As a result, even with regular watering, some trees, even older ones, dry out.
The same is true of young trees planted five years ago, notably near the childcare building and around the Agora. To limit the proliferation of this undesirable population, it is planned to install perches and raptor shelters.
Adapting the campus to climate change
Further studies are underway to adapt the campus to the challenges of global warming: increasing the canopy index, soil sealing, rainwater management and retention, etc. These development orientations are summarized in the "Resilient Campus" chapter of EPFL's Climate and Sustainability Strategy 2030.
The summer of 2023 showed the extent to which trees suffer from drought and extreme heat, a phenomenon particularly noticeable in the Lausanne region, with leaves having already turned brown since August. Campus plants are no exception, demonstrating the urgent need for action to protect them.
---