Blue Brain's Samuel Kerrien presents at the FSFA Congress 2019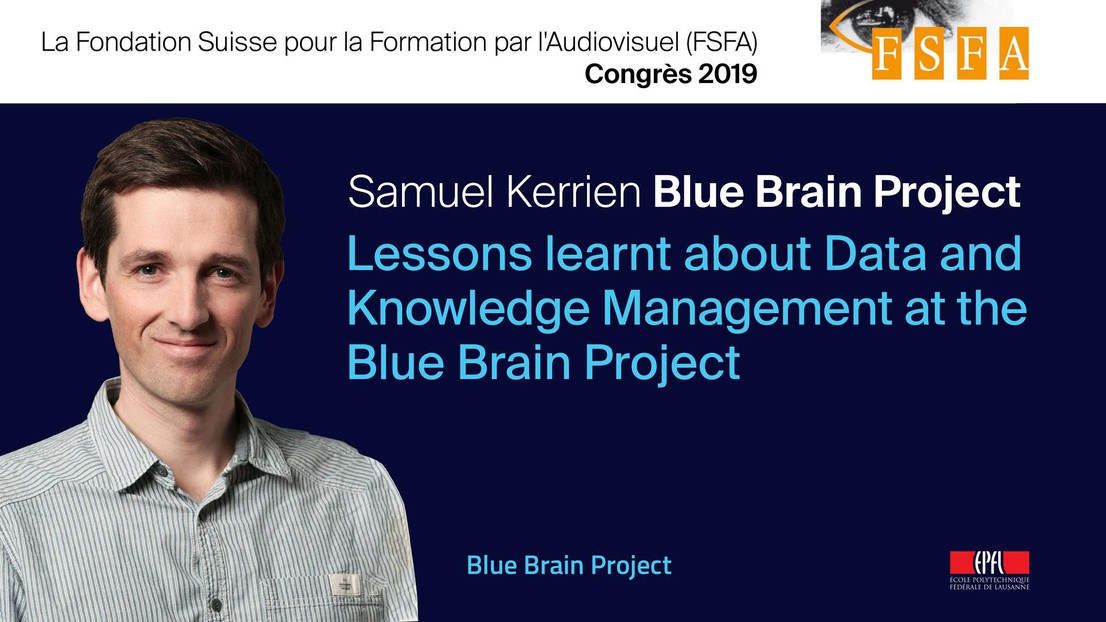 The EPFL Blue Brain Project was delighted to be invited as a speaker at the Congress of the Swiss Foundation for Educational Media 2019 (Fondation Suisse pour la Formation par l'Audiovisuel, FSFA)

The Swiss Foundation for Educational Media is a non-profit organization made up of a network of organizations and institutions working in the fields of education, science, economics, the media, administration, as well as in the associative and political spheres. Its focal point is digital transformation and its impact on training and continuing education in the fields of economy and society. It allows the exchange of knowledge and experience, brings together know-how, feeds the discussion on current trends and developments and promotes cooperation between its partners. The next congress will take place on 12 March 2020, organized by a new foundation in which the network of the previous foundation – soon to be dissolved - will participate.
The theme of the 2019 Congrès was 'Results of brain research for sustainable learning. How can we manage the exponential growth of knowledge?'
Accordingly, Blue Brain's Samuel Kerrien, Section Manager of Neuroinformatics Software Engineering and Data and Knowledge Engineering opened the Congrès discussing 'Lessons learnt about Data and Knowledge Management at the Blue Brain Project.' In his presentation, he gave an overview of the work we are doing at the Blue Brain and our results to date as we digitally reconstruct and simulate the brain. Relevant to the theme Samuel showcased Blue Brain Nexus – an open source data management platform that Blue Brain has built to organize, store and process exceptionally large volumes of data and which supports usage by a broad number of users.
In his presentation, Samuel explained that the Blue Brain Nexus is instrumental in supporting all stages of the Blue Brain Project's data-driven modelling cycle including, but not limited to experimental data, single cell models, circuits, simulations and validations. Organizing, integrating and maintaining data in a sustainable way is a significant challenge for most organizations. Blue Brain Nexus offers an innovative solution to address a wide spectrum of challenges ranging from data governance, connecting data silos, enabling knowledge discovery as well as accelerating data intensive research. Furthermore, the development of Neuroshapes helps Blue Brain and the Neuroscientific community to describe and organize their data.
Samuel concluded by explaining how Blue Brain Nexus specifically enables the FAIR (Findable, Accessible, Interoperable and Reusable) data management principles and how it fits within the EU policy context of the European Open Science Cloud and open research data policies.
Post Samuel's presentation, the audience then received an overview of the latest technologies to stimulate damaged areas of the brain during rehabilitation, before looking at several practical examples, which showed how the latest technologies can be used for effective learning.
"I really enjoyed being part of this brilliantly organised event with a very topical theme. The brain is a complex multi-level system and is one of the biggest 'Big Data' problems we have today," explains Samuel. "Therefore, it was fitting to begin the Conference discussing how we manage our data at the Blue Brain Project. I was pleased to share Blue Brain Nexus with the audience as we spent many years building a state-of-the-art semantic data management platform and hope the participants will also be able to benefit from it when organizing and storing their data." 
Mrs Hanna Muralt, Organiser of the Congress, commented, "Samuel Kerrien fascinated us with his input on the Blue Brain Project. Although research into the brain is still in its beginnings, it raises great hopes not only in the diagnosis and treatment of brain diseases. We also want to better understand how we learn and how we could learn more efficiently in the future. We are amazed at the complexity of the brain and delighted with Blue Brain Nexus's "Open Source for Open Science" approach. The Blue Brain Nexus platform thus becomes a network of cooperation and knowledge exchange not only between brain researchers, but also between scientists in all areas of research dealing with big data."
Blue Brain Nexus is available under the Apache 2 license at: https://bluebrainnexus.io/
Neuroshapesis available under Creative Commons at: https://incf.github.io/neuroshapes/
For more information, please contact Samuel – [email protected]
For more information on FSFA and the 2020 Congrès – http://www.ssab-online.ch/mrz_tag/mrz_fr_2019.html (source FSFA)
To watch Samuel's post presentation interview on YouTube - https://www.youtube.com/watch?v=7P48pgXw3Jc&feature=youtu.be(source FSFA)
---