Blue Brain is featuring at the Centre Pompidou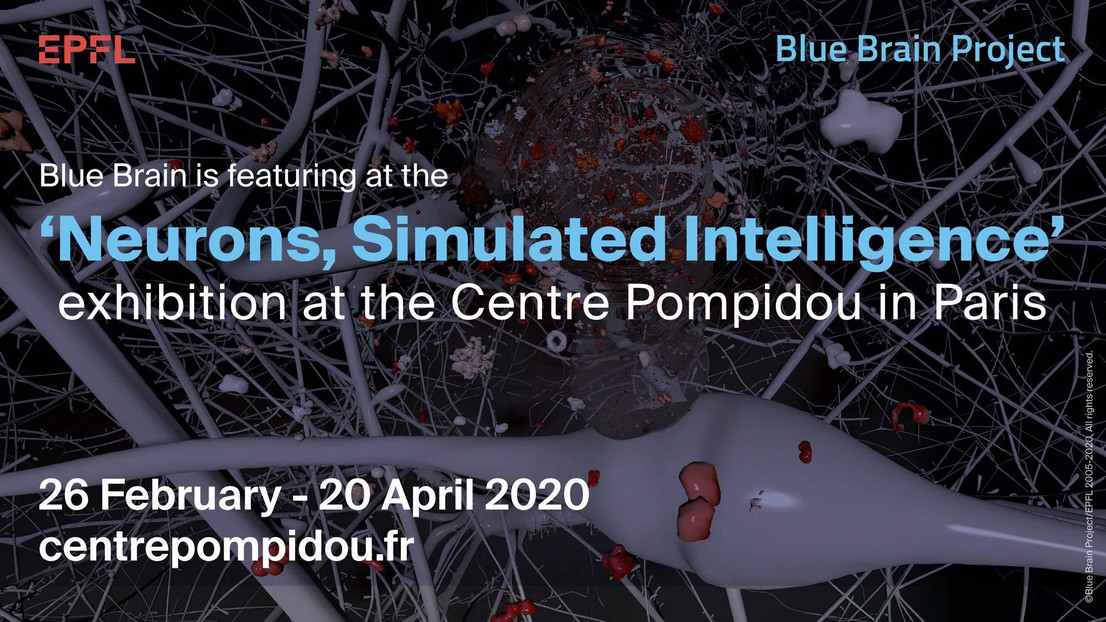 The EPFL Blue Brain Project will be featuring in the 'Neurons, Simulated Intelligence' exhibition at the Centre Pompidou in Paris, 26 Feb - 20 Apr 2020.

The exhibition highlights the links between the research of artists, architects, designers and musicians, and that of major scientific research initiatives such as the Swiss Blue Brain Project or the industrial sector.
'Neurons, Simulated Intelligence' associates technical progress and artistic representation around artificial intelligence and links this phenomenon with the history of neuroscience and neuro-computation. In the framework of 'Mutations/Creations' the Centre Pompidou will become a laboratory for creation and innovation at the frontiers of art, science and engineering. Each year, this programme brings together artists, engineers and scientists and for the fourth edition, 'Mutations/Creations' pursues its prospective research through two exhibitions.
The exhibition will deploy five main areas of research; each presented and defined by fields of reference historical data in the form of graphs allowing chronological matching of innovations and creations. The journey begins with the representations and images that constitute the collective imagination of the life of the brain, opposing it to research in the field of digital imagery and the idea of ​​a digital copy of the brain.
The Blue Brain is building, biological brick by biological brick, the first draft digital reconstruction of the entire mouse brain. The project has already passed several key milestones that provide compelling evidence that the world will soon see the first virtual brain. The milestones include a map of all 141 million neurons and glial cells in the entire mouse brain, algorithms that can automatically recreate the actual behaviour of every one of these neurons, and algorithms that can pinpoint 88 billion synapses that connect these neurons and recreate how these neurons communicate with one another. The exhibition is therefore an excellent opportunity to share with the visitors in high definition and with immense detail, some of the visualisations of the mouse brain regions that the Project has reconstructed and simulated to date.
"At this exhibition, we will present 'A deep dive into the Blue Brain Project' that will take you on an awesome journey through a digital simulation of regions of the mouse brain," explains Prof. Henry Markram, the Founder and Director of the Blue Brain Project. "It will introduce you to the wonders of its design and give you just a hint of the magnificent universe that lies inside our head," he concludes.
The exhibition runs from 26 Feb 2020 - 20 Apr 2020 from
11 a.m. to 9 p.m.
Location - Galerie 4 - Centre Pompidou, Paris
More information can be found on the Centre Pompidou website - here.
---