BioT wins the 10th edition of the START Lausanne Contest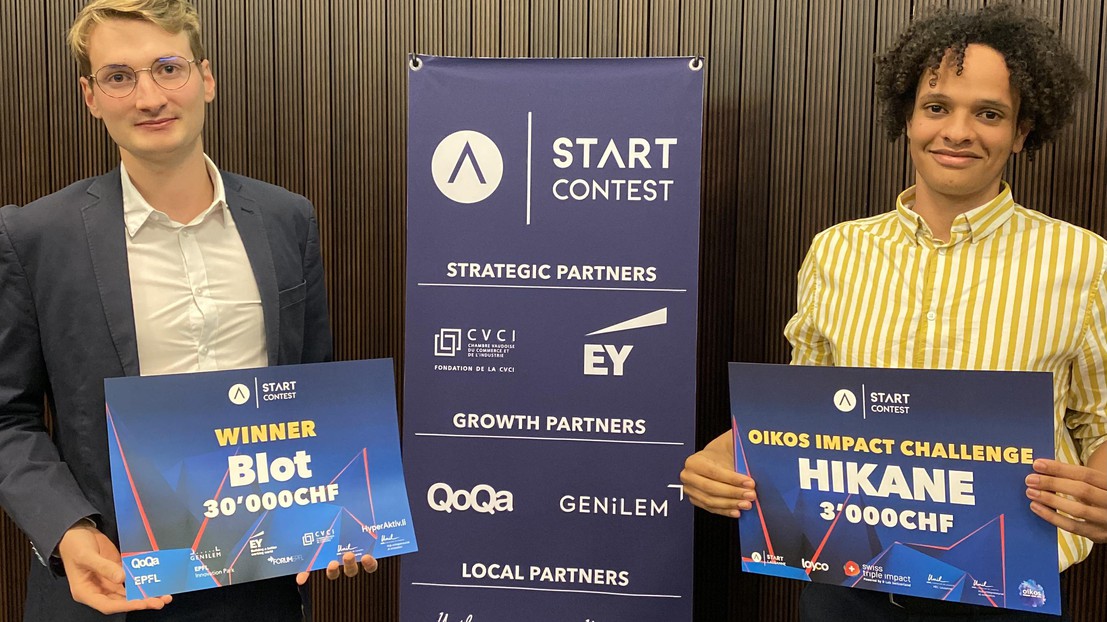 The startup BioT has won the 10th edition of the START Lausanne Contest. The startup launched in September 2020 by two students and an EPFL alumni received the first prize of CHF 30,000 during the closing ceremony. The startup Hikane was also awarded the prize for the startup with a direct impact on a societal problem. 

The startup BioT was launched in September 2020. The 3 co-founders are Pierre Bouquet and Andrea Veneziano, both master students at EPFL, and David Compain, 2016 EPFL Alumni. The team has since grown to include 2 newcomers: Ludo Hoffstetter and Sarah Bonaly, also students at EPFL. 
The team's mission is to help hospitals by providing better visibility on the availability of biomedical devices and optimising their management. Their technology is based on artificial intelligence and the Internet of Things. Their first implementations were in the hospital environment but the fields of application extend beyond that to industry and logistics. 
Supported by the EPFL accelerator Blaze, the young company has already won the "Ready, Set, Pitch" public prize offered by GENILEM in December 2020. 
An anniversary edition
The prize-giving ceremony for this special edition of the entrepreneurial competition took place during the evening of 29 April 2021 at the Domaine des Bois Chamblard. The award ceremony brought together the jurors and the various participants in strict compliance with health regulations. Indeed, the participants submitted to self-tests upon their arrival and wore masks throughout the evening, with the exception of the photos and the dinner.
The startup BioT was represented by its co-founder and COO Pierre Bouquet, a student at EPFL where he is pursuing a Master's degree in Mechanical Engineering with a minor in Data Science. On this occasion, he was awarded a prize of CHF 30,000 as well as a 3-year follow-up offered by Genilem. 
Hikane wins the OIKOS Impact Challenge 
The Oikos Impact Challenge also follows the startups of the START Lausanne Contest and aims to reward a startup that has a direct impact on a societal problem. This year it is the Lausanne startup Hikane that wins the prize for its solution to help visually impaired people and pockets 3'000 CHF in aid.
Hikane is currently developing an optoelectronic device to help visually impaired and blind people. This small, non-invasive device with haptic feedback is intended to be attached to existing white canes. In this way, we are able to add a vertical dimension to the detection area of the cane, increasing the safety and peace of mind of the user. 
The startup participated in first cohort of EPFL Changemakers programme - an initiative that started in 2020 to help students develop their leadership and entrepreneurial skills and flesh out their business ideas. 
---
---