BERNINA Design Challenge: Sewing machine is a marvel of engineering
Summer series – Bachelor's project (6). A group of around 15 EPFL students spent a semester working on projects using BERNINA sewing machines, dispelling common misconceptions and stereotypes in the process.

In February of this year, some peculiar contraptions were installed in the main space at EPFL's Student Prototyping and Outreach Tank (SPOT), as five student groups set about learning how to operate Bernina sewing machines and run the versatile software developed by the famous Swiss manufacturer. Their aim was to examine how the machines could be improved or put to unconventional use. Gonzalo Rodriguez, an exchange student, was instantly drawn to the challenge: "I signed up for the project because I wanted to gain experience working directly with a company and better understand how the business world operates and carries out joint R&D with universities."
The approximately 200 Bachelor's students (BA6) can chose from a number of concurrent engineering classes. The one given by Prof. Pedro Reis, who heads EPFL's Flexible Structures Laboratory (fleXLab), to the School of Engineering (STI), provided a ready-made setting for this first collaborative initiative between Bernina and EPFL. Prof. Reis is studying the properties of unconventional materials and their potential in a range of engineering applications, and every year gives the students in his class an opportunity to try their hand at something new. "The idea behind the class is for students to navigate unfamiliar situations, to come up with new ideas, and to expand on their concepts," he says.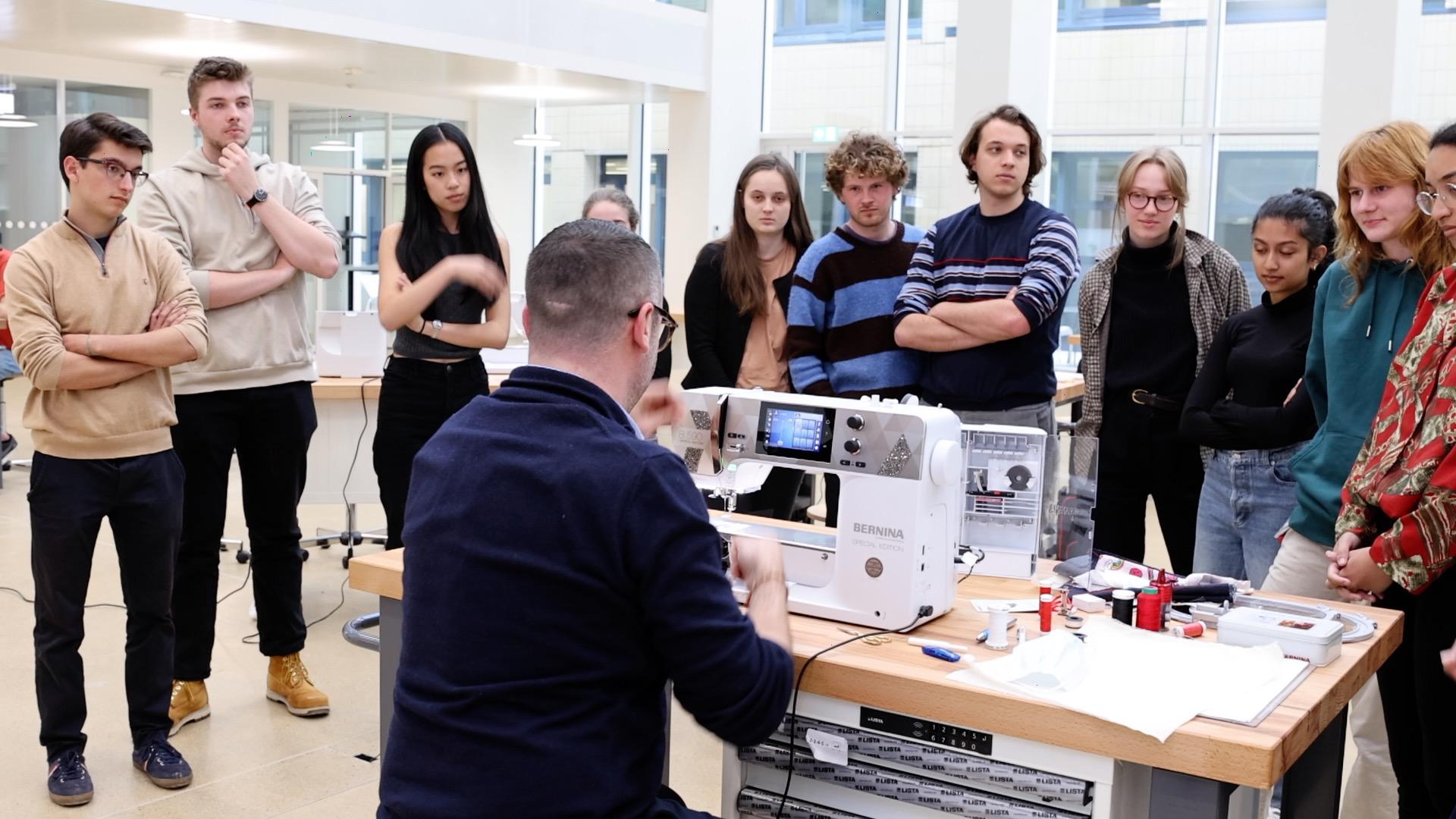 After a basic introduction to the sewing machines, the students got straight down to work, developing a prototype from scratch by the end of the semester. "Our only instruction was to improve the machine," says exchange student Maria Pociello Pinazo, who studies industrial engineering. "Otherwise, we were given free rein. It was quite an unnerving experience. At first our group basically fumbled around in the dark. But we knew that we wanted to do something to help minorities." Eventually, they settled on the idea of printing Braille text, which meant programming the machine and making sure they got the vocabulary right. "We weren't sure our translations were accurate, so we contacted the Swiss Federation of Blind and Visually Impaired People for feedback on our samples," says Aunosua Dey, an exchange student from Canada. "These discussions allowed us to see which elements were readable and where there were still problems."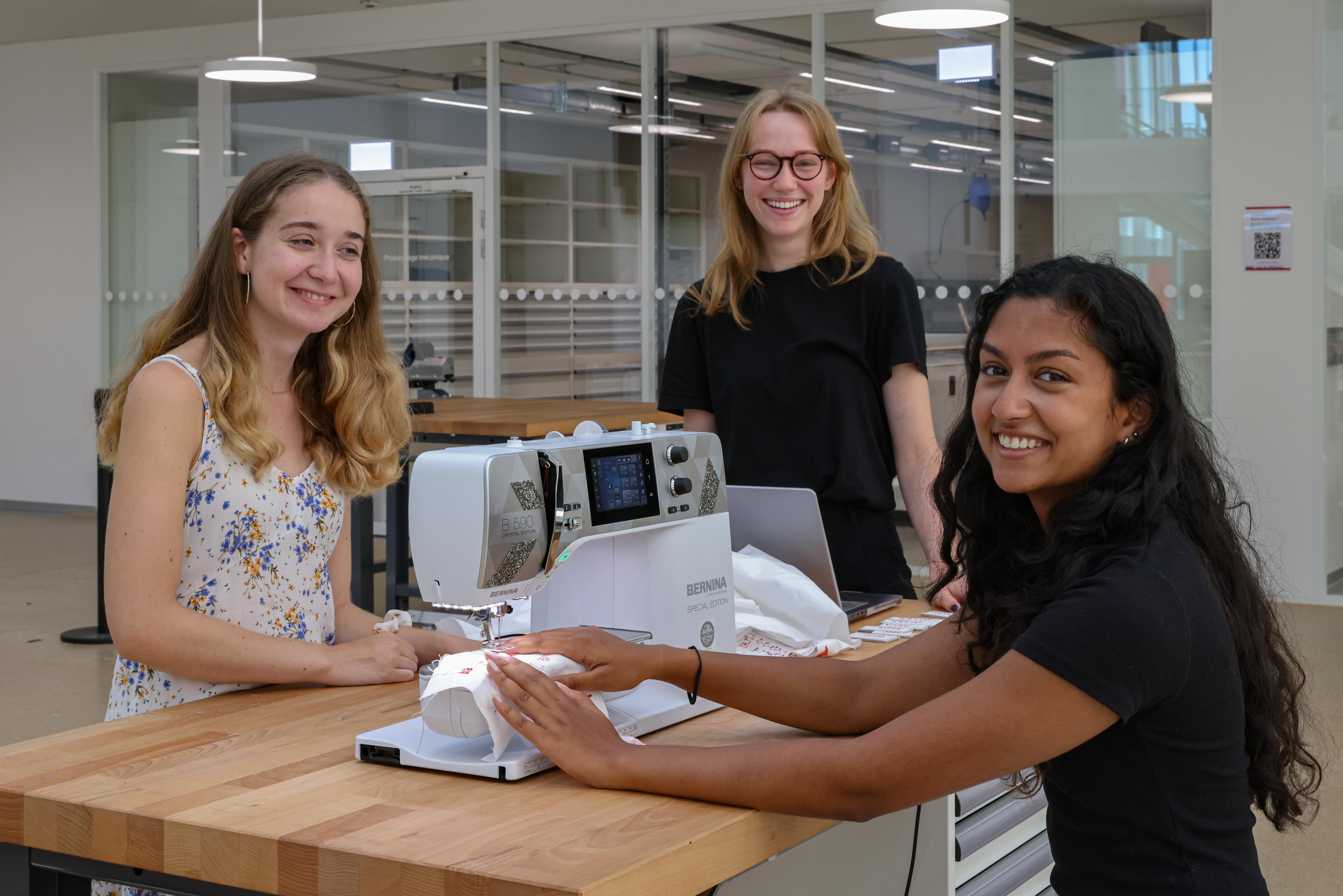 Freedom and support
The students were given the freedom to use their imagination, although they could call on a group of assistants for support and guidance. "We didn't tell them what to do," explains Bastien Aymon, one of the assistants who was involved in the project. "They could work on something purely mechanical or take a more creative approach. Before the semester began, we discussed what we wanted to improve as students. Our thoughts naturally turned to R&D challenges, such as developing a theoretical model to determine the optimal thread tension for a sewing machine, which is a major technical challenge for Bernina. At present, there isn't a robust model that applies to all fabric types and thicknesses."
But the students had other ideas, choosing to work on novel concepts such as smart bandages, magnetic clothing, structured gloves for people with disabilities, and a Bernina-led initiative to use sewing machines to teach children about mechanics and coding in a safe, age-appropriate way.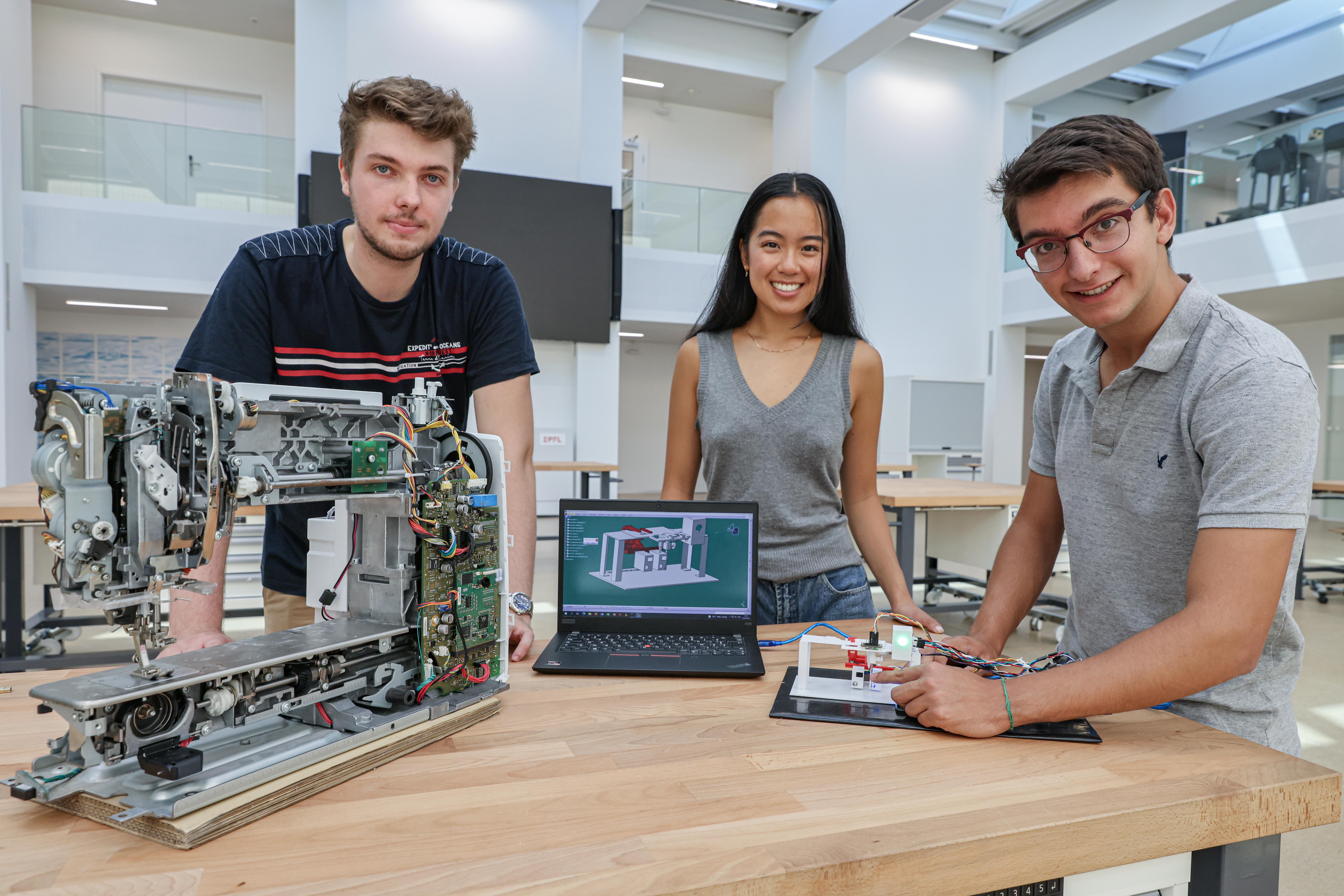 Pushing the boundaries
Three students – Guillaume, Gonzalo and Élodie – worked on an educational and safety-oriented project. They developed a sensor that could shut down a sewing machine if a child's fingers get too close to the needle, as well as a laser showing exactly where to punch the fabric. "When it came to choosing my Bachelor's project, I was drawn to the Bernina Design Challenge," says Guillaume John. "It was an opportunity to experience an interesting and different approach to engineering by working through the entire design process from blueprint to prototype."
According to Pascal Vuilliomenet, who heads EPFL's Discovery Learning Laboratories (DLL) program, the research carried out at fleXLab is paving the way for the use of hitherto under-exploited materials that could replace the aluminum, wood and composites so widely used today in rigid structures. "Textile mechanics is a fascinating area of engineering, although classes in this area are few and far between," he says. "But textiles have an important role to play. Working with Bernina is an opportunity to push the boundaries even further."
---
---