Augmented reading experience takes top prize at LauzHack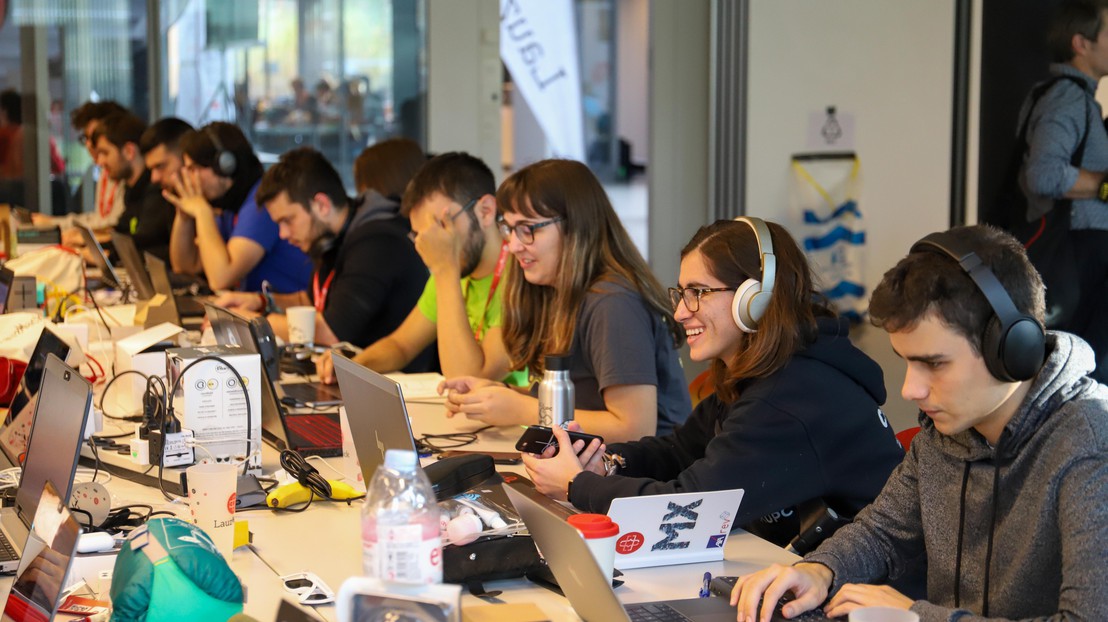 On November 16, more than 200 students from 14 universities came to EPFL for the fourth edition of the EPFL/University of Lausanne (UNIL) hackathon, LauzHack. When all was said and done, an AI-driven system to enhance book-reading with sounds and visual effects took first place.

Participants in the student-run hackathon had exactly 24 hours to develop and refine a prototype for an innovative technical project. Some worked from their own concepts, while others addressed pre-defined challenges posed by the event sponsors. After the 24 hours were up, a panel of expert judges from EPFL, UNIL, and industry selected the top three projects based on their technical excellence, novelty, and functionality.
"Judging the LauzHack pitches was an opportunity to see innovation in action. The teams used the latest technologies and cross-platform combinations to build innovative ideas that have never been imagined before, as well as solutions to industry challenges," said judge Nadene Canning, a professor at the Business School Lausanne (BSL).
Three useful – and fun-to-use – apps
First prize went to team Augmented Reading (Emile Fontanet, Raphael Strebel, Martin Fontanet, and Gilbert Maystre), who developed an AI-driven system that lets users experience a story with context-adapted acoustic and visual effects. The team presented an impressive live demonstration using a high-definition webcam, a speaker, an RGB lightbulb, and pages from "The Lord of the Rings".
"I think the non-intrusive approach works great; it adds to the experience without compromising the original goal, which is to enjoy a book," commented LauzHack judge Mario Gutierrez, a software engineer at Logitech.
Team WabiSabi (Beatriz Borges, Andre Ghattas, and Lilia Ellouz) took second place with a unique concept based on natural language processing (NLP): an AI chatbot for casual conversation or a pep talk, based on the personalities of famous figures or fictional characters. Using conversational AI based on the GPT-2 text-generation model, WabiSabi allows users to "chat" with, for example, Gandhi or Oprah Winfrey.
The EPFL team EasyRecycle (Coralie Chappelier and Olivier Cloux) took home third prize for their trash-sorting tool: just take a smartphone picture of the waste item in question, and the EasyRecycle app tells you what type of bin to look for, depending on your location. To train their model, the students used photos of trash left on tables during the hackathon itself. LauzHack judge Alain Wegmann, head of the Systemic Modeling Lab (LAMS) in the School of Computer and Communication Sciences, called the project "refreshingly socially aware."
"We were very happy with our project. It was a good opportunity for us to mix our fields of expertise – machine learning and environmental engineering. We believe that this diversity allowed us to go beyond in this hackathon," Cloux said.
LauzHack is sponsored by Bobst, Logitech, Loterie Romande, Swissquote, AdNovum, AXA, SBB and SOPHiA GENETICS. View the full list of projects, including the winners, here.





---
---