"At EPFL, I soon felt right at home."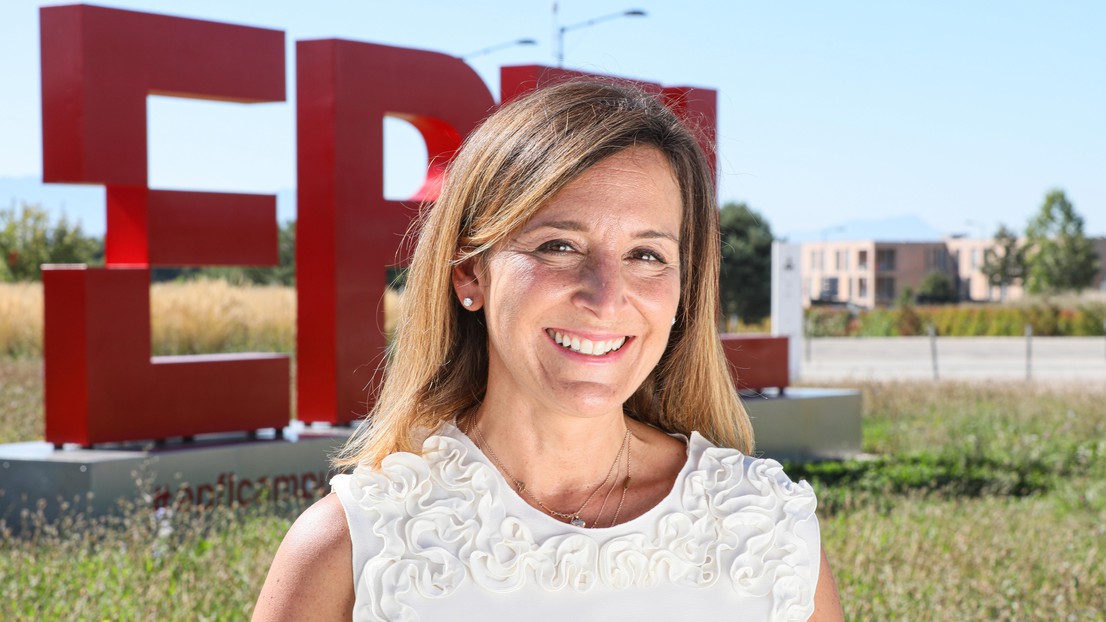 Every year EPFL hands out Alumni Awards to two graduates who have led exceptional careers. Leila Schwery-Bou-Diab, currently the Vice President of Value Chain Management for Johnson & Johnson's pharmaceutical business, is one of this year's winners – marking over 20 years of professional achievement since she graduated from our School.

With a Lebanese father and a Swiss-German mother – who adopted French as their lingua franca – it's not surprising that one of Schwery-Bou-Diab's core values is diversity. It's also a value she shares with EPFL, whose community is made up of people from an array of countries and cultures. Schwery-Bou-Diab grew up in Saudi Arabia and Lebanon; her family moved to Switzerland when she was 16 and she began studying at EPFL in 1995. "I have great memories from my time at EPFL. We each had a different background and were all thrown together in this new environment, so we learned to help each other out. I soon felt right at home," she says.
Both Schwery-Bou-Diab and her brother inherited an interest in science from their father, a graduate of EPFL's predecessor, EPUL. However Schwery-Bou-Diab found her particular calling in chemistry. "I was looking for a field that offered attractive prospects in innovation, and where I could make a concrete impact on a large scale. So I chose chemical engineering with the idea of going into the pharmaceutical industry," she says. And that's exactly what she did when she graduated in 2000, taking a job with a pharma consulting firm.
Three years later she began working directly for a pharmaceutical company – Novartis – as a process chemist. This was a high-stakes role where she worked closely with process engineers and operators, and one in which she grew and excelled. In 2005 the company appointed her head of production at a manufacturing site in Ireland, in charge of some 120 people. "This is usually the kind of job you're offered later in your career, so it really meant a lot to have been selected," she says. This position also marked the first of a series of high-level positions abroad.
In any case, a sedentary career was never in the cards for Schwery-Bou-Diab. Her open mind and appreciation for diversity naturally led her to work in several countries and to embrace new cultures. As her career progressed, so did her knowledge of the world. After transferring from Ireland to Germany in 2009, she moved to the US in 2015 where she worked as Vice President of Global Quality for Elanco, a pharmaceutical firm that makes veterinary drugs.
Schwery-Bou-Diab returned to Switzerland in 2019. She now works as Vice President of Value Chain Management for Janssen, a pharmaceutical business owned by Johnson & Johnson. In this role she oversees the entire Janssen product line-up, from development to marketing, and makes strategic decisions regarding the product portfolio. That put her in the front lines when it came to outlining her company's response to the COVID-19 pandemic. "These past few months have been crazy. We've started developing a vaccine candidate, but first we had to examine several different drugs before selecting the most promising one. Then we had to find the production capacity – all in a very short timeframe," she says.
Gender equality is an issue Schwery-Bou-Diab feels strongly about, and she has taken part in several mentoring programs both within Johnson & Johnson and elsewhere. She also spoke at EPFL's International Women's Day event in 2019. "I had already been back to the EPFL campus a few years earlier, to speak at the Graduation Day ceremony as a section sponsor. I was proud to see that the class sitting in front of me had about the same number of men and women – when I graduated, less than a third of us were women," she recalls. Now that a new generation of engineers has received their degrees, Schwery-Bou-Diab wants to encourage them to follow their hearts. "Don't plan out your career hoping that someday it'll become exciting. Do what you're truly passionate about, and success will follow." Wise advice, judging by her success.
Schwery-Bou-Diabwill officially receive her Alumni Award at noon on 13 November 2020. You can watch the event live online.
---