ArtLab to host four nights of open-air cinema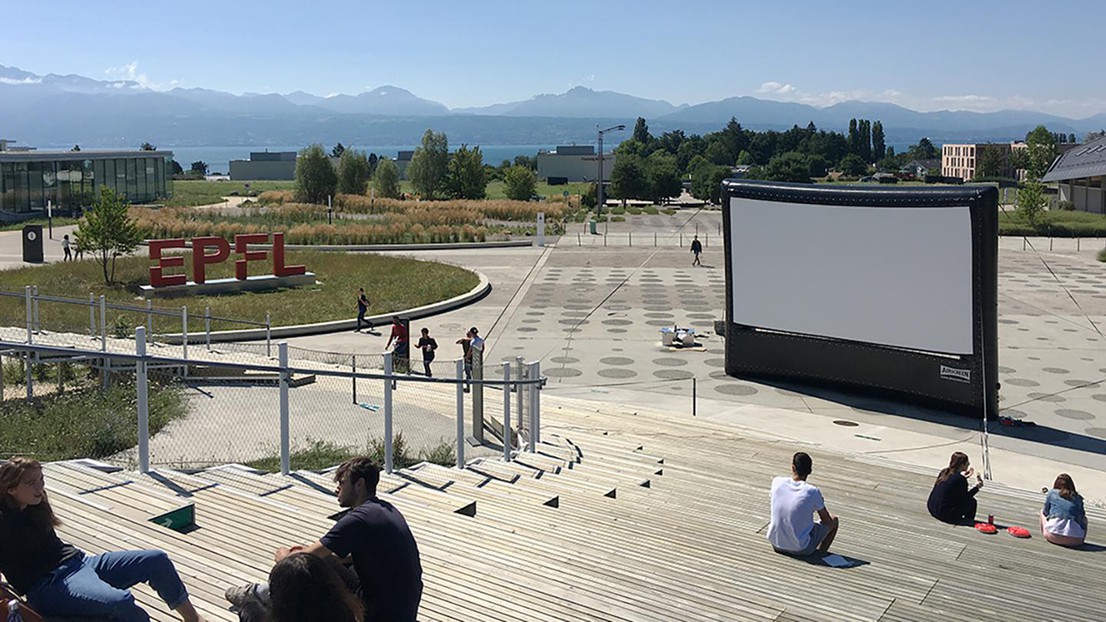 Following a time of cultural scarcity, ArtLab is celebrating the start of the new academic year with GIFF PLUG x EPFL ARTLAB: an open-air cinema at the heart of the EPFL campus. Four evenings of screenings under the stars will be presented, with a customized program prepared by the Geneva International Film Festival (GIFF). These screenings are free and open to all, but registration is required.

September 17 and 25 at 20h
Kids

Michael Frei / 9 mins / 2019 / Switzerland / animation / in English
How do we define ourselves when we're all equal? Who leads the people? What if they're going in the wrong direction? Where does the individual end and the group begin? What do we do by choice or under duress?
Swatted

Ismael Joffroy Chandoutis / 21 mins / 2018 / France / animation / in English with French subtitles
'Swatting', a potentially deadly menace of cyber-bullying that hovers over online gamers every time they play. Through YouTube videos and fascinating computer-generated images, they describe their struggle between fascination and horror.
Operation Lune [Dark Side of the Moon]

William Karel / 52 mins / 2002 / France / mockumentary / in French
An intriguing documentary offering a subtle blend between fact, fiction and hypotheses about an event that has marked the twentieth century: the race for the moon. Was Nixon prepared to do anything it took to ensure American supremacy in conquering space? Were there really "live broadcasts" from the Moon? What was Stanley Kubrick's connection to NASA? Built around real-life interviews with Henry Kissinger, Donald Rumsfeld and Buzz Aldrin, this film stirs things up and reminds us of the power of images and their possible manipulation.
September 18th and 24th at 20h
Little Joe 

Jessica Hausner / 105 mins / 2019 / France / drama, science fiction / in English with French subtitles

Alice, a single mother, is a dedicated senior plant breeder at a corporation engaged in developing new species. She has engineered a very special crimson flower, remarkable not only for its beauty but also for its therapeutic value: if kept at the ideal temperature, fed properly and spoken to regularly, this plant makes its owner happy. Against company policy, Alice takes one home as a gift for her teenage son, Joe. They christen it 'Little Joe' but as it grows, so too does Alice's suspicion that her new creations may not be as harmless as their nickname suggests.
Details for attendees

Admission is free but registration is required. Please register here
Location: Lombard Odier Agora on Place Cosandey, just in front of ArtLab
Time: screenings start at 20h
Screenings are limited to 100 people max.
Face masks must be worn.
The screening will be cancelled in the event of bad weather.
About the GIFF
Since its creation in 1995, the Geneva International Film Festival (GIFF) has been supporting the role of independent authors in creative processes. At the crossroads of genres and disciplines – a place to experiment, get together and celebrate – the Festival showcases a program featuring films, TV series and digital arts for ten days every year. It also devotes considerable attention to innovation, music and up-and-coming talent in its various programs.
---
---