Architecture students trade their pencils for 3D software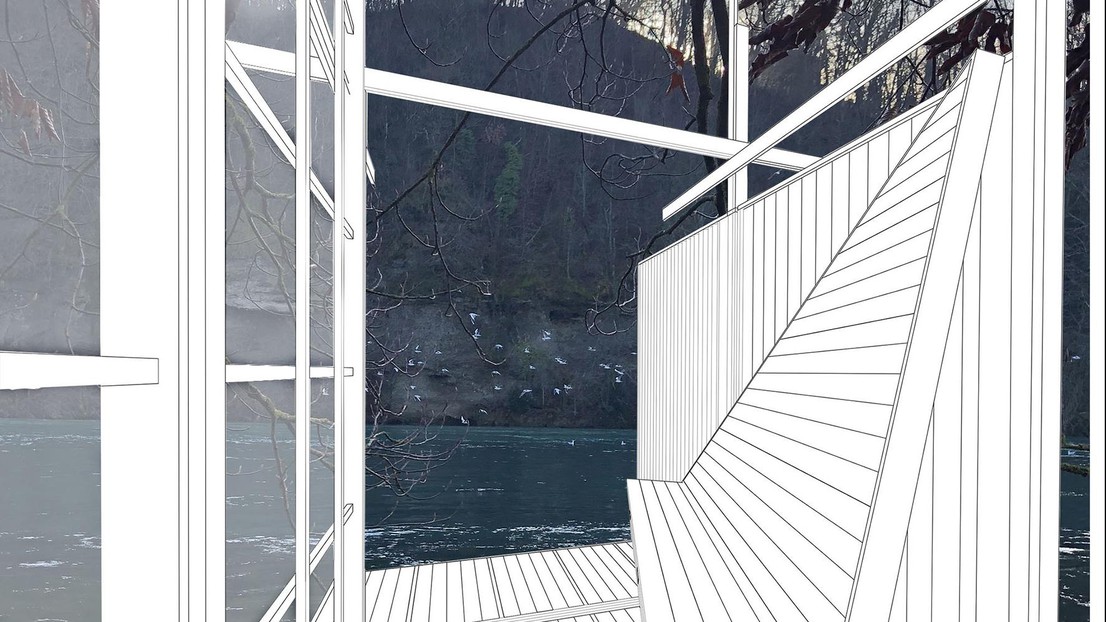 EPFL's first-year architecture students usually do their drawings by hand. But this spring they had to use 3D drawing software – which they were trained on in two short weeks. The initial results are promising and contribute to discover different ways of thinking about and teaching architecture.

First-year architecture students at EPFL are taught using an approach that combines imagination, technology and construction methods. Drawing by hand and creating models are two mainstays of this approach. The year culminates in a project in which the class of around 150 students builds a full-scale model by hand, usually in an emblematic location somewhere outdoors (see links to articles).
This project, which is overseen by EPFL's Design Studio on the Conception of Space (ALICE), had to be adapted this year due to the coronavirus outbreak. "The heads of our architectural studio spent two weeks giving an online tutorial on the Rhino 3D drawing software. Attendance was high and the students were motivated to learn," says Camille Vallet, an architect and head of communication at ALICE.
Promising line-drawings
The first line-drawings delivered by the students – collections of documents and 3D drawings generated in Rhino and posted in the ALICE blog – are highly promising. "The students' work has been very inspired. We were also surprised by the high level they've already reached," says Vallet. "Even though the 3D drawing process is virtual, some students went into even greater detail on the tangible aspects of their designs than they would have if they'd built a model or drawn by hand. For instance, some students included a legend indicating the weight, cost and exact dimensions of the various elements of their design."
Dieter Dietz – an associate professor at EPFL, head of the architecture section and the director of ALICE – shares Vallet's enthusiasm. "We are very pleased with the work done by the students over the past few weeks and appreciate the considerable effort they've had to make," he says. "The challenges we are facing provide us with an opportunity to discover different ways of thinking about and teaching architecture. I'm sure we're all eager to see how this semester will play out."
A summer workshop
For this year's project, the students will have to design temporary structures for three parks and abandoned areas near Pointe de la Jonction in Geneva: the mangrove under Cayla Park, the parking lot on Route des Péniches and the Onex dock. The students have been given free rein on how they want to transform these sites – into meeting places, areas for playing games, or places to simply enjoy the view. The only requirement is that their architectural design must fit in seamlessly with the surroundings. The initial plan was for the students to build their wooden structures on site this spring. That will no longer be possible, but a workshop will be held this summer where some students can construct part of the projects.
Tying architecture to the living
The concept, called Cabotage, is part of the Becoming Leman initiative that ALICE launched last year in Evian. "The idea is to explore what our environment and societies are in the process of becoming," says Dietz. "These projects are intended to teach both students and architects how to tie in their designs with the earth, the region and the living. And how to situate their ideas and spatial constructions with respect not just to society, but also to the planet's resources, with the Rhône and Lake Geneva region as their testing ground."
Photo gallery: a selection of the best works by studio.










References
---
---