Architecture students rejuvenate two sites in the Greater Geneva area
First-year EPFL architecture students are reshaping Geneva's public spaces. All summer long, visitors can explore and interact with temporary installations at the International Red Cross and Red Crescent Museum's Jardin des Nations and along Avenue des Grandes-Communes in Onex, which has been transformed into a dynamic pedestrian-oriented area.

It's a springtime tradition, a long-standing rite of passage for architecture students at EPFL's Design Studio on the Conception of Space (ALICE), headed jointly by Dieter Dietz and Daniel Zamarbide. At the end of their first year, students take on real projects at existing sites.
For the third year in a row, the projects are taking place in the Greater Geneva area, after previous years in Lausanne (2016), Zurich (2017), Brussels (2018), and Evian (2019). Students have been tasked with designing and building full-scale wooden structures that fit seamlessly into the sites they have been assigned. This initial, hands-on experience with a landscaping and architecture project is giving them a taste of the reality on the ground – which includes a necessary awareness of spaces and materials – as well as an opportunity to plan and implement a design from start to finish. "It's exciting to see our drawings and small-scale models come to life in a full-scale version," says first-year student Doriane Eckert, carefully cutting boards for her wooden structure.
This year, with the support and guidance of architects, engineers, and other EPFL labs, 200 students are exploring the potential of two vastly different sites. One group is building an exposition for the International Red Cross and Red Crescent Museum, through a collaboration between the Museum and ALICE. The second is revitalizing Avenue des Grandes-Communes as part of the Onex Micro-Territoires initiative, which has received funding from the municipality as well as the canton.
The Museum gardens
In a unique effort to garner visibility, better serve guests, and transform the way visitors view and use its gardens, the International Red Cross and Red Crescent Museum teamed up with ALICE to create a series of installations. "They form a sort of guided tour that takes people around the gardens, starting with a large portico with rammed-earth foundations that they pass through," says Clarisse Labro, lead architect for the Museum site.
ALICE students faced an additional challenge this year, as they were required to incorporate a second material besides wood into their designs: earth. They had the help of Alia Bengana and Mattia Pretolani, two architects who specialize in this material. Earth, an alternative to concrete, is a symbol of sustainability in contemporary architecture. "If you tear down an earthen home, you can rebuild it an infinite number of times," says Pretolani. Ancient techniques with low embodied energy costs, such as raw earth, rammed earth, and cob construction, have emerged as attractive responses to climate change – an issue that has prompted students to think more carefully about the consumption requirements and impacts of their choices.
Grandes-Communes
Avenue des Grandes-Communes is an apartment block-studded, quintessentially Modernist boulevard. It's located near a large, wooded area in Onex – but was clearly built more for cars than people. "There's no shade, and in the summer it can feel several degrees hotter on this street because the sun reflects off the blacktop and all of the parked cars," says Augustin Clément, the lead architect on a project called Convivae to build a convivial series of large, shaded tables around which locals can gather.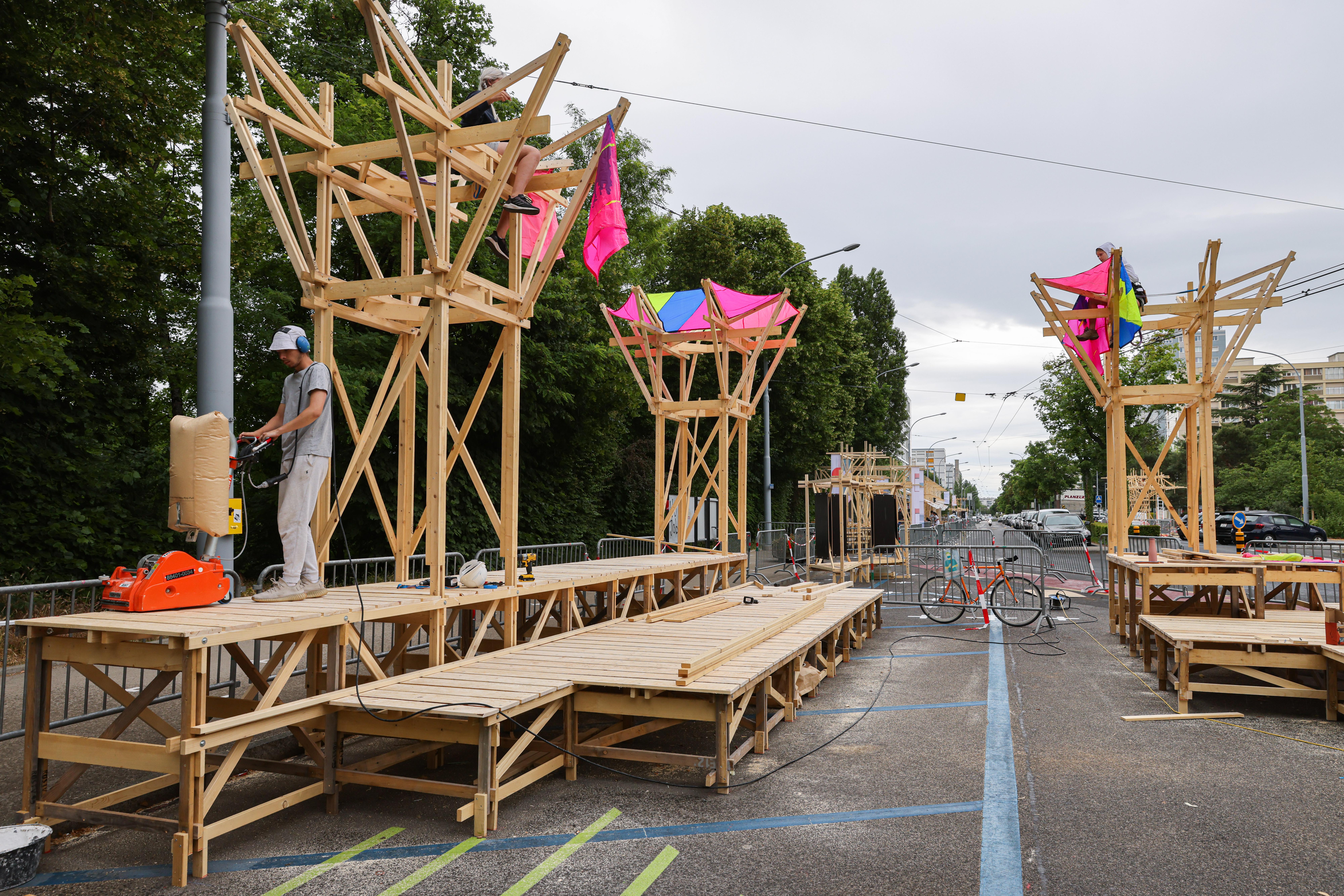 As part of the Onex Micro-Territoires initiative, ALICE is working closely with the municipality and the canton to reclaim space for pedestrians. With the light structures that they designed and built, students are creating a liaison between city and forest, transforming sections of both the street and the woods into a shaded, lively, and pedestrian-friendly space. Neighborhood events such as gardening, performances, water-based activities, cooking, and shared meals will take place throughout the summer, and a variety of artists and musicians have been invited to add to the area's ambiance.
Grandes-Communes is testing responses to global warming, to the need for more public spaces, and to new forms of transportation, and will be a highlight of the EXPLORE festival celebrating "the Geneva of tomorrow."
https://exploregeneve.ch/
Press contacts
Teresa Cheung
Academic Head
ALICE, EPFL
Email: [email protected]
Daniel Zamarbide
Program Co-Director
ALICE, EPFL
Phone: 078 652 73 26
Email: [email protected]
---
---