Architect Anne Lacaton wins the Erna Hamburger Award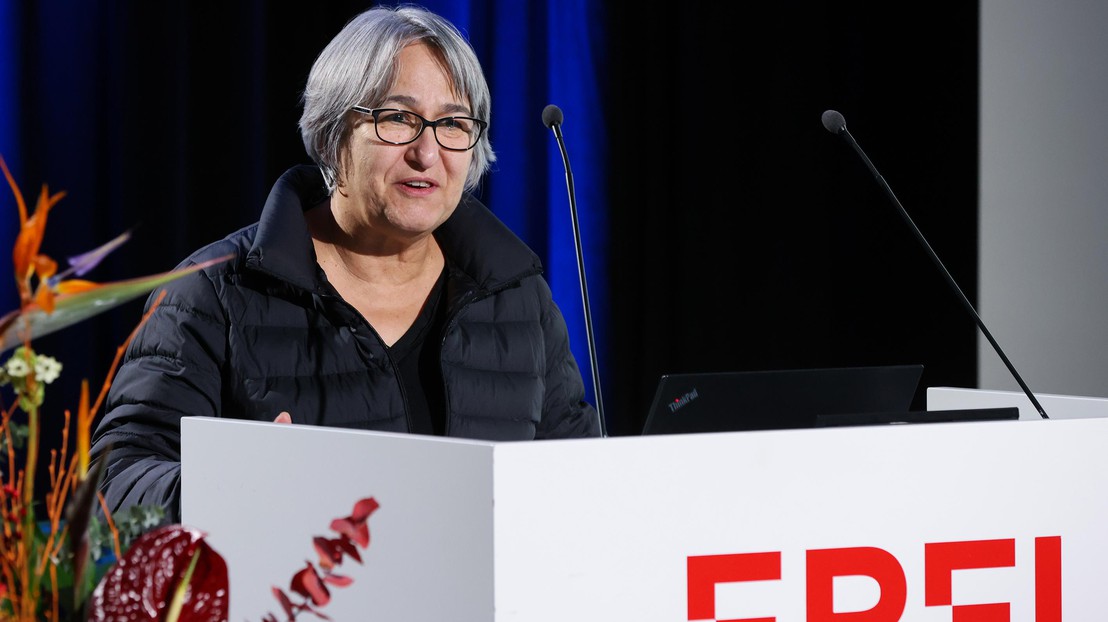 The prize, awarded by the EPFL Women in Science and Humanities (WISH) Foundation, was delivered at a ceremony at EPFL's Rolex Learning Center on 7 November.

By selecting Anne Lacaton, the EPFL WISH Foundation is honoring not only the remarkable talent of this French architect, but also her sustainability-oriented, human-centered approach. The Erna Hamburger Award – named after the first female full professor at EPFL – was introduced in 2006 to recognize a woman scientist, engineer or architect who has made an outstanding contribution to her field. This year's awards ceremony was held at the Rolex Learning Center on 7 November 2022.
"Our choice went to Anne Lacaton because of her ethics, the emphasis she places on sustainability, and the way her work shows us the way forward," says Aleksandra Radenovic, the Foundation's president. "It also illustrates the special place that architecture holds at EPFL, although Anne Lacaton will be an inspiration for students well beyond the field of architecture and to everyone in our community."
Anne Lacaton, born in 1955, holds a degree from École Nationale Supérieure d'Architecture et de Paysage de Bordeaux. She has taught as an associate professor at ETH Zurich and a visiting professor at EPFL. In her 30-year career, Lacaton has consistently promoted an approach to architecture that's based on sustainability, well-being that's affordable to all, and sensitivity to the surrounding environment. She and her partner Jean-Philippe Vassal founded the Lacaton & Vassal architecture firm in 1987; together they advocate for preservation rather than demolition – i.e., for restoring and repurposing built structures rather than tearing them down, thus giving them fresh life. In a French radio interview in 2021, when Lacaton & Vassal won the prestigious Pritzker Architecture Prize, Lacaton said: "We believe it's really important to look kindly and compassionately on existing buildings, because they possess a great deal of value. It's a fallacy to think that just because something is old or has been used that it's no longer worth anything."
Improving the lives of many
Lacaton & Vassal's designs employ natural light, the surrounding environment, carefully selected materials, conservatories, large bay windows and greenhouse technology to create inviting, modular spaces. The goal is to enhance the well-being of building occupants, as reflected in the firm's renovation of Tour Bois-le-Prêtre in Paris, a residential high-rise of around 100 apartments built in the 1960s. The architects' work always respects the needs of local residents, families attached to their neighborhoods and their neighbors. It was in this vein that Lacaton & Vassal renovated three buildings in Bordeaux's Grand Parc complex, without requiring the families living in the 530 apartments to move.
Lacaton & Vassal's philosophy is particularly relevant today, in the wake of the pandemic and amid a global energy crisis that's forcing us to act now to stem the effects of climate change. "The modernist hopes and dreams to improve the lives of many are reinvigorated through their work that responds to the climatic and ecological emergencies of our time, as well as social urgencies, particularly in the realm of urban housing," said the Pritzker Prize jury in a statement.
---
---