Ali H. Sayed appointed new dean of the School of Engineering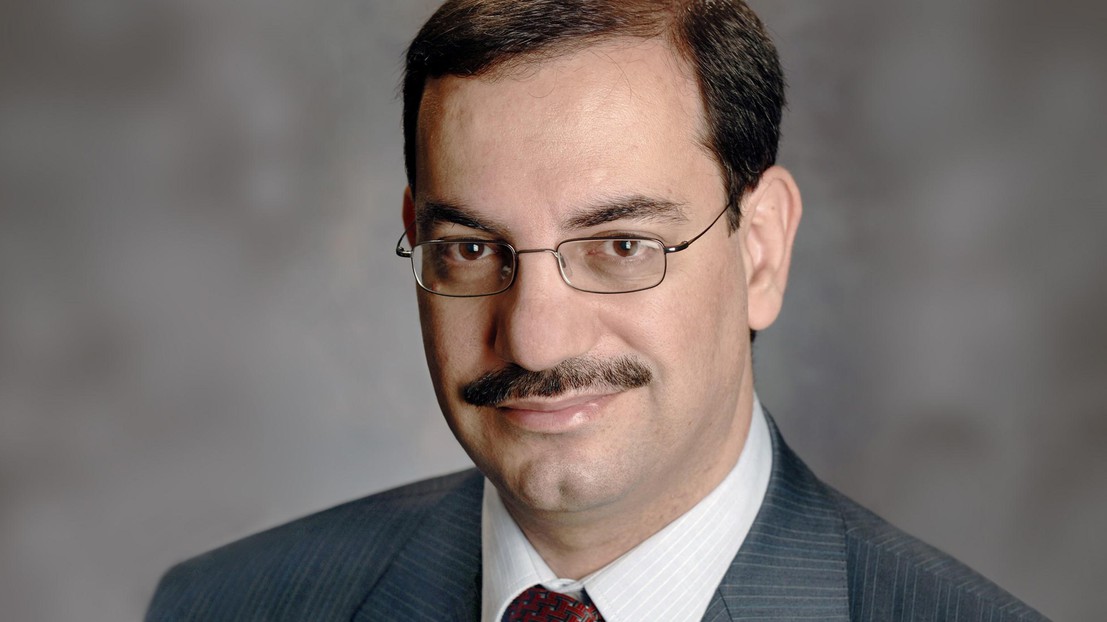 Ali H. Sayed, currently a distinguished professor at the University of California, Los Angeles (UCLA), has just been appointed as the new dean of EPFL's School of Engineering (STI).

Professor Ali H. Sayed, the esteemed scientist who currently heads the Adaptive Systems Laboratory at the University of California, Los Angeles (UCLA), has just been appointed as the new dean of EPFL's School of Engineering (STI). He will succeed Professor Demetri Psaltis, who is stepping down after ten years in office.

Professors Pierre Vandergheynst and Andreas Mortensen will serve as deans ad interim until Professor Sayed takes up his duties on 1 July 2017.
Professor Sayed answers a few questions about his new role
What will be your main priorities as dean of STI?
The engineering discipline is undergoing nontrivial transformations, with bridges to other fields becoming increasingly robust. For example, we are witnessing the convergence of electronics and biology, and of the virtual and physical worlds. We are also witnessing an expansive demand for smart structures, an increasing focus on complex systems, and the emergence of network and data sciences with significant societal implications. In this context, competitive engineering schools will be ones whose faculty and students regularly step across traditional boundaries.
I intend to team up with faculty to develop transformative ideas and promote both depth and breadth in teaching and training. I will further work to expand the global outreach and internationalization of the school's activities, strengthen its global ties and footprint, and expand its online presence. I will also engage the school's faculty, students, staff, alumni, industry partners, and academic leaders in policy and strategy. I am looking forward to working with them in a concerted effort to push the school to further heights.
What are your views on engineering education and teaching?
The training of engineering students needs to evolve in line with the transformations we are witnessing across fields, and with evolving market expectations. Besides strong foundations, a modern engineering curriculum needs to promote a broader exposure to the arts, design, management, life sciences, human and social sciences, and entrepreneurship. Some of these objectives can be pursued through innovative teaching practices involving hands-on design, team learning, and projects of societal value as well as industry-driven projects.
At the same time, it is important to recognize that the current generation of students has grown up exposed to a world of constant connectivity. They have also become accustomed to online tools and have developed a preference for online sources of information. We can tap into this reality and offer training experiences that are better aligned with student expectations. For example, we can develop new forms of animation, visualization, virtual experimentation, immersive learning, and online tutoring. We can also promote interactive and personalized learning environments with continuous assessment and feedback mechanisms.
You were a professor at UCLA, what prompted you to take this position at EPFL?
UCLA is a formidable university, among the best in the world, and it has afforded me unique opportunities to grow both as a researcher and educator. The new position at STI offers me avenues to contribute at a broader strategic level while continuing to pursue my science. I am honored to be tasked with the responsibility to steer STI to new heights. I am looking forward to my interactions with your faculty, students, and staff across the various institutes and centers within STI, and also across the sister schools at EPFL. It is a vibrant and forward-looking ecosystem with great potential.

I will do my best to make a difference for the future of STI and its standing both within Europe and internationally. I would like STI to shine as a hub for research of great societal and global significance, as a reference for innovative education and teaching, and as a promoter of creative entrepreneurship. I see the school continuing to grow into a vibrant environment brimming with activity, discoveries, and curiosity; one that will move closer towards its goal of becoming a global reference.
Bio
Professor Ali H. Sayed directs the
Adaptive Systems Laboratory
at the University of California, Los Angeles (UCLA). He is world-renowned for his pioneering research on adaptive filters and adaptive networks, and in particular for the energy conservation and diffusion learning approaches he developed for the analysis and design of adaptive structures. His research interests span several areas including adaptation and learning, network and data sciences, information-processing theories, statistical signal processing, and biologically-inspired designs.
Born in Brazil, Professor Sayed holds an MSc in Electrical Engineering from the University of São Paulo (1989) and a PhD in Electrical Engineering from Stanford University (1992). He was an assistant professor at the University of California, Santa Barbara (UCSB), before transferring to the Los Angeles campus (UCLA) in 1996 where he eventually earned the title of distinguished professor in 2015.
Professor Sayed is a seasoned professor with solid experience in academic administration and management. He is currently president-elect of the IEEE Signal Processing Society, and between 2005 and 2010 served as chairman of the UCLA Department of Electrical Engineering.
An author or co-author of over 480 scholarly publications and six books, he has an h-index of 70 (according to Google Scholar) and is recognized as a Highly Cited Researcher by Thomson Reuters. He has received a number of major awards and is a fellow of both the IEEE and the American Association for the Advancement of Science (AAAS), the publisher of the journal
Science
. Professor Sayed is the author of the reputed textbook
Fundamentals of Adaptive Filtering
(Wiley, 2003).
---