A steel uterus speaks for itself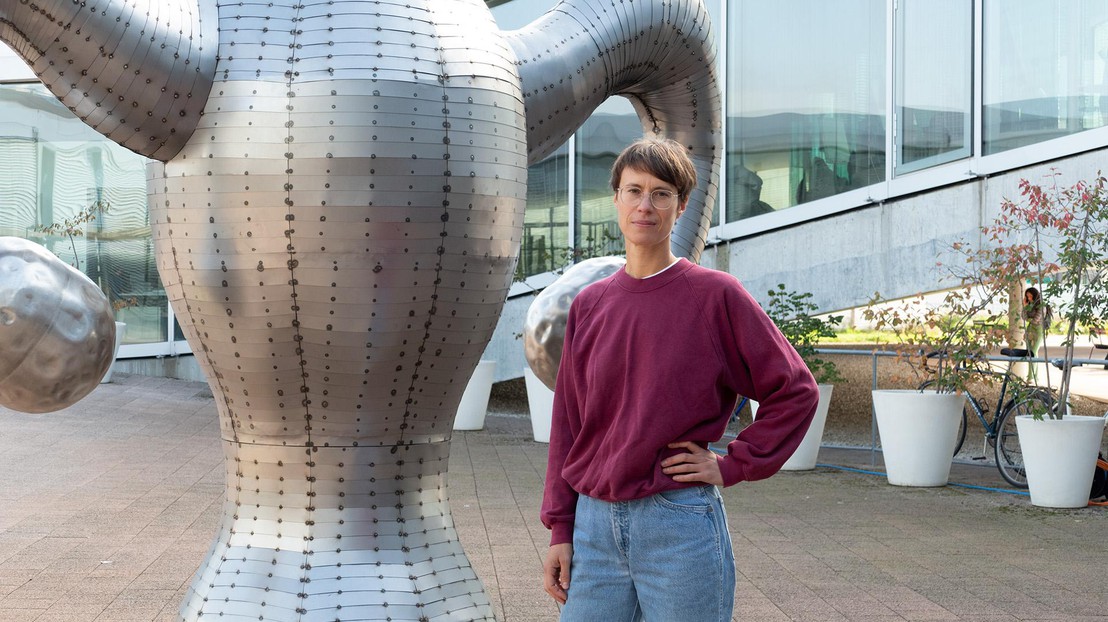 Swiss artist Vanessa Billy has responded to an invitation from the CDH Culture program by creating an original sculpture with an ecofeminist message – and a musical twist – for one of the patios of the Rolex Learning Center.

In her work, Zurich-based artist Vanessa Billy makes use of a variety of materials and production techniques, and explores formal exhibition spaces as much as outdoor, public settings. But Billy's sculpture for EPFL manages to appear simultaneously external and internal: the imposing metal structure representing a uterus is surrounded by the soft curves of the Rolex Learning Center (RLC), as an organ in a human body.
"There is this ancient idea that women are more connected to the earth, and to fecundity and fertilization. But over time, patriarchal structures have tried to control and take power away from women, especially with industrialization and the exploitation of natural resources. These notions are connected to the ecofeminist movement of the 1970s," Billy explains. "I wanted to take a feminist approach with this piece, and to represent a soft, warm uterus counterintuitively using hard, cold metal. This is a symbol of a womb that has withstood violence, and that must reassert its strength to fight its way forward."
Entitled La Matrice, the sculpture reflects EPFL's ongoing commitments to sustainability and supporting women in science. Billy hopes that beyond its environmental and feminist significance, the sculpture will also evoke a visceral response from those who view it.
"People shouldn't necessarily need to know about art history or ecofeminism to appreciate the physicality of the piece, which isn't immediately identifiable. My hope that a child will be interested in it, and get something from it, in the same way as an older person. I hope that it will inspire people to ask questions."
A campus crucible
Billy collaborated with professional metalworkers to construct the piece, which is over two meters high, from thin pieces of hammered steel welded together. The challenge of working the heavy, rigid strips into a vessel shape that would not topple over resulted in a final sculpture with a lower center of gravity than originally planned; and indeed, the layered articulations of the organ evoke an armored knight, with equal parts grace and strength.
The material used in the sculpture, as well as its outdoor location, bring a fourth dimension of time to the work: Billy hopes that as the year goes on, the natural elements will weather and rust the metal in interesting ways. The sculpture will receive additional wear and tear from musical performances by percussionist Anne Briset, who will play on campus using Billy's sculpture as her instrument.
"The sci-fi look of the piece is close to my heart, because I am inspired by futuristic works of fiction by women, and their often dystopian – sometimes beautifully utopian – ideas," Billy says.
She clarifies that the sculpture's feminine title, La Matrice (The Matrix) is a reference not to the popular sci-fi film, but to the matrices of science – whether biological, chemical, or environmental – as primordial places of origin, just like the womb itself.
"In terms of its place on the EPFL campus, I want the piece to affirm that women's presence is really important in all areas of science, and that society won't move forward if there isn't equality and diversity in all fields, from the micro to the macro scale."
Campus presence and performances
Vanessa Billy's
La Matrice
will be formally unveiled on one of the RLC patios on Thursday, October 13, 2022 at 18h30 with a percussion
performance
by Anne Briset. It will remain on campus until the end of August, 2023.
CDH Culture sculpture series
Every year since 2010, the
CDH Culture
program has invited an artist to design and create an original work for the Rolex Learning Center's outdoor patios. Always ephemeral, the works of art are created specifically for the patio spaces, to which they pay homage, and challenge the EPFL community to consider questions at the intersection of art, science, and society.
---
---