A research team aims to reduce influenza transmission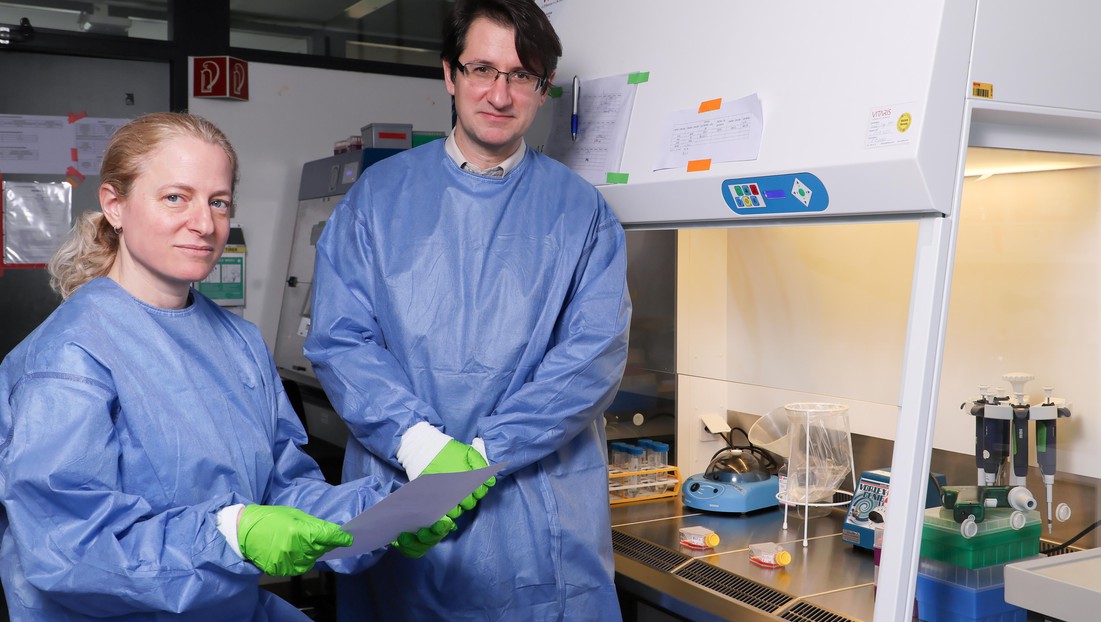 In Lausanne and Zurich, experts in virology, medicine, environmental chemistry and atmospheric science will pool their expertise to better understand the airborne transmission of the influenza virus.

Seasonal influenza strikes every year and generates significant health costs worldwide. But we still don't fully understand how the virus that causes it passes from one person to the next. Besides direct contact with an infected person, transmission via tiny droplets produced when we breathe – known as expiratory aerosol droplets – is also believed to play a key role. The importance of this latter transmission route is thought to depend on the environmental conditions encountered once the droplets are exhaled. Yet how and why environmental conditions matter is virtually unknown. Now, a team of four Swiss research groups has obtained funding from the Swiss National Science Foundation (SNSF) to solve the puzzle. The Sinergia grant, entitled "Infectivity of influenza viruses in expiratory aerosols under ambient temperatures and humidity (IVEA)," will start in April 2020 and run for four years.
Using an interdisciplinary and collaborative approach, the researchers from EPFL, the University of Zurich (UZH) and ETH Zurich (ETHZ) will aim to establish how atmospheric conditions impact expiratory aerosol droplets, and how these in turn stabilize or destabilize influenza virus droplets. Can, for instance, the temperature and humidity in a room be raised or lowered to reduce the risk of influenza infections? And what are the active mechanisms that lead to the observed responses? To answer these questions, the team will draw on a unique combination of expertise in aerosol science and virology. Their findings could have far-reaching implications for protecting public health, especially among vulnerable population groups such as young children and the elderly.
Interdisciplinary research
The project is being led by Tamar Kohn, an associate professor and the director of the Environmental Chemistry Laboratory (LCE) at EPFL. She will be responsible for determining how quickly the virus becomes inactivated in the atmosphere when subjected to different environmental conditions. Her colleague Athanasios Nenes, a full professor and the director of EPFL's Laboratory of Atmospheric Processes and their Impacts (LAPI), will develop an environmental chamber where virus-containing droplets will be exposed to a wide range of conditions.
At UZH, associate professor Silke Stertz will lead the virology part of the project, closely analyzing the mechanisms by which different influenza virus strains become inactivated. Meanwhile, senior scientist Ulrich Krieger and full professor Thomas Peter, both from ETHZ, will work on the in-depth physicochemical characterization of the aerosol droplets and study how viruses are distributed within them. Dr. Walter Hugentobler, a general physician, will lend his medical expertise on the influenza virus to the team.
According to a 2017 study by the World Health Organization, seasonal influenza is responsible for one billion infections and 650,000 deaths worldwide every year. In Switzerland, the virus accounts for between 112,000 and 275,000 medical consultations annually, according to the Federal Office of Public Health, with cases peaking as expected in winter. The IVEA project team will also seek to gain a better understanding of this seasonal phenomenon in order to help reduce its resurgence and support healthcare policy.
References
Infectivity of influenza viruses in expiratory aerosols under ambient tempertatures and humidity (IVEA), Sinergia grant, Swiss National Science Foundation (SNSF), 2020–2024.
---
---