A rammed-earth pavilion to be built in St. Gallen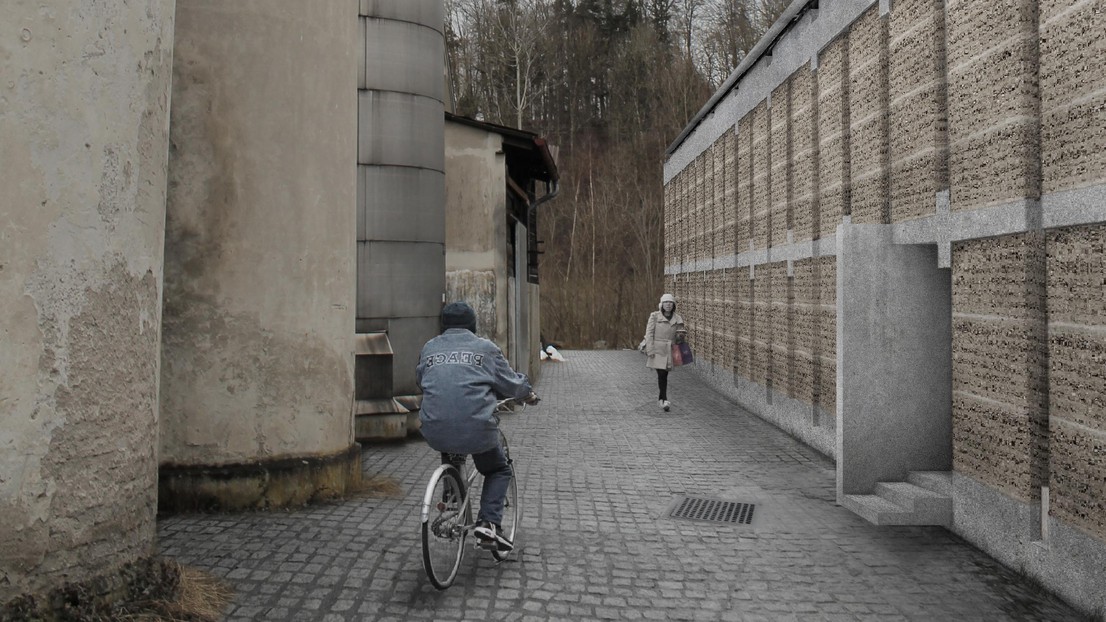 Summer series. A group of around 30 Master's students in architecture from EPFL and other Swiss universities will spend a month constructing a rammed-earth building in St. Gallen on a site devoted to the arts. Opposite the worksite, an exhibition about the history of rammed-earth construction will open on 20 August.

They are a group of 30-odd architecture students from EPFL, ETH Zurich, the University of Applied Sciences and Arts Northwestern Switzerland (FHNW, Basel) and Bauhaus University (Weimar, Germany), and they are preparing to don hardhats and work boots. Their mission? To construct a rammed-earth "mock-up" at Sittertal, a prototype of a big scale pavilion which will be realized in Summer 2018.
This Summer School project came into focus after two semesters of courses taught at EPFL by Zurich-based architect and visiting professor Roger Boltshauser: "I asked my Master's students to come up with urban densification projects that use rammed earth and would be suitable for the post-industrial site in St. Gallen," says Boltshauser. "We believe there is significant potential for both hybrid building techniques, which combine earth and other materials, and highly energy-efficient designs. So that's what we worked on last semester, in conjunction with the building industry and qualified experts."
The structure will consist mainly of rammed-earth pillars, an age-old building technique that uses earth that has been compacted in formworks. The building planed in 2018 – 23 meters long, 6 meters tall and 6 meters wide – will look like an open exhibition pavilion, but it will have other possible uses as well. The Sitterwerk Foundation, which runs the site, may want to use the building as a warehouse at some point, and for this reason insisted that it accommodate forklifts. Other requirements included the use of both recycled materials – including wood – and corrugated metal roofing. Prefabricated concrete components will also have their place the building.
Between tradition and modernity
Yannick Claessens and Mattia Pretolani, architecture students in the first year of their Master's program, came up with the idea. Their project was selected on the strength of a daring approach that uses two types of rammed-earth construction. So while the base of the pavilion can be constructed with conventional rammed earth – erected and dried on the building's foundations – the upper floor of the pavilion will be composed by earthen blocks that will be used as prefabricated components. This approach will help cut down the building time. The earth needed for the columns of the mock-up will be taken from local construction sites and tested by experts.
The two students continue to marvel at the wonders of rammed earth: "We think that the sensible thing to do is to use materials available to us, and that includes earth – which is 100% recyclable," says Claessens. "In our project, the earth walls – and not the concrete – are load-bearing. We are turning normal building codes on their head." Pretolani is equally enthusiastic: "We felt we had a free hand in terms of project design because there is so much potential in rammed earth, which is not a contemporary material in terms of its aesthetics and does not have well-developed building standards."
Pilot project
The mock-up could also serve as a pilot project for a new technique – prestressed rammed earth – in which steel cables, linked together to meet seismic standards, will run through the building's earthen columns from top to bottom. For that reason, the engineers backstopping the students will monitor the project once it's completed, making up for the lack of building standards.
Many architects steer clear of earth as a building material, since they feel it slows the speed of construction and leads to higher costs. The St. Gallen pavilion could upend such conventional thinking, according to Boltshauser, since it will only take a month to build: "By combining prefabricated earth blocks with other prefabricated concrete components, the pavilion is a glimpse at what could be the future of rammed-earth construction. It will also allow us to calculate the associated savings in terms of costs and gray energy."
Textiles and rammed earth go way back
The Sittertal valley was a manufacturing region, specializing in dyeing textiles, until the 19th century. The buildings, located between the Sitter river and a canal, have been maintained and renovated and are now dedicated to the visual arts and artisanal crafts. They play host to artist residences, a library, material archives and exhibitions. "Expertise in earth building spread from France to Switzerland through the linen trade, starting in the 17th century. Using the rammed-earth technique for a building on a site that was once devoted to textiles is our way of acknowledging that history," adds Boltshauser.
One week after the construction work begins, an exhibition describing the history of this building technique, called "Pisé - from Lyon to St. Gallen," will open. This exhibition was first shown at EPFL's Archizoom space in the spring of 2017. In St. Gallen, it will be set up in the Sitterwerk library, just opposite the students' pavilion project.
"Pisé - from Lyon to St. Gallen," Sittertal, from 21 August to 15 October 2017. Official opening: 20 August.
A revival in rammed-earth construction, EPFL news, 22 March 2017




---
---