A market leader in civilian drones joins senseFly and Pix4D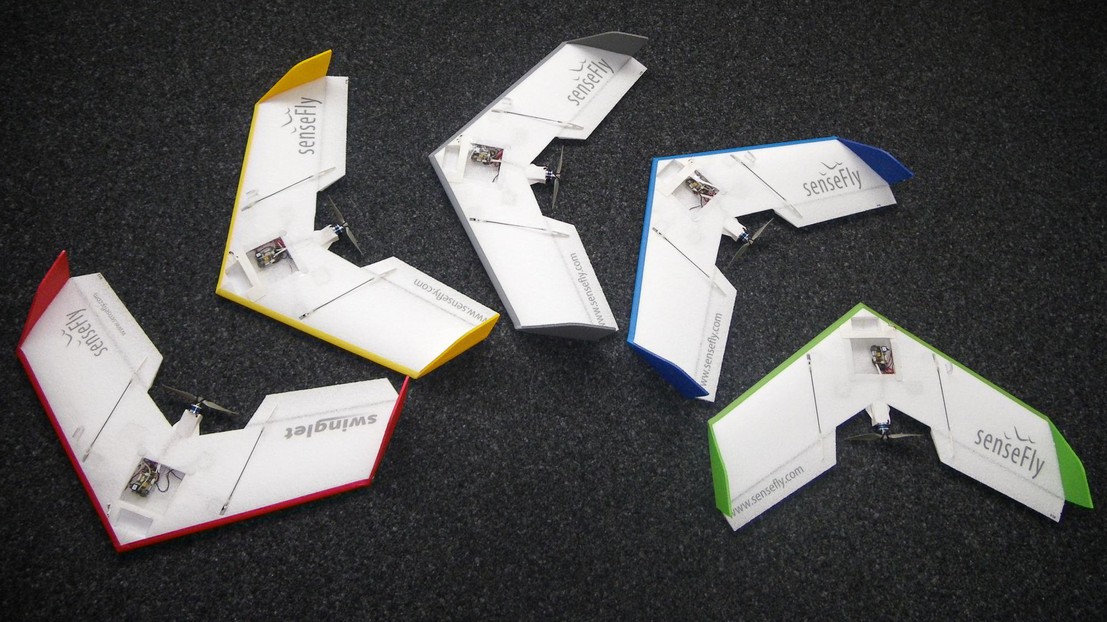 The French company Parrot, world leader in wireless peripherals for mobile phones and already in the market for consumer drones, acquired for 5 million Swiss Francs a majority share in senseFly, a start-up from the Laboratory of Intelligent Systems at EPFL. They will also invest 2.4 million Francs in Pix4D, another EPFL spin-off active in the field of 3D image processing.

Mapping a construction site, landscape, cityscape or mine, monitoring industrial sites, managing agricultural land… The drone developed by senseFly, the result of 6 years of research in the Laboratory of Intelligent Systems at EPFL, facilitates the work of experts across various fields. Equipped with an autopilot and a miniature high-definition camera, it is used by hundreds of professionals worldwide. This start-up installed at the gates of EPFL hopes to increase its sales tenfold in the next years and create dozens of new jobs in the field of airborne drones. It does so thanks to an investment of 5 million Swiss Francs from the publicly traded French company Parrot, making them a majority shareholder in senseFly.
senseFly drones demonstrate the full extent of their capabilities when combined with software developed by Pix4D, a spin-off of EPFL's Computer Vision Laboratory (CVLAB). The algorithms developed by Pix4D make it possible to assemble hundreds of aerial pictures and, within minutes, to get an extremely accurate 3D and geo-referenced image of the observed terrain. This young company based at EPFL's Science Park is also of interest to Parrot, which invested 2.4 million Swiss Francs for a minority share in Pix4D. "In the 1980's the algorithms were really unreliable, and I was convinced it would take well over thirty years to become the basis of fully-automated, reliable and useful commercial products. This is a wonderful example of how curiosity-driven research, for example the ability of a human to make sense of the world around him through what he sees, eventually led to useful results," said Pascal Fua, director of the CVLAB.

Like an Insect
Using one of senseFly's small high-performance drones is a breeze. The course can be programmed with software pre-flight and still be modified throughout the flight's duration. No runway necessary: three movements back-and-forth are enough to start the engine, and the 500-gram wing takes off. The drone reaches a cruising speed of 40 km/h to autonomously map areas ranging from a few hectares to several square kilometers in one flight, with a resolution ranging from 3 to 30 cm/pixel depending on the distance above ground. Within a maximum of thirty minutes, the drone returns to its starting point without further assistance. All that is necessary for the next mission is to change the battery.
The technology on which these devices are based was created in 2001, when a team of robotics researchers in the Laboratory of Intelligent Systems (LIS) at EPFL began to investigate the strategies of control and navigation in flying insects. Early research led to the development of an integrated autopilot using intelligent control strategies similar to that of flies and bees. "By 2008 it was included in an ultra-light flying wing, which incorporated all the advantages of insects: efficient, elegant, light, elemental and intelligent," recalls Jean-Christophe Zufferey, founder and CEO of senseFly. "I am very pleased that our robotic flying insect has not only helped to elucidate biological issues, but has also been able to promote the socio-economic development of our region by creating dozens of new high-value jobs. In collaboration with the newly created National Competence Center in Robotics, senseFly contributes to making EPFL and the surrounding region an important center for artificial intelligence and robotics," says Dario Floreano, director of the Laboratory of Intelligent Systems and of the National Competence Center in Robotics.
While the legislation for the usage of drones is being discussed in most countries, the low mass and speed of these ultra-light drones gives them a unique advantage by limiting the potential damage they could cause and thereby favored for civilian use.

EPFL's Pole of Expertise in Civilian Drones
Parrot, a global leader in wireless peripherals for mobile phones, has recently invested in drones for the consumer market. It has released a Wi-Fi controllable quadricopter, of which it has sold more than 300,000 since its launch in 2010. The collaboration with the French group will create synergies for both EPFL start-ups.
The increasing need of data for Geographical Information Systems (GIS), such as Google Earth & Street View, should drive the market of ultra-light professional civilian drones to one billion dollars by 2020. The combination of senseFly trouble-free hardware, Pix4D's unique mapping software and Parrot high volume manufacturing expertise provide the key elements to address this fast emerging market. Furthermore, the collaborations with the National Competence Centers (www.nccr-robotics.ch & www.MICS.org), both managed by EPFL, provide a heart to this internationally recognized center of expertise in civilian UAV technologies.
SenseFly, founded in 2009 in "Le Garage", EPFL's incubator, will remain in the region and its management team will stay at the helm. "We can benefit from the technological expertise of Parrot, from its externalized industrial organization and its financial strength to accelerate our worldwide distribution," said Jean-Christophe Zufferey, senseFly CEO. This strategic investment will give the French company access to the expertise and the technology for specialized drones.
As for Pix4D, created in 2011, Parrot's investment enables the exploration of new business horizons. "This reinforces our position as a leader in software for professional drones," adds Christoph Strecha, the company's CEO.
---
---