A collective of young farmers now runs the Bassenges farm
Farmland owned by UNIL and EPFL will now be run by a young collective with the goal of growing fruit, vegetables and trees, and breeding farm animals, through a sustainable, closed-loop system. The farm's products will be sold directly on site and on the EPFL and UNIL campuses.

There's more to EPFL's 55-hectare campus than classroom buildings dating back to the 1970s. The school also has a farm – comprising both land and farmhouses – on its far western side. After the person who ran the farm passed away in 2017, EPFL and UNIL (which also owns farmland) issued a joint request for proposals on how the land could be cultivated sustainably. The RFP, launched last year, asked project teams to outline a sustainable model that could also raise awareness at both universities about the major environmental and food-related challenges facing our society.
The winning proposal was selected unanimously by a panel consisting of EPFL and UNIL representatives, farmers and Lausanne and Ecublens city officials. It was submitted by a group of farmers, agricultural engineers, environmental engineers and a manager who will set up a collective to run the farm. Their idea is based on the concept of a multi-crop micro-farm encompassing forestry and animal breeding.
Closed-loop farming
The members of the collective will live in the farmhouse that already exists on the site. They will employ methods from organic farming and biodynamics to grow large crops, trees, fruit and vegetables and to breed animals. Some sheep already live on the land; two horses and a donkey will be added to help with plowing. A couple of pigs will feed on the byproducts of the farm's vegetable and sheep's-milk-cheese production. Poultry will keep the numbers of slugs and other undesirable insects down and play an important role in the farm's operations. "We plan to run the farm as a self-sustaining system," says Baptiste Calliari, a vegetable grower and member of the collective. "We will make our own feed and bedding for the animals, and in return the animals will supply the fertilizer we need for our crops."
The farm's products – vegetables and sheep's milk cheese in the first year, with fruit, grains and other crops to be added later on – will be sold mainly on site, although the collective may also deliver food baskets or supply products directly to EPFL and UNIL restaurants. The collective will hold events throughout the year designed to bring city residents in contact with nature.

A model micro-farm
It's not often that a university has several hectares of farmable land on its campus. "In our RFP, we specified that the land should be used as a living laboratory and a showcase for the new ways society needs to think about how its food is grown and sold," says Benoît Frund, the UNIL vice rector in charge of campus sustainability. "The proposal we selected is right in line with our school's environmental priorities and addresses our educational goals, since the collective plans to give class visits in conjunction with a local organization."
"With this collective, we can rest assured that our land and farming facilities will be in good hands," says Etienne Marclay, the EPFL vice president in charge of facilities management, sustainability and operations. "Its philosophy perfectly matches what we are looking for. We can't wait to see it up and running right in our own backyard."
An independent business
The collective will work independently as a limited liability company. Although EPFL and UNIL will remain the owners of the land and buildings, they will not be involved in the farm's finances or operations. However, students and researchers from both schools will work closely with the farmers through programs to better understand agricultural systems and implement enhanced, modern farming practices.
The farm at a glance
75'000 m2:
Total farmland owned by EPFL and UNIL
4
18th-century buildings including a winemaker's house, a stable and a farmhouse
12'000 m2
Farmland that will be used for growing vegetables
27'000 m2
Land in front of the UNIL library that will be used for large crops (such as ancient grains, buckwheat, chickpeas and lentils) and seed production
2'000 m2
Farmland that will be used for growing small types of fruit
1 franc
Farmland that will be used for growing small types of fruit
500
Trees planted, including 250 fruit trees (e.g., apple, pear, cherry, peach and apricot) and hedges (e.g., hawthorn, elderberry and dog rose)
1
Family of barn owls (already living there)
70 millions
Earthworms expected to inhabit the land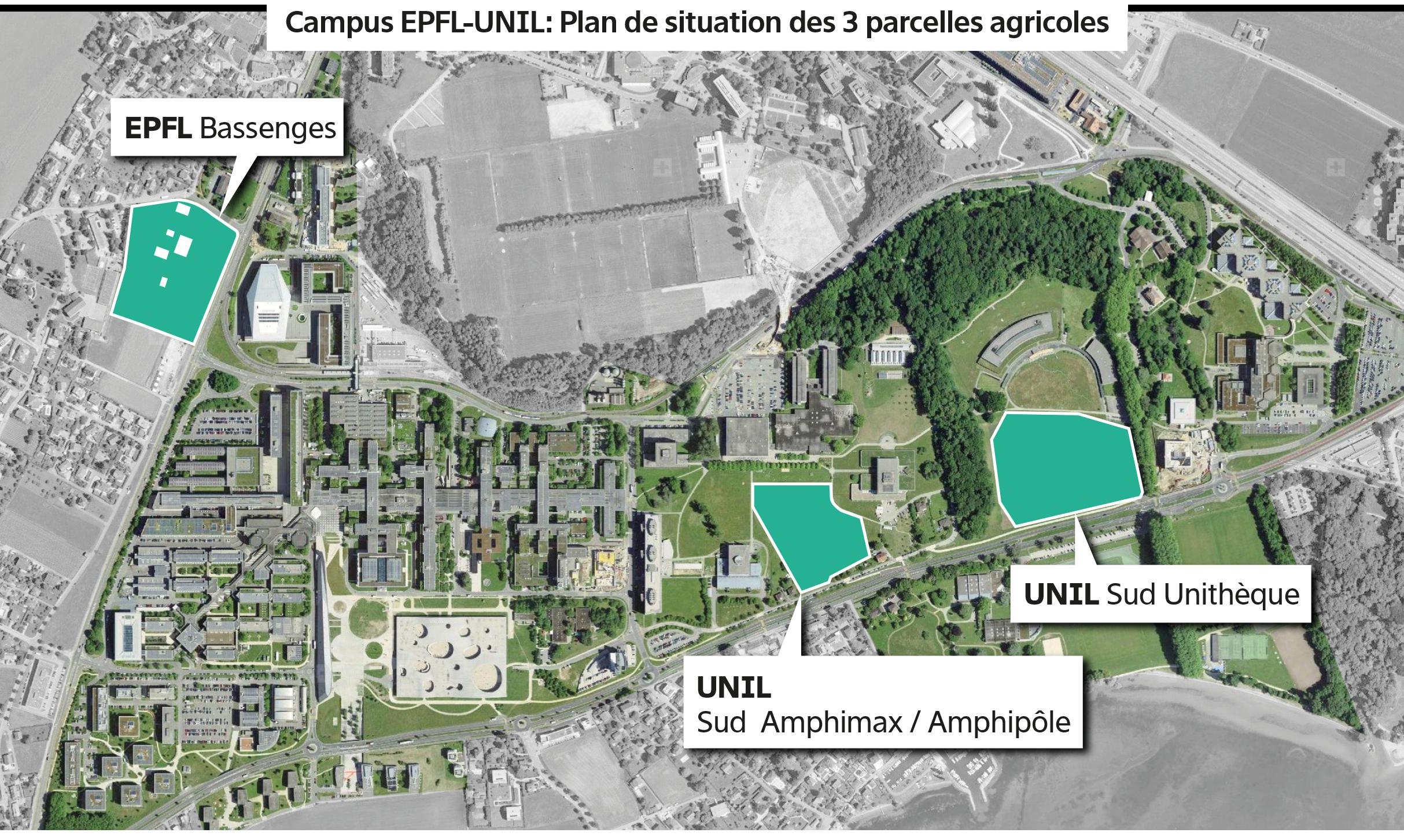 ---
---