"A brain well-formed is better than 20 brains well-filled"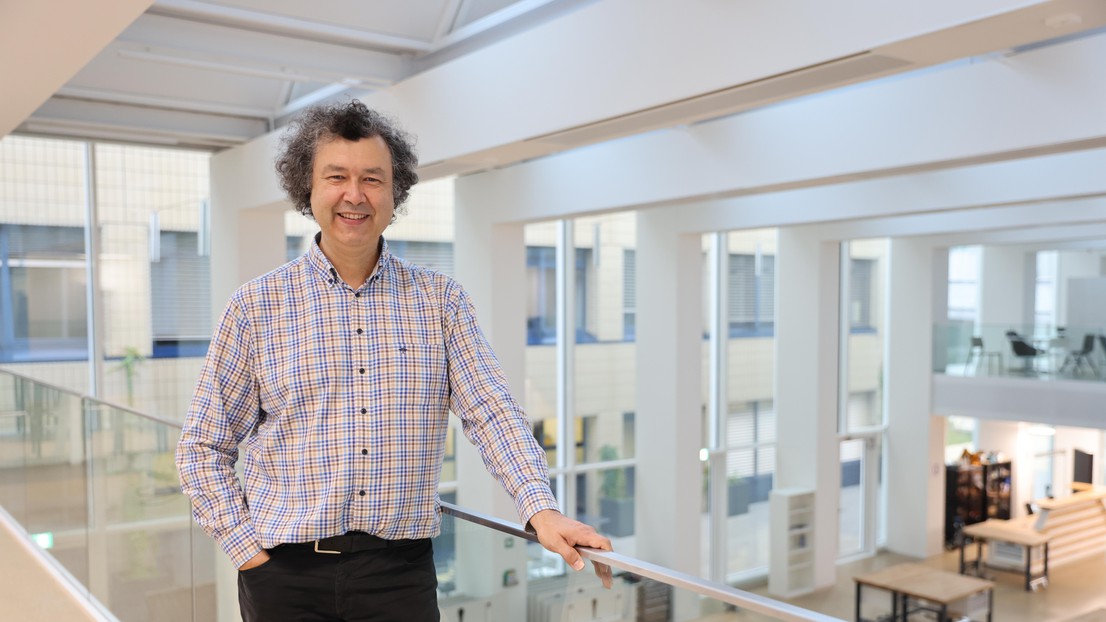 Jean-Philippe Thiran has been named best teacher in the electrical and electronic engineering section at EPFL for 2022. The award caps a vocation that began in childhood: at the age of 12, he was already helping classmates with their math exercises.

Flashback to 1982, in a run-of-the-mill elementary school in Namur, Belgium. In one classroom, pupils are sitting quietly, heads in their books, grappling with a math problem. Well, all pupils except one – unlike his peers, one boy is wandering from desk to desk, dispensing advice and dishing out encouragement. "I've always loved explaining things," says Prof. Jean-Philippe Thiran, who heads the Signal Processing Laboratory 5 and the Institute of Electrical and Micro Engineering (IEM) at EPFL. "When I was about 12, I used to finish my math exercises before everyone else. So I'd get up and walk around the room to give my classmates a helping hand." He carried the same approach into his teenage years. "At high school, my friends would call me asking for help before the exams. It really annoyed my brother, who'd accuse me of hogging the phone line at home."
Teaching naturally remained a big part of Thiran's life as he embarked on the next steps of his career. "I took a role as a teaching assistant quite soon after starting my electrical engineering degree at Université Catholique de Louvain." He joined EPFL in 1998 as a senior scientist, and was subsequently promoted to assistant professor, associate professor and, in 2020, full professor. For all his experience as an educator, Thiran has never shaken off the "largely beneficial" pressure that comes with the scale of the task. "Teaching is a role of the highest importance. It's not something that should be taken lightly," he says.
Using projects as a testing ground
According to Thiran, who specializes in medical imaging, a teacher's top priority should be to "make sure students have grasped the subject matter." He says he's happy with a class "only if I can say that, had I been taking the class as a university student, I would've understood the lecture myself." That's why he spends a lot of time repeating information and questioning students to make sure everything's clear. "Oftentimes, the answer will come back as a 'no,'" he says with a smile. "But I take that as a compliment: it shows students feel comfortable around me and know I won't mind explaining the whole thing again from the beginning."
Thiran speaks highly of the young people he teaches and of EPFL in general. "I've worked at EPFL for nearly a quarter of a century and I'm constantly amazed by the quality of the students. And that's not just my personal opinion: international comparisons show how good they really are." But what does a "good student" mean for him? "To me, a 'good student' is someone who asks probing questions and demonstrates strong critical thinking skills," he explains, before paraphrasing a quote from Montaigne: "It's better to have one brain well-formed than 20 brains well-filled." According to Thiran, who also works at the University of Lausanne (UNIL) and Lausanne University Hospital (CHUV), "the best way to identify good students is to get them working on projects. This shows whether they're capable of taking the material they've learned in class and applying it to hands-on research."
Reverting to face-to-face teaching
Thiran comes from a family of medical experts. "My mother is a pharmacist and my father is a general practitioner, as is my brother." Although Thiran has the air of someone driven by steely determination and unshakable resolve, the Covid-19 pandemic was something of a watershed moment. "It made me question many of the beliefs I held certain," he admits. "Take teaching: before and during the pandemic, the focus was on using new technology to improve how we deliver our material, to make classes more inclusive, and so on. But now, the emphasis is very much on organic, face-to-face learning, which is why I sometimes revert to conventional, 'old school' teaching methods."
His occasional preference for traditional approaches doesn't mean Thiran is against new technology altogether. "At EPFL, we're thinking long and hard about the best way to teach students about artificial intelligence," he explains. "We're also trying to develop a coordinated, structured, School-wide approach to the topic, as a way to avoid duplication." It's a big challenge, but Thiran doesn't seem at all fazed. After all, he has four decades of teaching experience – formal and informal – under his belt.
---