2021 Greetings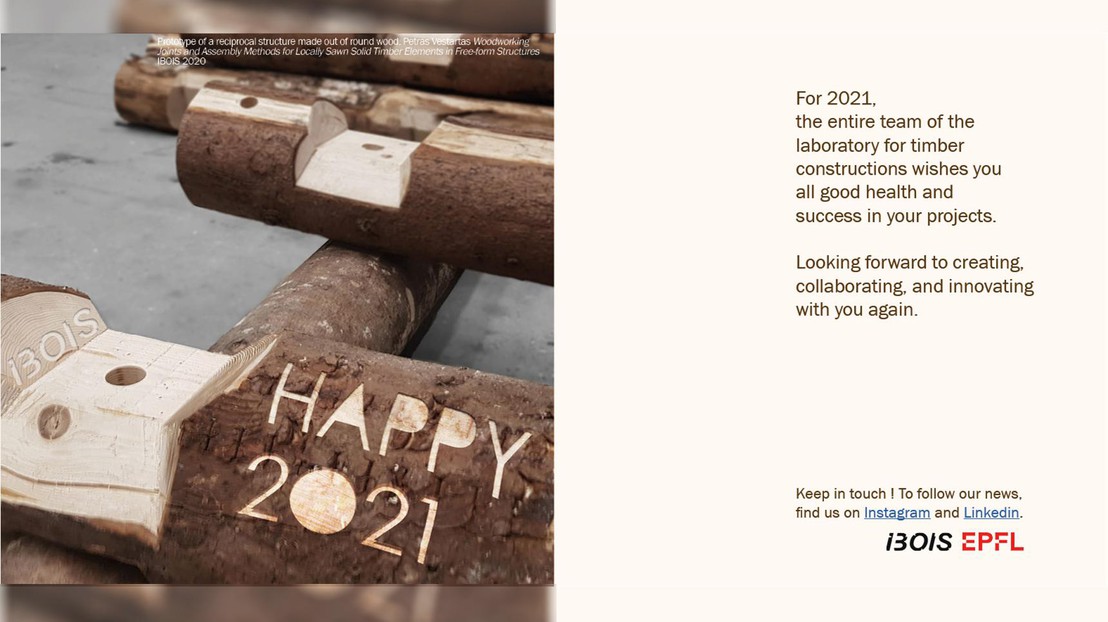 A year is coming to an end, a new one is beginning. 
As everywhere else in the world, the EPFL's Laboratory for Timber Constructions has had to adapt its work, in order to protect the health of every one of us.
Nevertheless, this very special year 2020 has seen the birth and blossoming of several beautiful projects carried out by our collaborators within the laboratory.

In an absolutely non-exhaustive list:
Let's first of all salute the great success of three of our doctoral students:
Aryan R. Rad, Anh Chi Nguyen and Julien Gamerro, who have successfully defended their thesis and obtained the title of Doctor of Science. Their innovative work on new construction systems and principles, throught digital fabrication opens new horizons for interdisciplinary collaboration in the timber construction sector. Aryan and Julien have chosen to continue their research at the ibois as postdoctoral fellows.

Although partially delayed due to containment, the Annen Hall project is continuing and we are looking forward to its implementation. 

The year 2020 also marks the publication of the very first volume of the Ibois Notebooks, a biannual editorial initiative consacred to innovative wood construction, as well as Professor Weinand's contribution to the book Architektur fertigen.
Finally, all the students of the Weinand studio (master's degree in architecture) were able to validate their semester, despite the difficulties of distance learning, thanks to the rigorous and attentive supervision of a determined teaching team.
All these projects were carried out by a team and partners driven by the same passion and eager to make real changes in construction.

The year 2021 is sure to be full of surprises. A new candidate from the doctoral school, Andrea Settimi, has joined the laboratory team. The second issue of the Ibois Notebook is currently being produced. Also in the Spring, we will be very pleased to launch a new book, devoted to the ambitious Annen hall project and the related technologies developped at Ibois... More information coming soon !
As we can see it everyday in the construction world, more than ever, wood is back !
The stakes are high, and our motivation is even higher!
For this new year, we wish you all good health and success in your projects. We look forward to working with you again.
To follow our news, subscribe to our news, and join us on the social networks: Instagram and Linkedin.
Funding
---