10th Deloitte OES Prize for Optimizing Artisanal Ice Cream Store
The 2022 annual Deloitte OES Prize for the best student project in Prof. Weber's graduate course "Operations: Economics and Strategy" has been awarded to Kareen FALLAHA and Mohamed HEDAYET. The Deloitte OES Prize competition, which involves finding operational improvements in local businesses, has been held each year since 2013. The 2022 edition represents the 10th anniversary of continuous cooperation between Deloitte and the EPFL Chair of Operations, Economics and Strategy.

The winning team's project report, entitled "Loom Gelateria 1900: Competitive Analysis and Performance Optimization," is about a venerable ice cream maker, with just a single outlet, located near Lausanne's central station. The report provides a detailed competitive analysis which illustrates the reasons for the extraordinary popularity of the Loom Gelateria 1900. Based on somewhat censored sales data, due to limited recording, the team manages to generate significant expected savings by better aligning orders for key ice-cream ingredients (such as black sesame from Japan and strawberries) with the random demand of the selling season. They also provide a clear recipe for implementing a family discount for ice cream (amounting to a third-degree price-discrimination scheme). Finally, the students propose a new layout for the store, so as to resolve issues of supply visibility in the storefront. The latter is important in view of customer queues in excess of 100 meters, with waiting times of more than 40 minutes during peak season. The report also includes ideas (e.g., a modified winter menu, alternative dishes, and gamification) maintaining revenue during the off-peak season, which traditionally has been an issue for the ice-cream business.
The runner-up project, in second place for the 2022 Deloitte OES Prize, is "Generating Added Value for the Optician Kaulard by Implementing a Subscription Model," co-authored by Dominic Alexander Maximilian GLEICH, Simon Elias QUINKER, and Begoña MAS SANMARTÍN. This project looks at the traditional high-margin retail optometry business. Given the significant disparities in willingness and ability to pay for eyeglasses, the team proposes a menu of subscription options. Customers can then select standard or premium options guaranteeing themselves a steady supply of glasses and frames, in line with a medically recommended two-year eye-examination cycle.
A total of 6 teams participated in this year's Deloitte OES Prize competition. The main objective was to identify potential operational improvements in regional Swiss (or possibly international) companies. In addition to those already named, this year's student projects included pricing, inventory, and transportation analysis for GoGinger (an online seller of organic juices made of ginger and turmeric); inventory management, customer segmentation, and price optimization for Miró Manufactura de Café (a specialty coffee provider selling to large businesses as well as to consumers via an "espresso subscription"); an innovative vending-machine concept for the Li Beirut Food Truck (and possibly other food trucks) at EPFL; and, a student-discount model, with risk analysis, and recommendations for business transformation for Librairie Arthaud (a 221-year-old bookstore in Grenoble, France).
This year's jury was composed of Peter Vickers, Partner, Supply Chain & Operations, with Deloitte; Quentin Le Guennec, Manager, Human Capital, with Deloitte; Karim Ziadé, Consultant, Supply Chain & Operations, with Deloitte; and Prof. Thomas Weber. The members of the prize jury read the written reports, and evaluated them on a grid of criteria, including "business concept" (identification of relevant needs and the use of a quantitative model), "business case" (expected benefits, implementation costs, and change-management considerations), and "quality/professionalism" (quality of report and presentation). All jury members were also present at the team presentations on December 14. The members of the winning team each received an Apple iPad, sponsored by Deloitte, as first prize. Deloitte, which has six offices in Switzerland, was involved with Prof. Weber's course throughout the fall, and the prize competition was coordinated by Karim Ziadé. On the EPFL side, the prize competition was supported by the OES chair secretary Ilona Ball. The course assistant this year was Jun Han, an EDMT doctoral student.
This year (2022) marks the tenth anniversary edition of the Deloitte OES Prize. Since 2013 it has produced close to 150 projects on optimizing a broad range of businesses, including many restaurants and retailers, but also a cleaning service in Andorra, a petrol station in New Caledonia, an orange import from Spain, a taxi service in Lausanne, a hospital (CHUV), the Payot bookstore, a virtual in-game supply chain in a video game (World of Warcraft), a Hertz car rental in France, luxury watches (Magellan), the Montreux Jazz Festival, the EPFL university press (PPUR), the SwissTech hotel, orthopedic shoes (Ortho-Lotz), a maker of wooden panels (Rauch AG), a homecare service for the elderly (Ouay), and a climbing gym (Totem), to name but a few. Past winners, all engraved on the permanent winner board, are:
2021: Arsenii GAVRILENKO / Nils HASSELMARK / Hugo PARENT-LEDUC
("Co-Working Cafeteria: The Data-Driven Transformation of Cafeteria Niki")
2020: Manon CAMOUS / Gabriel FEUERWERKER / Clément HONSBERGER
("Driving Pepper Jack through the Coronavirus Crisis and Beyond")
2019: Andres ENGELS / Máximo JARA JARA / Maina ORCHAMPT-MARESCHAL
("Demand, Inventory and Information Management at Mexicana Lausanne")
2018: Alizée BELAMARIC / Clément BARBERIS
("Product Portfolio Rationalization, Ordering Process Optimization and Information Management at La Brouette")
2017: Pierre DUSSAUX / Benjamin ZIMERAY
("Arte Beauty & Wellness: Leveraging Wasted Capacity through IT Solutions")
2016: Céline FISCHER / Valentin TERRAIL / Xiaoran YU
("Takinoa Restaurant at the Rolex Learning Center: Operations and Demand Analysis")
2015: Christophe DONZÉ, Niels PICHLER, Benjamin PREVIDOLI
("Selecta on the EPFL Campus")
2014: Shubham BANSAL, Thomas GUIBENTIF, Marc SOLSONA BERNET
("Le Négoce: Survival Under Extreme Conditions")
2013: Dimitri CORDENIER, Alexis DUBIL
("GeoRoute at PostLogistics")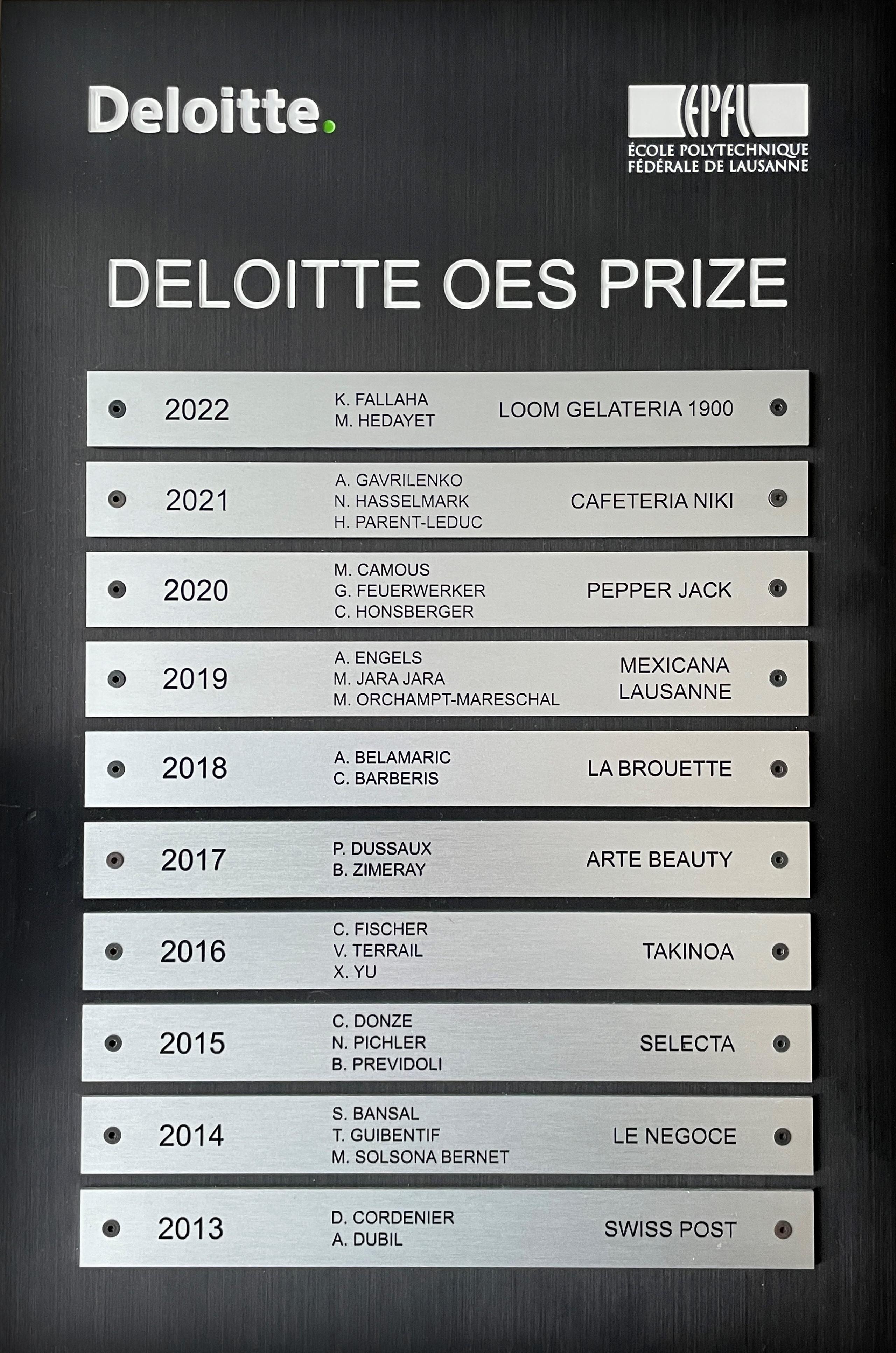 ---
---