"You've got to have a lot of staying power to create a new business"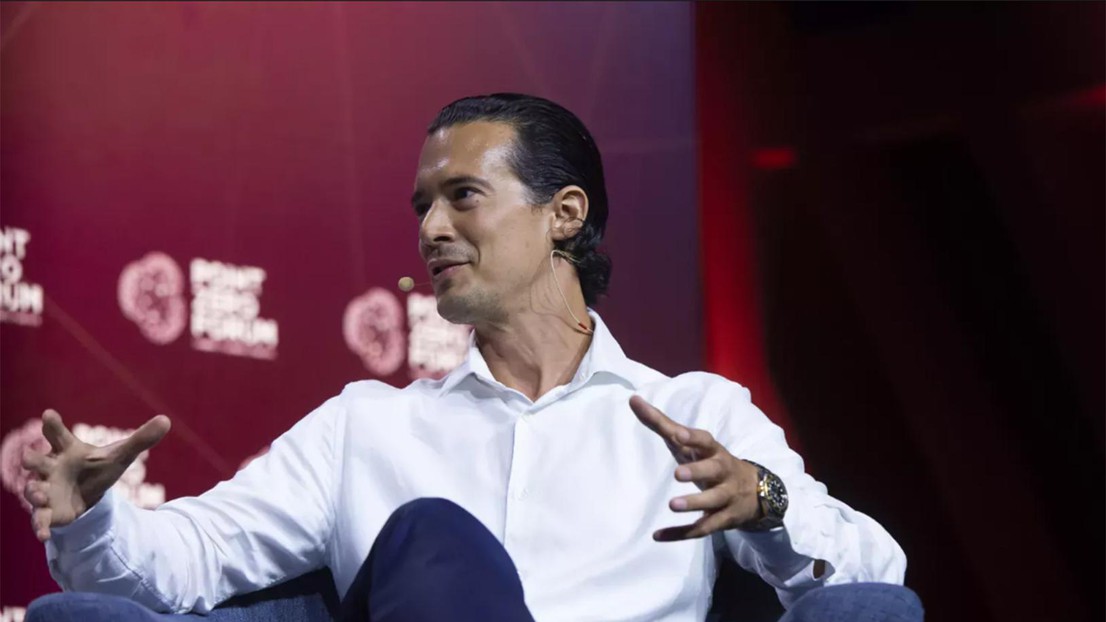 Adrien Treccani graduated from and went on to become the co-founder and CEO of Metaco, a blockchain technology provider acquired by Ripple, a US-based fintech company. We spoke with Treccani, who has a varied and unusual background.

Treccani is far from the stereotypical tech-industry CEO. In addition to running a 100-strong company, he also divides his time between university teaching and the performing arts. He earned a Bachelor's degree in computer engineering from EPFL, followed by a Master's in financial engineering in 2010; he also holds a Master's in violin, obtained at the young age of 20, and a PhD in financial mathematics. His firm's acquisition made headlines in the financial press and marks the crowning achievement in Treccani's long – but not always smooth – career.
While completing his PhD at the Swiss Finance Institute in 2013, he also worked as a financial analyst at several firms. That's when he first heard about bitcoin, the now-famous cryptocurrency. "I learned about bitcoin by reading financial blog posts – and they weren't exactly flattering," he says. "At the time a bitcoin wasn't worth much, only around $20. But politically speaking, the cryptocurrency was in line with my values, especially decentralized power and individual freedom."
He invested in bitcoin out of curiosity, but ran into setbacks: crypto-assets were still unregulated in 2013 and Treccani was impacted by bankruptcies. "I lost money with some failed companies that held bitcoins," he says. But rather than turning him off of cryptocurrencies, this experience revealed an opportunity to bring these assets into the world of banks and financial institutions. "Back then, the cryptocurrency market still operated in a very rudimentary manner," he says. "Tiny startups with just a handful of people were managing tens, if not hundreds, of millions of dollars." That's what he set out to change when he founded Metaco in 2015, with the goal of giving financial institutions the tools to invest in crypto-assets.
A passion for teaching
On top of this entrepreneurial venture, Treccani has also nurtured a passion for teaching. He gave classes on cryptography and blockchain technology at EPFL and HEC Lausanne between 2017 and 2019 alongside Prof. Alexander Lipton. "I've always loved teaching, whether at universities or elsewhere," says Treccani. "I jumped on this opportunity to teach these topics – also because I worry about the inertia that sometimes exists in academia. Universities tend to be about 10 years behind in teaching high-tech subjects." He saw real potential in the emerging field, and in his classes he focused on how blockchain technology could be applied at businesses. "EPFL is one of the schools that responds quickly to new developments in the digital space," says Treccani. "That said, digital technology evolves so rapidly that it's hard to keep up with the latest advancements. It's not unusual to see students who know more about a new technology than their professors!"
Treccani also coauthored a book with Prof. Lipton, as part of a joint effort to make blockchain technology more accessible. "We saw there was a gap in the literature for a single reference book that covered not just the technical and financial fundamentals but also the political aspects," he says.
"An endless stream of problems"
Treccani is based in Lausanne and intends to remain at the head of Metaco. "I don't want to walk away from a business I've spent more than five years developing only because it's been acquired," he says. "At Metaco, our goal is to conquer the banking industry and encourage financial institutions to adopt crypto-assets. And we've still got a ways to go." Treccani feels ready to take on the challenge. "I think a lot of potential entrepreneurs worry about whether they'll be successful in starting a new business. From the outside, leading a startup can look like jumping from one successful milestone to the next, but behind the scenes, there's an endless stream of problems to deal with. How successful you are depends on your capacity to solve these problems and take the path of least resistance. You don't need any special skills, just a lot of staying power."
---