When a company and an EPFL student grow together.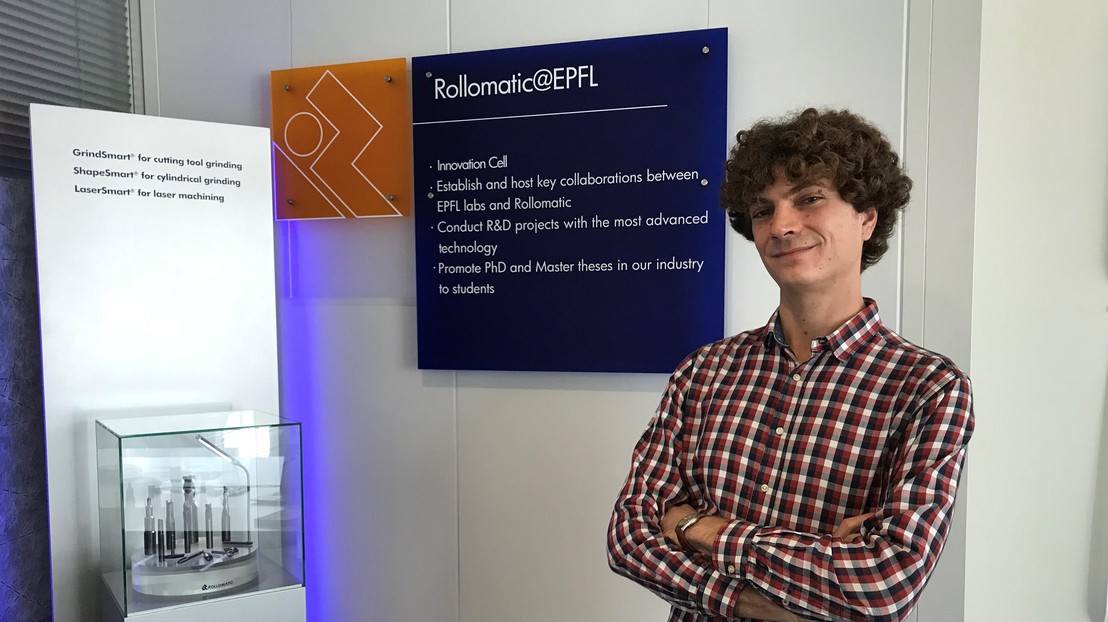 Axel Séguin obtained his Bachelor's degree in Applied Mathematics at the Politecnico di Torino and arrived at EPFL in 2016 with a view to pursuing a Master's degree in the same field. A few months later, through exposure to other courses, he decided to turn to computational sciences. Without realising it, this was the next step in his destiny, between research and applied theory at Rollomatic.

"It's by doing that you become a blacksmith". It's (also) by learning, by trial and error, that you discover what you love. You learn to love, not just to do. Axel arrived at EPFL with the idea of consolidating his teaching in applied maths, but he quickly changed his course by taking other subjects: "The master's degree gave me the opportunity to take cross-disciplinary courses, the common denominator of which was the computational use of mathematics. That's when I discovered that I liked algorithms for image processing and 3D geometry".
A few months later, these two assets would serve as a springboard for his decisive meeting with Rollomatic, a company that had just set up in the EPFL Innovation Park. "In 2017, I went to the EPFL Forum to find an internship. There I met Rollomatic employees who had come to open an innovation unit on campus. During our discussions, I learned that they were offering an internship project in computational geometry. The student felt that this placement would be a "good balance between the practical side of things on the one hand, and mathematics on the other". Mathematics that would not be hindered like in other sectors such as Artificial Intelligence "where it's more a question of fighting against computer science than actually doing mathematics", he says.
So the planets seem to be aligned, and the adventure between Axel and Rollomatic can begin.
An internship in total immersion
In spring 2018, Axel began his internship on a new project launched by Rollomatic related to computational geometry. Integrated into the team at the EPFL Innovation Park, the young student was quickly motivated by a new challenge launched by the company:
If I succeeded in finding the solution to the problem that Rollomatic was facing in my field of expertise, they would entrust me with the Master's project in order to go even further in the search for solutions related to this particular problem."
In concrete terms, the challenge was to find a solution strategy for a new geometric model for machining cutting tools. "It was a more ambitious project than the one I was working on during my placement, and one that would become the subject of my Masters and PhD later on," he adds.
Unsurprisingly - given Axel's subsequent career path - he accepted the challenge and went on to work on his Master's project with Rollomatic, supervised at EPFL by Professor Kressner.
Finding the key
When asked about his added value in this search for a solution, Axel humbly admits that he "stumbled across an efficient and mathematically elegant method of solving the problem". But beyond the challenge, it was the combination of the useful aspect of his research and the sufficiently interesting aspect that led him to initiate a related Masters project. Evolving with a great deal of autonomy and freedom, he pushed his research beyond expectations and saw the possibility of continuing to delve into the subject as part of his doctorate.
Practical AND academic improvement
Two days at Rollomatic, two days devoted to research at EPFL, and on average one day of teaching. This is how Axel's weeks unfolded during his four years as a doctoral student. "What was extremely rewarding was to be able to combine the practical improvements - resulting from the solutions found - that I could see in practice on site (at Rollomatic), with the application of these same research results in a more academic and abstract context". This last aspect is one that the student has come to appreciate more and more throughout his PhD... admitting that he was the first to be surprised by it! "I started out with a preconceived idea of the world of mathematics research, thinking that it wouldn't suit me. But during my time in the maths department, I learnt to appreciate maths for its own sake. So it's also, indirectly, thanks to Rollomatic.
I'm grateful to them for giving me the opportunity to do a doctorate, a 'cocoon' in which I could concentrate on my research and from which I came away with new skills such as the ability to summarise, popularise, etc." An interest in mathematics that has also led to tangible results on site, as Jonathan Rochat, Innovation Cell Manager at Rollomatic, explains. As Jonathan Rochat, Innovation Cell Manager at Rollomatic, explains:
We are very satisfied and impressed with the work Axel has done during his PhD. He has succeeded in combining beautiful mathematics and offering our company new perspectives that are very useful for our customer solutions.
Solutions that take a long time to develop if all aspects of the problem are to be taken into account. "My research has enabled me to refine the resolution strategy for two specific cases of the problem - linked to the user experience - but the idea is to continue to develop and industrialise the project so that it can be applied to other geometric problems". So who better to continue the adventure? With his doctorate in hand, Axel will be joining the Rollomatic team at the EPFL Innovation Park in a few months' time - after a well-deserved break. This will give him the opportunity to continue developing solutions that will lead to qualitative advances for the company, and for research as a whole.
Editor's note: The Rollomatic team will be present at the EPFL Forum from 9 to 13 October 2023.
---