"We're privileged to be involved in creating a new media channel"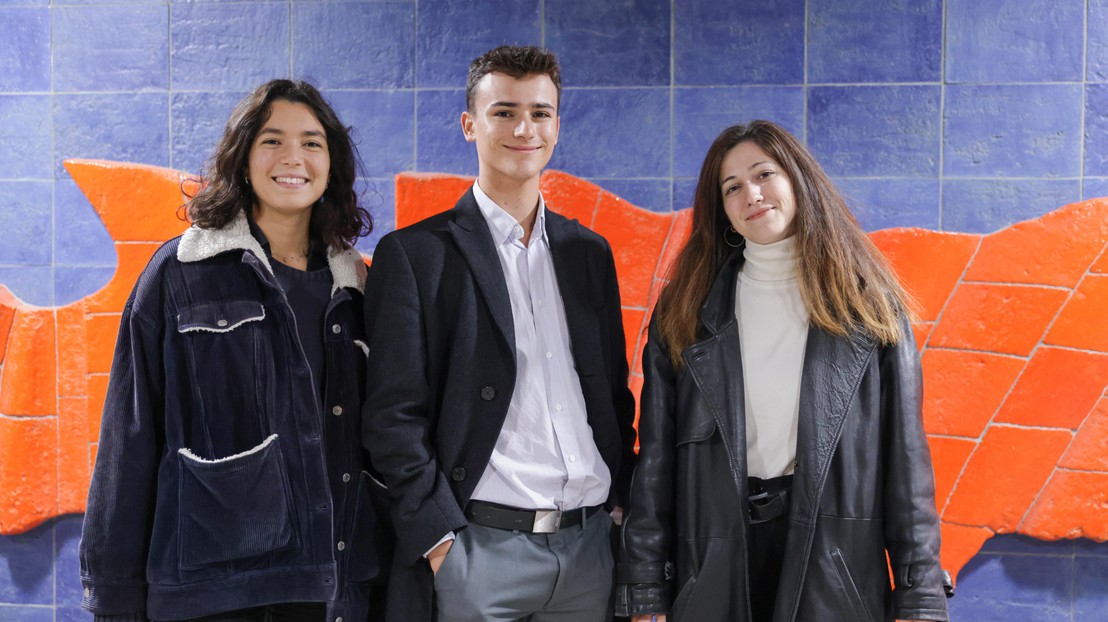 ALTER, EPFL's student-voice website, is managed by an editorial committee made up exclusively of students. We spoke to three of the budding journalists and videographers behind this new initiative.

Like many students, Eliot Goncalves, Veronica Orlandi and Ambre Sassi have part-time jobs alongside their degree programs. Except their job is somewhat out of the ordinary: they're all members of the editorial committee for ALTER, EPFL's new student-voice website. "I spotted an ad in the EPFL newsletter this spring and applied right away," says Goncalves. Orlandi was also among those who expressed an interest early on, while Sassi joined the team in the summer. These young journalists and videographers manage the ALTER website and Instagram account – a role that includes developing and curating content in the form of text, videos, pictures and podcasts, selecting the topics to be covered, and handling production and publication issues.
EPFL's Associate Vice Presidency for Student Affairs and Outreach introduced the ALTER initiative in the spring of 2022. "Our first task was to decide on a way forward – what we wanted to do with ALTER and how to make that happen," recalls Orlandi. "Those early days were mostly about project management." Their initial groundwork has paid off: the ALTER Instagram account launched in mid-September and the website has just gone live. "It's been an amazing experience," says Goncalves. "We all feel privileged to have been involved in creating a new media channel." Having gotten ALTER off the ground, the team isn't short on ideas for new content.
Giving a voice to the student community
When choosing which topics to cover, the committee members draw on their personal experience and interests. Orlandi, for instance, is nearing the end of her Master's degree in physics. She's seen plenty of changes on campus during her seven years at the School. "Life at EPFL has improved a lot," she explains. "Some of Bachelor's students' attitudes have changed thanks to the #paietonepfl movement. I've seen progress on equality, and on sustainability, too. I remember when the reusable purple plates were first introduced. Now, they've become the norm. I want to write about subjects like these. Do students my age realize that something has changed? Are younger students aware of this shift?" Orlandi, who also serves as president of EPFL's Asclepios initiative, plans to use ALTER to share her interest in space technology and to examine why the number of space-focused student clubs has grown from two to eight in just a few years.
Meanwhile, Sassi, a third-year Bachelor's student in microengineering, is a vox pop enthusiast. "The first videos I filmed for ALTER featured students I met on campus," she says. "I really enjoyed chatting to people, asking questions, and hearing their views. These short-form pieces are a great format." As a member of Plume, the joint EPFL and University of Lausanne (UNIL) literary association, Sassi is no stranger to writing. "I normally keep my writing to myself," she says. "But ALTER will give me an outlet to indulge my creativity."
For Goncalves, a fellow third-year Bachelor's student in microengineering, ALTER provided an ideal opportunity to put one of his ideas into action. "I think it's a shame that we get to interact with professors and PhD students only briefly at the end of class," he says. "In many cases, they're practically strangers to us. My idea was to create content that builds bridges between students and their teachers and teaching assistants, so we can get to know them better." As an amateur photographer and former presenter on Fréquence Banane, the EPFL-UNIL student radio station, Goncalves brings a wealth of technical expertise to his new role. "Framing, lighting and sound recording are all complicated tasks – and there's always room to do better," he adds. "Recording clips for ALTER has taught me how to condense information and improve my diction. For instance, I adjusted how quickly I speak after watching myself back on film."
Call for contributions
The three students were also drawn to ALTER by the lack of censorship and the promise of editorial freedom. "ALTER is a media channel run by and for students," says Orlandi. "We plan to give a voice to all student opinions – including those critical of what's happening at EPFL. So if you have something to say, get in touch. We're here to listen." If you'd like to suggest a topic or submit a piece for publication, you can contact the editorial committee at [email protected].
ALTER editorial committee
Charlélie Brun, Jeanne Charlot, Eliot Goncalves, Sophia Kovalenko, Veronica Orlandi, Ambre Sassi and Patrick Yerly
Project management
Laureline Duvillard (VPA communication)
Journalistic support
David Trotta (SPE) and Laureline Duvillard
---
---