"We need to think ahead about the consequences of our decisions"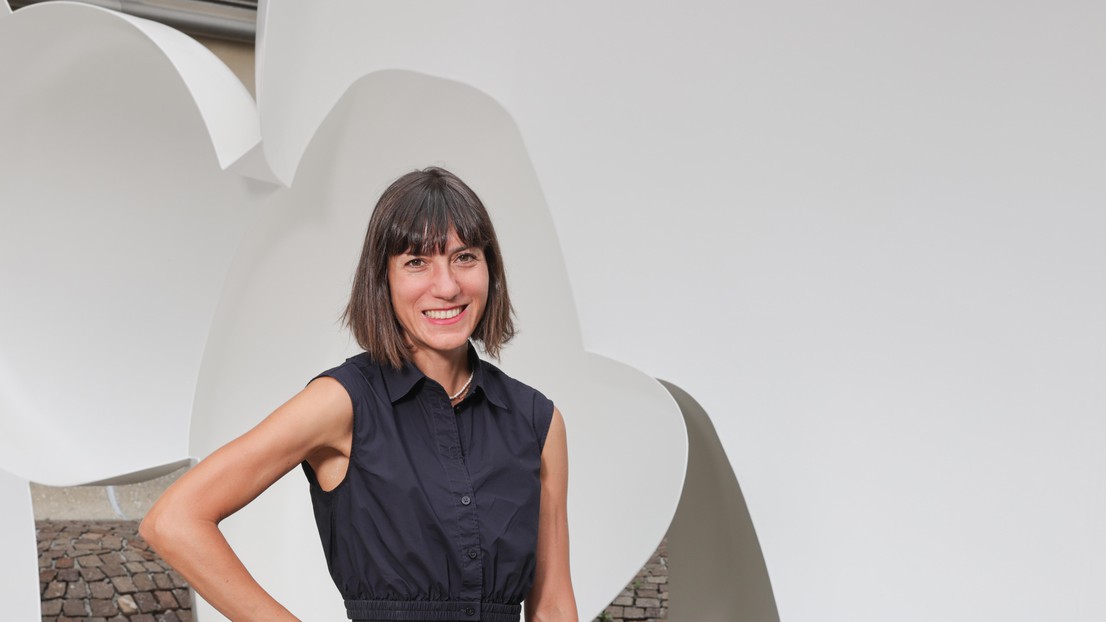 Laura Ferrarello firmly believes that holistic thinking is the key to successful change. This fall, she'll be challenging PhD students to embrace precisely this approach as part of her class on ethics in engineering research.

Laura Ferrarello may be strong-willed, but she doesn't go into anything with her eyes closed. "Every decision we make has an impact, no matter what we do," says Ferrarello, a scientist from the Laboratory for Human-Environment Relations in Urban Systems (HERUS) within EPFL's School of Architecture, Civil and Environmental Engineering (ENAC). "That's why it's important to think about the consequences of our decisions ahead of time."
This kind of thinking was likely what guided Ferrarello's choice of major. She left her native Sicily to begin a Bachelor's degree in architecture at the University of Rome – following in the footsteps of her father, a practicing architect at the time – before making the switch to design. "I'm fascinated by human behavior – by social dynamics and the way we interact with the world around us," she explains. "That's why I turned away from spatial planning and moved into something related more to the personal sphere." Ferrarello's experience working at architecture and design firms has given her important real-world insight. "Innovation needs to be held accountable for the challenges we face. When you're on a project on strict deadlines, you don't usually have time to think about ethical issues."
Nowadays, Ferrarello's chosen discipline is about much more than design in the conventional sense. "It has evolved," she says. "It's less about designing objects and more about designing experiences, services and, ultimately, entire systems."
A fresh perspective can be a game-changer
In Ferrarello's approach, human beings play a central role and decisions are guided by ethics – not in the purely philosophical sense, but rather as a methodology for questioning each of our actions and considering how our decisions will play out within a complex ecosystem. "If we want innovation to be a force for good in society, we need to think holistically and take all sorts of factors into account – the invention itself, but also its cost, the technology, citizens, the environment, resources and more," she explains.
Ferrarello spent nine years researching and leading a master course at London's Royal College of Art. Over time, she added the concept of ethical innovation to her teaching, and even developed an online course on the subject. Ferrarello left London early this year in search of a more balanced lifestyle. She joined EPFL Valais Wallis campus in March with the goal of developing a modified version of her ethical innovation class.
Today, that goal has been achieved. This fall Ferrarello will start teaching The Practice of Ethics in Engineering Research, an optional a transferrable-skills class for EPFL PhD students. Featuring seminars, workshops and discussions, the class will encourage students to consider the ethical challenges posed by their research and to develop sustainable, inclusive innovation practices. Ferrarello explains: "Imagine you're designing an algorithm that uses a certain type of data. By asking the right questions, you realize that your design disadvantages a particular segment of the population. What steps could you take to remedy that?"
What matters isn't only the result itself, but also the thinking that happens during the creative process.
Equipping everyone with the right tools
Ferrarello says that, after introducing the concept of ethics into her Master in design research at the Royal College of Art, she noticed her students were thinking differently. They were just as creative and innovative as before, but they started asking different questions in order to tease out new ideas.
In a similar vein, Ferrarello is currently working on a new platform for improving dialogue between scientists and policymakers in order to support the energy transition. And outside her teaching and research, she's co-authoring a book that will help communities shape a more sustainable future, using examples from the world of design. In short, Ferrarello's mission is to empower everyone – students and policymakers included – with the tools they need to take action.
"Language can redress power imbalances"
When asked about her experience as a woman in scientific circles, Ferrarello admits it can be challenging but refuses to use her gender as an excuse. She points to the almost instinctive way in which we associate certain words with a particular gender – often male – and stresses the need to jettison these outdated attitudes. "As women, we also bear a responsibility to communicate more assertively," she says. "The whole dynamic changes when you act with more confidence. We've earned our place. We shouldn't apologize for being here!" On a final note, Ferrarello adds: "Being a researcher is a lifelong endeavor. It's in your blood."
---