"We had to find a system that could be integrated easily"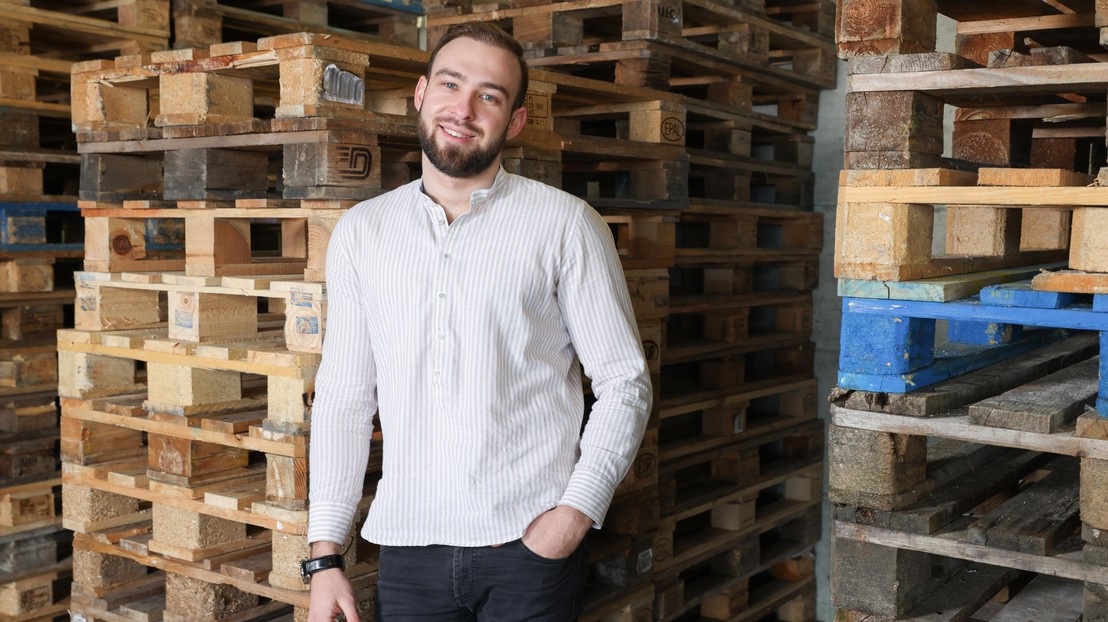 A team led by Yegor Piskarev has developed an alternative method for wrapping pallets. Their ingenious idea has won the Innovate2030 Challenge.

Some 78 million tons of plastic packaging circulate around the world each year, according to the WWF. Yegor Piskarev, a PhD student at EPFL's Laboratory of Intelligent Systems, set out to make a dent in this figure using an idea that he had after visiting the website of "ekipa", a German firm. On the website, companies post their sustainability-related challenges, whether in the area of production or consumption. Then, "ekipa" issues a call to the scientific community to work with the companies and develop concrete solutions to those challenges. Piskarev was intrigued by the challenge posted by Kion, a provider of forklift trucks that wants to find an alternative to the plastic wrap currently used to secure items on pallets. He formed a team with two of his friends and applied to develop an innovative system for Kion.
Bands of recycled plastic
What's the alternative they came up with? "We designed bands made out of recycled plastic that are robust, elastic and waterproof," says Piskarev. "The bands can be wrapped around a pallet containing goods and then fastened with Velcro." What's more, the bands' entire lifecycle is sustainable because after they're used they can be rented out to other companies. "The idea is for companies to send back the bands once they've finished with them – even if the bands are damaged or broken," says Piskarev. "The companies will recover their deposit, and we'll be able to repair the bands and rent them to someone else. That prevents the plastic from having to be thrown away."
Working in collaboration with businesses
Piskarev and his team spent most of their free time last summer fleshing out the idea. They held weekly meetings with various people at Kion over four months, to better pinpoint the company's needs and expectations. "We had to find a system that could be integrated easily into existing processes," says Piskarev. "If it was too complicated, people simply wouldn't adopt it." Through their meetings with Kion, the team learned how to work in collaboration with businesses to develop viable alternatives.
Soon on the market?
Their idea is still in the concept stage for now. But things are moving forward, as the team won the Innovate2030 Challenge and Kion agreed to build and test a prototype. "If our bands work well, we'd like to make them available to other companies and maybe even launch them on the market," says Piskarev. In the meantime, he's back at work in his EPFL lab, developing soft medical robots.
---