"We are women, we're here to stay and we matter"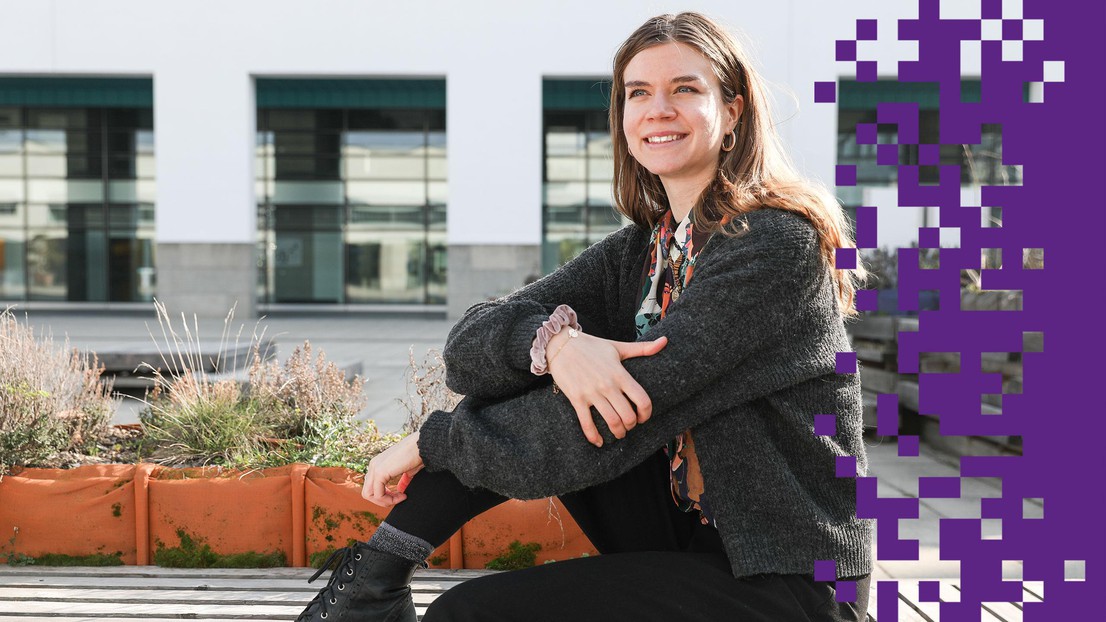 Marijn van der Meer, who heads up the Polyquity student commission at EPFL, battles sexism on a daily basis. On the occasion of International Women's Day, she sat down to talk about her life as a feminist activist and EPFL student. 

Marijn van der Meer arrives for our interview dressed casually, wearing a pair of sunglasses, and stops for a photo without missing a beat. Behind her composed exterior, however, is the heart of a fighter, a heroine who inspires strength and courage in others. She has embraced the struggle against sexism and sexual harassment, and in honor of International Women's Day, she has agreed to speak out so that "things can finally change".
"Women are prey"
Van der Meer has always had a strong interest in science and, encouraged by her family and friends, she enrolled at EPFL to study Life Science Engineering. "I couldn't decide between chemistry and biology, so that seemed a good compromise," she says. However, even before she got to EPFL's campus she was warned about the rampant sexism there. During her degree program, she experienced sexist behavior on a daily basis from students and student assistants, as well as sexual aggression at campus parties. She recalls how, during her Bachelor's program, students would sign up as teaching assistants for the programming course "just so they could hook up." Things took a turn for the worse when she enrolled in EPFL's School of Computer and Communication Sciences to begin her Master's degree. "The teaching assistants in some of the exercise sessions made fun of our questions, as if they were stupid and pointless. On project teams, women had to assert themselves and work twice as hard if they wanted to be taken seriously. There are some who insinuated that women don't have a place here. Women are aware of what's happening on campus. Anyone who says they don't know are blind," says van der Meer.
She quickly found out she wasn't the only one to be bothered by this pervasive sexism. Her female friends told her about the daily aggressions they also endured. "On campus, women are prey. I know female students who are going to leave university because they've been harassed or have been the victim of sexual aggression, or because their skills have been belittled. It's a colossal waste of talent."
(Re)dressing a sexist poster
Things came to head in 2017. Van der Meer saw a poster for the Balélec music festival that depicted a woman from behind, nude from the waist up. Enough was enough. "For me the poster perfectly captured the general atmosphere on campus and at student parties. Women's bodies should not to be used to invite people to a festival – it's not OK." On her own initiative she decided to print paper tee-shirts that were the same size of the poster. At night, she "redressed" the situation by putting shirts on the women's backs. "No one knew it was me; I kept it a secret. The festival organizers were annoyed by my efforts, since they kept trying to remove the tee-shirts. But each night, I went out and glued them back on," she says with a smile.
That was when van der Meer began to get involved in feminist activism. She founded Polyquity with a dozen other female students and created the "a_woman_in_tech" Instagram account, where she posts photos of herself studying. "I want to break down clichés and show that you can be a perfectly normal young woman studying technical subjects," she says.
The perils of filing a complaint
Why did van der Meer never report what had happened to her at EPFL? The answer is simple. "Even now, I wouldn't file a complaint because I don't feel there would be sufficient protection, I'd feel too exposed." When EPFL launches a disciplinary investigation involving a student, student assistant, or professor – for sexist behavior, for example – the school will inform this person to confront him/her with the facts. From then on, there is a risk that the victim will have to renounce his or her anonymity. Van der Meer, like many of her fellow students, prefers to remain silent to avoid jeopardizing her studies. "The teaching assistants know who we are, they correct our papers and sometimes our exams. Not to mention the students we see in class every day."
Over 200 stories 
Last December, Polyquity posted videos in which several women and one man described the sexism, assault, and sexual harassment they had experienced at EPFL. Van der Meer was one of these women. Speaking openly and in a sober voice, she recounted what happened to her. "I want our stories to resonate with other people who are or were in similar situations – they need to know that it's not their fault, that they have the right to leave or say no." After the videos were put online, Polyquity was contacted by over 200 people with similar stories. Van der Meer read them all. "Each one was very moving. Psychologically, it was quite hard," she says quietly. Although a bit discouraged, she's aware that the remedy must come from EPFL and this will take time. "Things are being put in place, but it's moving slowly and I'm afraid it won't be enough. I have the feeling that all these women are counting on us to tackle this systemic problem." 
Planning to become a professor
Now 25 years old, van der Meer, who wants to become a professor of computer science, has thought about some of the ways EPFL can combat the sexist climate. "If there were more women students or staff on campus, we'd feel more secure about our place here." The portraits of the mostly male professors displayed at the entrance to the School of Computer and Communication Sciences' main building serve as a daily reminder that the battle is far from won. "There are so few women in those pictures. For me, that's one more sign that we're not welcome," she says. However, encouragement to keep going came from a female professor, Dr. Jamila Sam. "She showed me that a career in research in computer science is possible for a young woman. You don't have to be an activist to encourage women to pursue careers in science and engineering. You just have to show that we are women, we're here to stay and we matter."
---