Virginie Lurkin, enthusiasm, the magic key and theater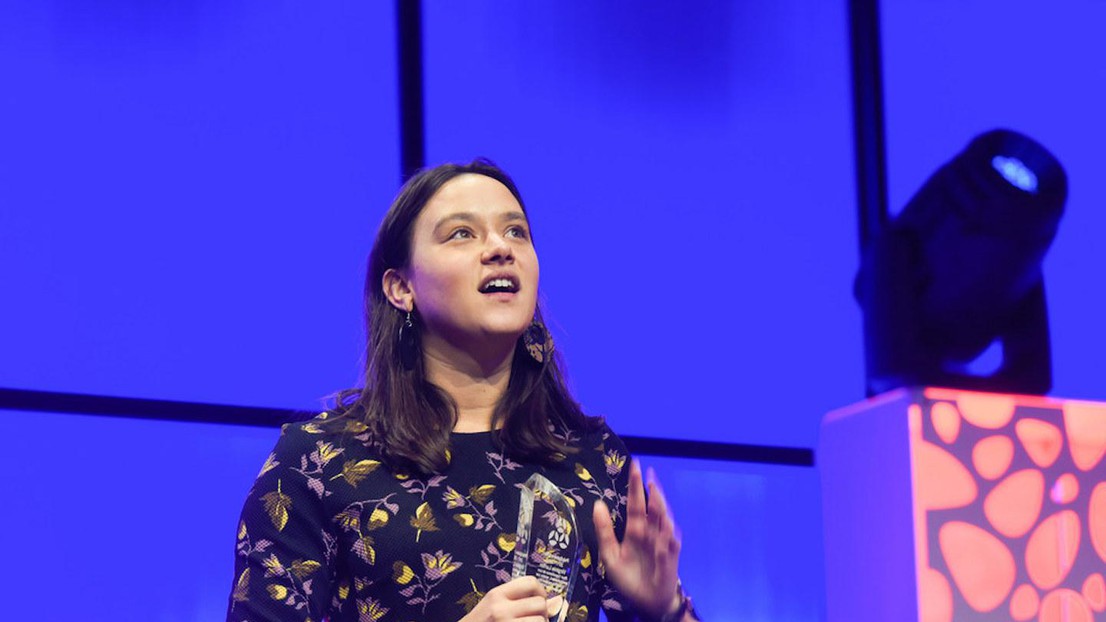 Prof talk (3 of 5) Every day between now and EPFL's Education Day, a Polysphère award winner takes us back to their school days and describes how they view education. Today we spoke with Virginie Lurkin, a former lecturer at ENAC.

EPFL's student association AGEPoly gave out its annual Polysphère excellence in teaching awards last fall. These awards, voted on by students, recognize EPFL's standout faculty members. We interviewed Virginie Lurkin, a professor at Eindhoven University of Technology and former lecturer at ENAC.
Can you share a memory with us from your school days?
I have so many! And they're all happy. I enjoyed going to school for as long as I can remember. I know that's a "teacher's pet" answer, but I don't want to lie to you from the very first question.
What did you have in your backpack?
Notebooks that my father carefully covered in plastic, and snacks that my mother lovingly prepared. And, depending on the year, probably marbles, Tazos and Crazy Bones. And tucked away deep inside, my childhood dreams.
Who would you like to sit next to in class?
Céline. We've been best friends for 29 years, including 15 years of sitting next to each other in class. More than a friend, she's a sister, a soul mate. Even now, 20 years later, if you could eavesdrop on one of our classes together, I bet you'd still hear us laughing. We had a lot of fun together!
Which teacher inspired you?
Impossible to name just one. Mr. Sable, because he introduced me to theatre and put me in touch with my inner Antigone. Mr. Bouchat, because he was great at telling stories and was just as inspired as he was inspiring. But the one who showed me that the best way to teach is by setting a good example is my previous boss, Michel Bierlaire.
And which one made you sweat?
All my gym teachers!
When you're standing in front of your students, do you feel like an actress, a gladiator, or a tamer?
An actress! That's what I want to be when I grow up. [Smiles] But it's true that sometimes I can be a little like Russell Crowe.
Do you prefer to teach or be taught?
I hate people who are always trying to teach you things. I much prefer those who lead by example, although they are harder to find. Teaching and learning are two sides of the same coin. It's like if you asked me to choose between my father and my mother – I love them both equally. I learn more about the teaching profession every day, and if there's one thing the profession has taught me, it's that teaching is just as much about having your own eyes opened as it is about opening other people's eyes.
A good point?
My sister was the "good girl" – people told me I talked too much! When I was a child, trying to be good and get good grades caused me a lot of fear and stress, and that's not good for children. And I don't think the carrot-and-stick approach to teaching is an effective way to motivate students.
Any clouds on the horizon?
Wherever there are clouds, there's usually also rain – but don't flowers need rain to grow? A career in teaching naturally has its fair share of dark days, clouds and storms, but the sun rises every morning and every morning I tell myself I have the best job in the world. [Smiles]
How would you define education?
I believe education is the key that opens all doors, especially those of personal development and freedom. Teaching children to become good citizens. Showing them how to act with kindness and an open mind. Demonstrating the benefits of values like empathy, tolerance and respect. For me, those are the foundations for building a better world – one that is more equitable, more caring and more understanding. Sometimes it seems like we still have a long way to go. Of course, it takes a while to change bad habits and shift antiquated ways of thinking. And today's societies are still too contaminated by stereotypes and clichés. But enthusiasm is the sunlight that makes youth blossom! I'm still a staunch believer in education, and I'm sure that that's how we can, and will, change things.
---
---