Ubiquitous information at the center of IC Research Day 2016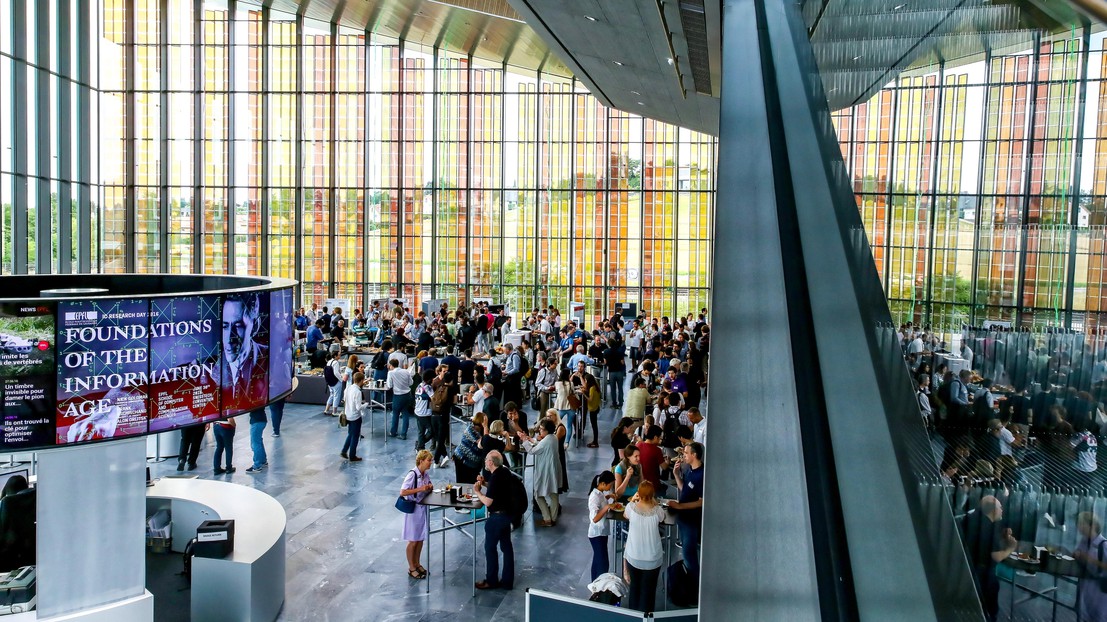 The 20th edition of the IC Research Day brought over 400 researchers, current and past students, professors, staff, representatives of the industry and information theory enthusiasts to the SwissTech Convention Center last Thursday.

Chaired by Professors Rüdiger Urbanke and Michael Gastpar, the exciting day saw Professor Martin Vetterli, the future President of EPFL, welcome the participants with a thought-provoking speech on the state of science today, which was followed by an introduction to the School of Computer and Communication Sciences by IC Dean, James Larus. 
The morning was punctuated by three fascinating keynote presentations, each related to a different area of information theory. Professor Frank Kschischang, of the University of Toronto, and the Editor-in-Chief of the Transactions of Information Theory, began by presenting non-linear processing as a promising solution for information transmission through fiber-optic cables in a response to a continuously rising need for capacity in internet traffic.
Professor Alon Orlitsky of the University of California San Diego, and the President of the IEEE Information Theory Society, demonstrated how the Good-Turing probability estimation formula could provide a key to predicting improbable events. The method, which is popular in areas such as speech recognition, machine translation and data mining, was presented through a historical angle dating back to World War II, and shown to have far-reaching application in sectors such as hedge fund firms, which use fast-trading computer programs to predict stock movements in the financial markets. 
Another major conundrum of the information age, namely how to store the ever-increasing amount of information produced, was addressed by Dr. Nick Goldman, of the European Bioinformatics Institute, using a solution at the intersection of biological and digital sciences. Dr. Goldman proposed to use DNA, with the proven ability to store Big Data, as an effective and highly scalable medium of data-storage. According to Dr. Goldman, this low-cost technique, compared to its alternatives, could be used for storing information reliably during long periods of time, as proven by readable DNA recovered from the remains of pre-historic animals, provided it is stored in a cool, dark and dry environment.
The IC Research Day 2016 concluded successfully in the presentation of over 70 posters demonstrating the various research fields and projects of the school. IC doctoral students showcased their latest research findings to a captivated audience, already calling for the next edition in June 2017.




---