"This training creates a bridge between engineers and industry"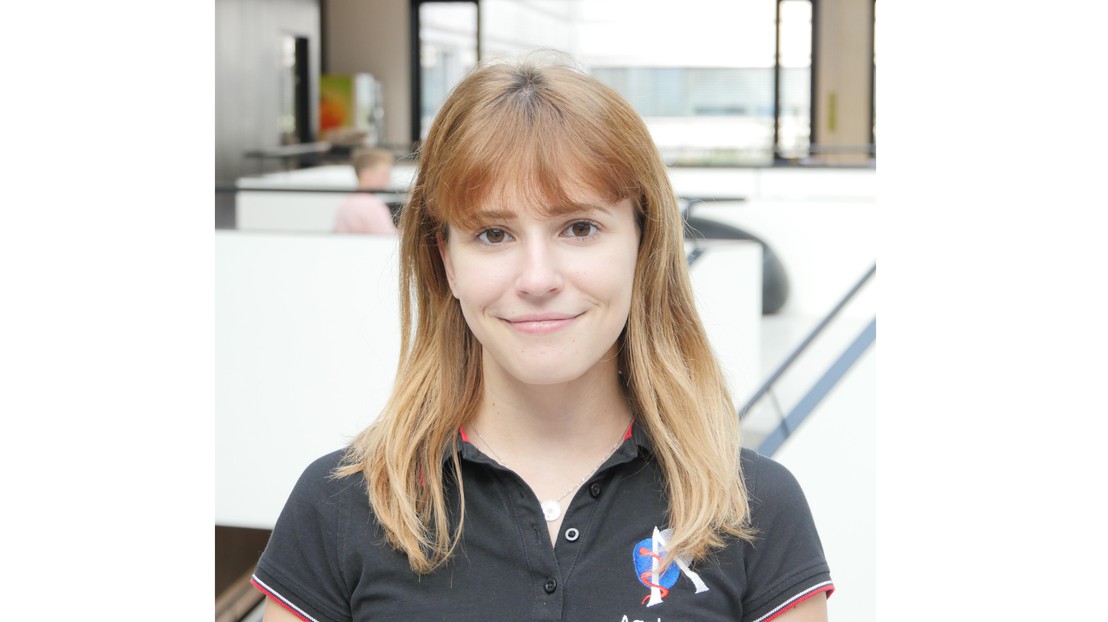 Chloé Carrière tells us why the Master in Management, Technology and Entrepreneurship (MTE) has given her new professional perspectives in the space industry.

"One of the best decisions of my life was to come and study at EPFL. Another was to enroll in the Master in Management, Technology and Entrepreneurship (MTE)". Chloé Carrière has nothing but praise for the course she is currently completing at the College of Management of Technology. The young woman who dreamed of being an astrophysicist since she was a teenager now has new professional ambitions after her very active years as a student on the Lausanne campus.
The 24-year-old is a well-known face in the EPFL community as she is the creator of the Chloé Galatic show: a series of 15 science popularization videos that she hosted in her virtual rocket in a silver cosmonaut outfit for two years on the institution's YouTube channel.
Chloé, who is a French national from Dijon, came to Switzerland to pursue a Bachelor's degree in physics. She is passionate about everything related to space. "In parallel to my studies, I set up two associations (Asclepios and [email protected]) where I did a lot of project management related to space. I felt much more fulfilled there than when I was studying fundamental physics", she explains from behind her computer screen in Rome where she is finishing her end-of-studies internship.
A lot of practice
When it came to choosing her Master's degree, she quickly decided on the MTE. "I couldn't find anything comparable abroad and it was just the right program for me and my ambitions and abilities." Determined to combine her passion with her studies, she obtained a waiver from her professors allowing her minor (the technical part of the course) not to be physics, which she had been studying until then, but space technology.
The Master's program offers subjects that I easily assimilated, because I quickly understood what was being asked of me and had a lot of fun applying it.
The young scientist has a way with words when describing her academic background and future professional career. "I'm learning about space project management. When you see, for example, satellites being sent into space on television, there are engineers behind them to build these spacecrafts. But there are others, including me, who work at the strategic level and lead the teams so that the mission achieves its goals within a given budget and time." These multiple skills, she says, are due to the variety of courses offered, whether in statistics, probability, the basics of entrepreneurship, innovation or finance.
"The MTE Master provides a bridge to industry. It offers subjects that I easily assimilated, because I quickly understood what was being asked of me and I took great pleasure in applying them." Unlike management courses of the same type, the MTE brings together exclusively engineers. A plus for the young woman who appreciates speaking the same language as her colleagues.
Accident halfway through the course
The practical training allowed her to confront her ideas with other students with totally different interests. "It was super rewarding to develop projects together in a multicultural context." Yet, halfway through the academic process, Chloé Carrière almost gave up. It was her steely determination and strong mind which kept her going. In the midst of an examination period, Chloé became the victim of an accident. A piece of glass from a champagne bottle landed in her eye. "Thanks to prompt medical attention, I did not lose my sight. Today, I can only see 30% from my left eye. That's better than nothing," she says without breaking her smile. "I think I'm resilient and I've grown a lot from this experience." The incident will only have set back her studies by six months.
Today, she is looking to the future and the finalization of her internship, which, not surprisingly, she is doing at the European Space Agency (ESA), something she has wanted to do ever since her teenage years. She was hired very quickly; just one week after sending her application, she received a positive answer. The internship has allowed her to put her know-how into practice in the agency's department dedicated to innovation in Rome.
Between her visits to her family in Dijon, her husband in Lausanne and her freelance activity in the field of scientific communication, Chloé the globetrotter has not had time to learn Italian. To decompress, she favors her sporting and artistic passion, pole dancing, discovered when she arrived in Switzerland after many years of high-level dancing. "Once the Master's degree and the whirlwind that goes with it is over, I will take some time for myself, change my rhythm and adapt my trajectory," she says, already with a thousand ideas in mind for her future career.
---