The metamorphoses of a committed student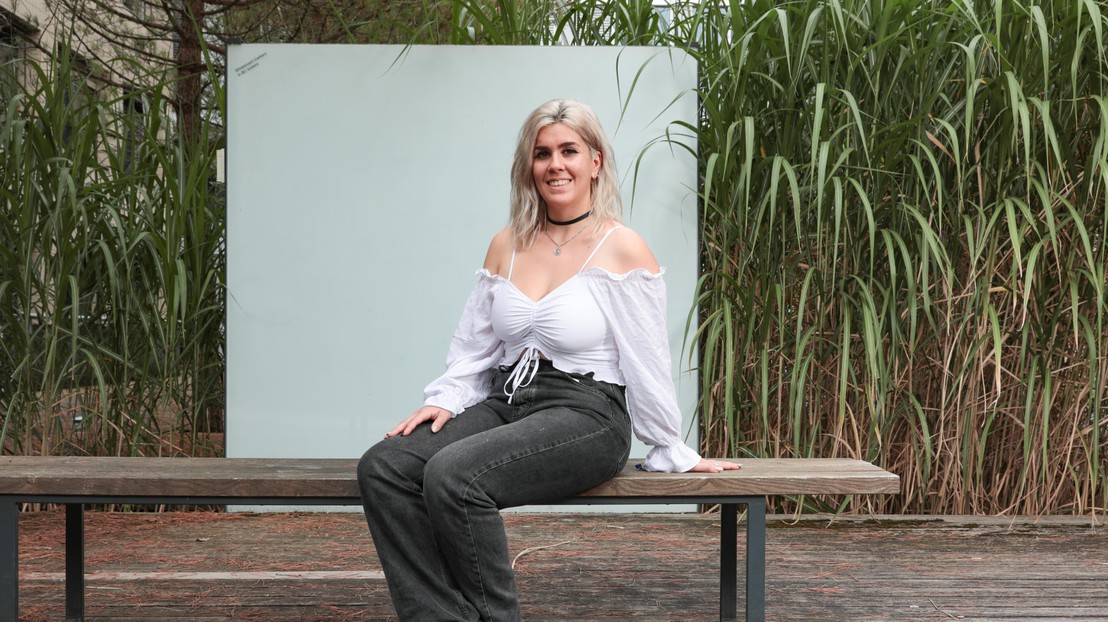 In the five years that she has been at EPFL, Camille Montemagni has changed a lot. A very gifted and adaptable individual, she has gone from being a troubled teenager to playing a key role in protecting the mental health of students – and she has found this volunteer work very therapeutic.

Camille's deep, yet gentle voice betrays her strong and calm demeanor. A serious while compassionate student, she's in her second year of a Master's degree in computer science and a member of EPFL's Harassment Task Force – a vast organization that encompasses several of the School's departments and representatives, and that aims to promote a culture of respect.
In 2020, Camille became the first student to be appointed head of prevention on the AGEPoly Board. She has recently stepped down from this position, handing over the reins to Thibault Touzain, and she now works as a student assistant at EPFL's Equal Opportunities Office. In this role, she coordinates with the Security and Operations Department (DSE) to ensure appropriate prevention measures are set up for specific events such as parties, festivals and other large gatherings.
Two years ago, there were only a handful of people I could talk to about prevention. An organization like the Task Force, with so many people involved at every level, was unthinkable. But now everyone is talking about prevention – things have progressed more than I could've imagined.
Camille is enthusiastic about passing on methods that have helped her cope with the demands of being an EPFL student. Supplying her peers and the School with this sort of advice is more than just part of her job – it's her passion. She is also a member of Safe Space, a support network for the LGBTIQ+ community, of which Camille is a proud member. As a victim of burnout and discrimination herself, she draws on her experience to bring perspective to her prevention work and the help she provides to other people.
Camille reveals that she hit rock bottom during the first year of her Bachelor's degree in 2016. "For the first time in my life, I was failing. The classwork didn't come naturally to me anymore. I spent all my time studying, but still ended up repeating the year. I even thought about dropping out."
The turning point
Camille found herself alone in Lausanne at 17 years old, having left her home in France to study at EPFL. She struggled to make close friends during her first year. She was often unwell and suffered from an eating disorder and anxiety, all of which culminated in a serious incident that finally led her to seek help. She saw a doctor who understood that her problems were more than just physical, and put her in touch with a support network. This was a turning point for Camille – she saw that focusing solely on academic work would not get her through.
"I realized how important it was to focus on my mental health and other aspects of my life, apart from my studies," she says. "In doing this, I was actually also investing time in my studies and my success without knowing it. That's the message I'd really like to pass on to other people. I received so much help at the time, and now it's my turn to help too. So many students feel lost in their first year. They think they're the only ones who feel that way, and that they aren't coping as well as everyone else."
Nothing more to lose
It's the volunteer work that led Camille to where she is today. When she restarted her first year, she told herself that she had "nothing more to lose" and took every opportunity she could to socialize. She discovered a whole new side to studying at EPFL, and then gradually – especially during the second year of her Bachelor's degree – became involved in event-based activities through AGEPoly, CLIC and the Coaching.
In her third year, she joined the AGEPoly Board, initially as head of services. She gradually spent more and more of her time looking at how to protect students' mental health and well-being, focusing on issues such as alcohol, sex and nutrition. This led to the creation of a separate prevention division one year later.
It was as head of prevention at AGEPoly that she joined the Harassment A-Z & Promoting a Culture of Respect Task Force in March 2021. Alongside her prevention work, Camille says she has found pleasure in many other fields, including all kinds of event-based and creative projects involving sound and image. But she dedicates the majority of her time to prevention: "I think about it all the time," she says.
Under the spotlight
"Harassment has been thrust into the spotlight by the #PayetonEPFL campaign in an incredible way, so that's what we are focusing on at the moment," Camille explains. "Mental health is also starting to get more recognition. The pandemic helped bring attention to it, but there's still a long way to go. Once we reach a turning point with harassment – when measures are introduced to prevent it on a day-to-day basis – we can turn our attention to something else."
Camille's concern is that up until now, not enough people have been aware of the support programs available at EPFL, and that these programs have been neither effective nor efficient enough. Therefore, associations are still very much in demand – particularly Polyquity, an AGEPoly committee dedicated to gender-related issues, and PlanQueer, the LGBTIQ+ student association of UNIL and EPFL.
"There's too much to do. It's too much to handle for those who are providing the support," Camille explains. "These are not issues to be taken lightly. Today the associations are adopting professional practices and they end up taking on roles which they shouldn't have. That's what we're fighting for –to get EPFL to understand this and take action. Of course, we're here to help and offer ideas, but these sorts of issues absolutely shouldn't be managed by students!".
Daily catcalls
When it comes to harassment, Camille has experienced her fair share. She says that she's always been attracted to both boys and girls and has been lucky to have never felt ashamed of it. But people's reaction to her walking hand-in-hand with another girl sometimes reminds her that girls can still be treated as sexual objects.
"During my first serious relationship with a girl, guys would stop us in the street and ask, 'How much for the two of you?'," Camille says. "Even here, at an EPFL party, two students who were clearly younger than us asked us about the intimate details of our relationship. That would never happen to a heterosexual couple."
Camille says the fact that she dates both girls and boys is also problematic for people. "We're always so keen to put people into boxes and to categorize them," she explains. Camille also experienced this from being a tomboy as a child and having to fight to prove her femininity as she changed growing up.
Implicit biases and taboos
Camille believes that young people today still hold prejudices against women, even if explicit discrimination is generally a thing of the past. "Many people will speak out against racism or homophobia, but very few are aware of the implicit biases we have. They are so ingrained, but progress is gradually being made," she says. "Each generation has their own battle to fight. In the past, women who demanded the right to vote were labelled as extremists. Today, seemingly simple changes, like using inclusive language, are often perceived as radical."
Similarly, in group projects involving male and female students, Camille has noticed that girls are often left to do the formatting while the boys handle the content: "It's as if boys are the only ones with brains," she says ironically.
Some other issues remain even more taboo. "Many young people today have spoken to their parents about the risks of drinking alcohol or having unprotected sex, but mental health and consent are still taboo topics," Camille explains. "Too many women have felt trapped during sex. In fact, many have never been told that they have the right to say no. And it's the same for men – we teach them all about protection but nothing about consent. It's unbelievable that we are only just starting to have this conversation."
Keeping an eye on the ballot box
In a few days, a referendum will be held in Switzerland on whether to allow same-sex couples to marry. Camille is not eligible to vote, but she is anxiously awaiting the result. She has been surprised by the arguments from those who are against same-sex marriage and believes they are conducting a disinformation campaign.
And what about Camille herself? At 22 years old, does she see herself getting married one day? "I have no idea!" she answers. "I'm aware that I've changed a lot in a very short space of time, so I don't really ask myself that question because I might think differently in a year or so. But the main thing here is equality. Everyone should have the same rights, under the same conditions, and I want my friends to have these rights just like everyone else!"
---
---