The Annen Head Office Project is on Tracés !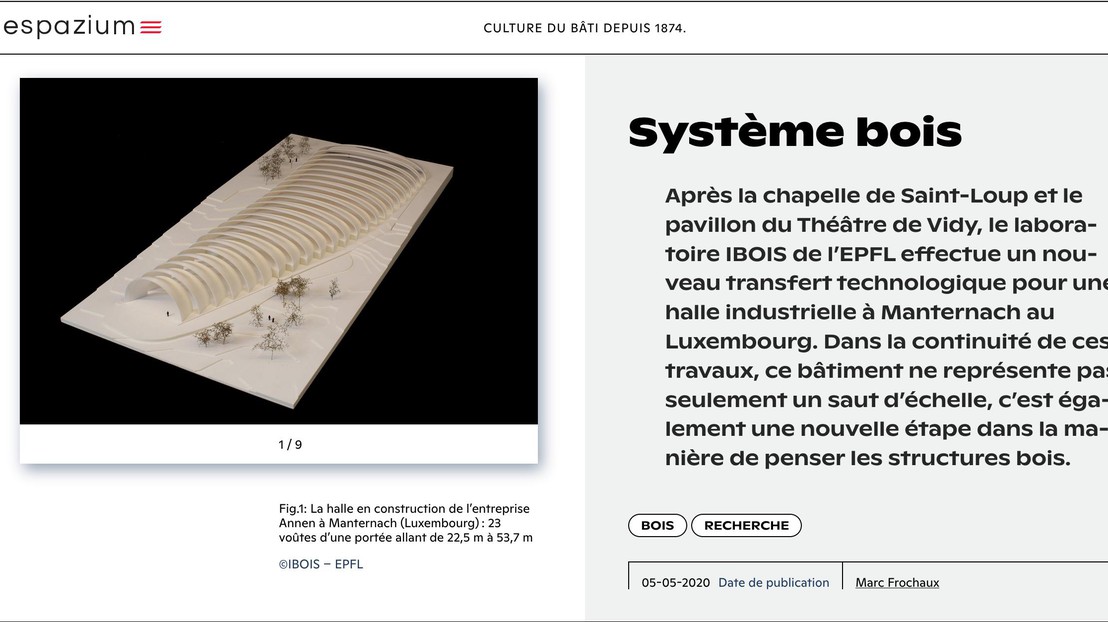 Tracé magazine published a full article on the Halle Annen project in Manternach, developed thanks to a technological transfer from the IBOIS laboratory.

Tracés new issue is dedicated to wooden constructions. Looking at the latest innovations in timber construction, the editor-in-chief Marc Frochaux shares an article to the extra-ordinary project of the Halle Annen in Manternach.
The Annen Head Office Project consists in a series of 23 vaults with spans ranging from 22.5 m to 53.7 m (due to the constraints of the project and the terrain) and constant high and width of 9 and 6 m respectively. The project will accommodate a 5800m2 facility including a timber prefabrication factory space and offices.
Each arch is a double-curved shell structure with a design inspired by Eladio Dieste's Gaussian mansonry vaults. The shell is made of two interconnected layers of timber plates assembled with through-tenon joints. The vaults present overlapping s-shaped cross-sections. The plates are interconnected using 1DOF integral joints between all the plates (vertical and horizontal) to benefit at its most of the locator and connector properties. 
References
Client: ANNEN PLUS SA (Lux)
Architecture: Yves Weinand, Liège et Valentiny HPV
Timber engineering: Bureau D'Étude Weinand, Liège (B)
Civil engineering (concrete): Au CARRé ingénieurs conseils (Lux)
Timber company: ANNEN PLUS SA (Lux)
Technological Transfer: Laboratory for Timber Constructions IBOIS, EPFL, CH
---
---