Teaser: Installation of sculpture Up #4 by artists Lang/Baumann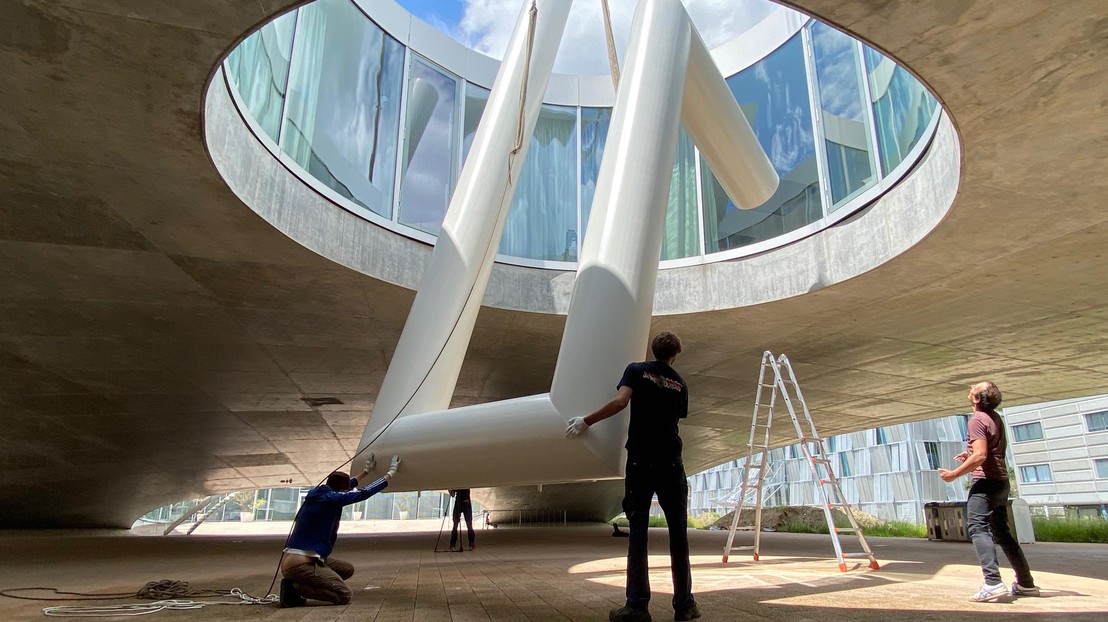 On June 16th, the impressive sculpture Up #4 was installed on the patio of the Rolex Learning Center (RLC) on the EPFL campus. Designed by Bern-based artists Sabina Lang and Daniel Baumann, its apparent lightness (8.75m for 2.4 tons) magnifies the curves of the emblematic building on the occasion of its 10th anniversary.

The sculpture was created exclusively for EPFL within the framework of the College of Humanities CDH-Culture program, headed by Véronique Mauron, and will remain until at least December, 2020.
One of the major characteristics of the Rolex Learning Center is the connection between the inside and the outside, and Up #4highlights this exchange as a kind of extension of the building. It also adds an illusion of imbalance in this very balanced space. Clever and slightly off-beat, this sculpture creates the unexpected in a known and familiar place.
The artists, Sabina Lang and Daniel Baumann (Lang/Baumann), are known for their ephemeral or permanent installations in parks, streets, buildings, museums and art centres, mainly in Switzerland and Europe. Both artists work with a wide range of materials: wood, metal, paint, and inflatable structures and excel in projects that divert familiar objects from their usual use or context.
Don't miss the official launch of Up #4's placement at EPFL, which will take place on the campus in September.
---
---