Sowing the seeds of entrepreneurship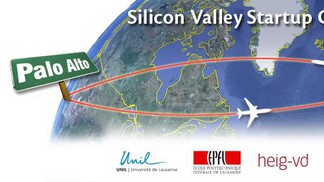 © 2013 EPFL
02.05.13 - Starting in September 2013, young innovators in Vaud will have the chance to cultivate their entrepreneurial spirit in the hotbed of innovation that is Silicon Valley.
Why is there a Silicon Valley in the USA, but not in Europe? One reason is a fundamental difference in the attitude people – especially young people – have towards entrepreneurship. For young Americans finishing up college and thinking about the future, the idea of setting up their own business is perfectly natural. For many of them, "being their own boss" and "building something new" are their foremost career goals. In comparison, Europeans in the 18-25 college-educated demographic group usually shy away from the risk of failure, preferring to seek out secure company positions. This is also true in Switzerland and here in Vaud – perhaps partly because of the attractive local employment market for qualified degree holders.
And yet, Silicon Valley's formidable and growing array of economic and technical success stories illustrates the value that can be created through a culture of innovation and a willingness to take risks. Beyond the big names like Apple, Facebook and Google, the entire region pulses with the energy of hundreds of smart entrepreneurs and small companies that nobody has heard of… yet.
Cultivating this sort of entrepreneurial atmosphere here in Vaud is the raison d'être of the Silicon Valley Startup Camp. The initiative, which will take a group of Swiss students to Silicon Valley, was born out of discussions that took place between Swiss and American scientists, educators, finance professionals and tech-sector market participants. Startup Camp attendees will have a packed schedule of workshops designed for budding entrepreneurs, visits to the campuses of Berkeley and Stanford, "insider" tours of several companies (for example former startups such as Google or Facebook), and meetings with venture capitalists. Perhaps most importantly, they will get first-hand exposure to the entrepreneurial mindset that is so pervasive in the Valley.
The project will be promoted on Facebook (on the Silicon Valley Startup Camp page) and via internal communications at local colleges and universities. Students who are interested are invited to apply (in English) by 21 May; the program is open to Swiss residents currently studying in Vaud. Up to ten students will be selected by a jury made up of representatives from each of the project partners. The first trip will take place from 8 to 14 September 2013.
The Silicon Valley Startup Camp is being run by BCV as part of its CSR activities, in collaboration with UNIL, EPFL, the Haute Ecoles Spécialisées.
TO APPLY:
If you are a Swiss resident 18-25 studying in a university or haute école in Vaud Canton, simply e-mail a one-page personal statement in English, along with two references, to: startupcamp@bcv.ch by 21 May 2013.

A panel of representatives from the sponsoring schools and businesses will select approximately twenty finalists, who will make their pitch in person on 11 June.