Science & You Conference and workshop for PhD Students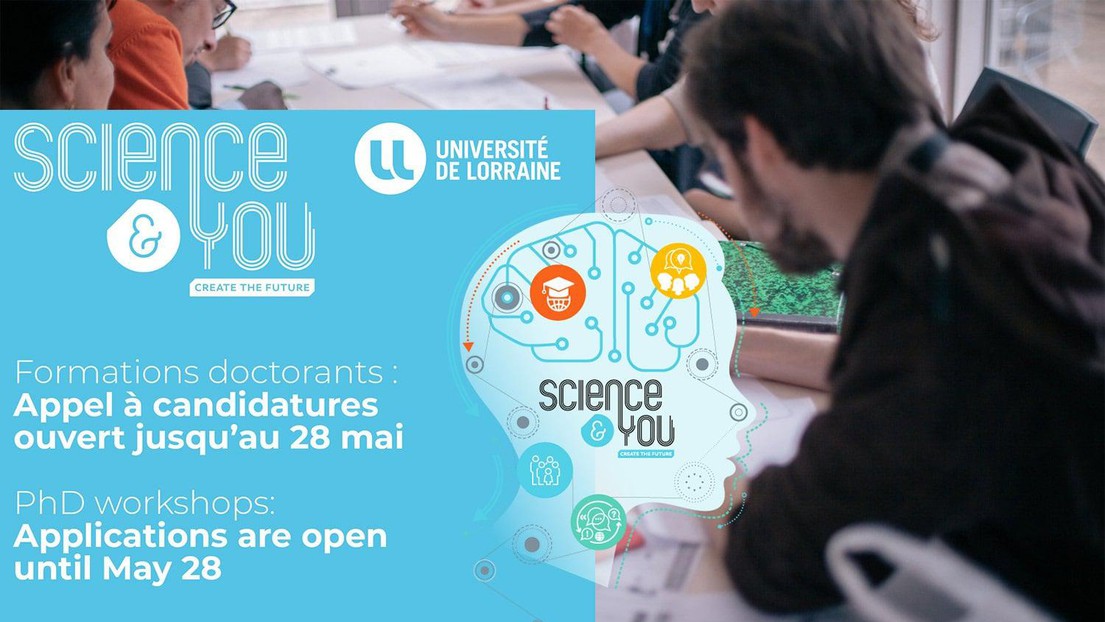 "Science & You" is an international event of scientific and technical culture organized by the University of Lorraine, taking place from November 16th to 19th, 2021, in Robert Schuman Conference Center, Metz (France). The call for application is open until 28 May 2021! 

Science&You is made of four concurrent parts:
•a conference on science culture and its links to society,
•science communication workshops for international French-speaking PhD students,
•a Forum addressed to partners of the event, a true space of exchanges about research and innovation,
•a series of scientific and cultural events for the general public, on Artificial Intelligence.
Along with the main event, Science & You will also offer:
• a research seminar on Artificial Intelligence,
• a national survey on French attitudes towards science.
The Science & You workshop consists of a mediation marathon, offering 15 hours of workshops supervised by pairs composed of a creative person and a mediator, with the same objective: to disseminate research and make researchers aware of the need to open up to the public. It is also a place for networking and exchange between young researchers from all backgrounds. The doctoral students will be welcomed before the conference to be trained in different mediation practices: comic strips, contemporary theatre, dance, object theatre, puppets, escape games or storytelling.

This call is open to all French-speaking doctoral students, regardless of their field of research, their nationality or their experience in science mediation. At the end of the call for participation, 56 young researchers will be selected to participate in the training. The selection criteria are those of diversity and motivation to participate.

The training will take place in Metz from 14 to 16 November 2021. The selected PhD students will continue their awareness of scientific mediation issues by attending the 4 days of the Science&You conference (from 16 to 19 November 2021) free of charge. The accommodation of the PhD students is taken care of for the whole duration of the training courses and the conference.

In the event that health conditions do not allow the programme to be held in person, the conference will be held in virtual format. The doctoral training courses will be postponed until the summer of 2022. 
---
---