Romande Energie and EPFL unveil their urban solar park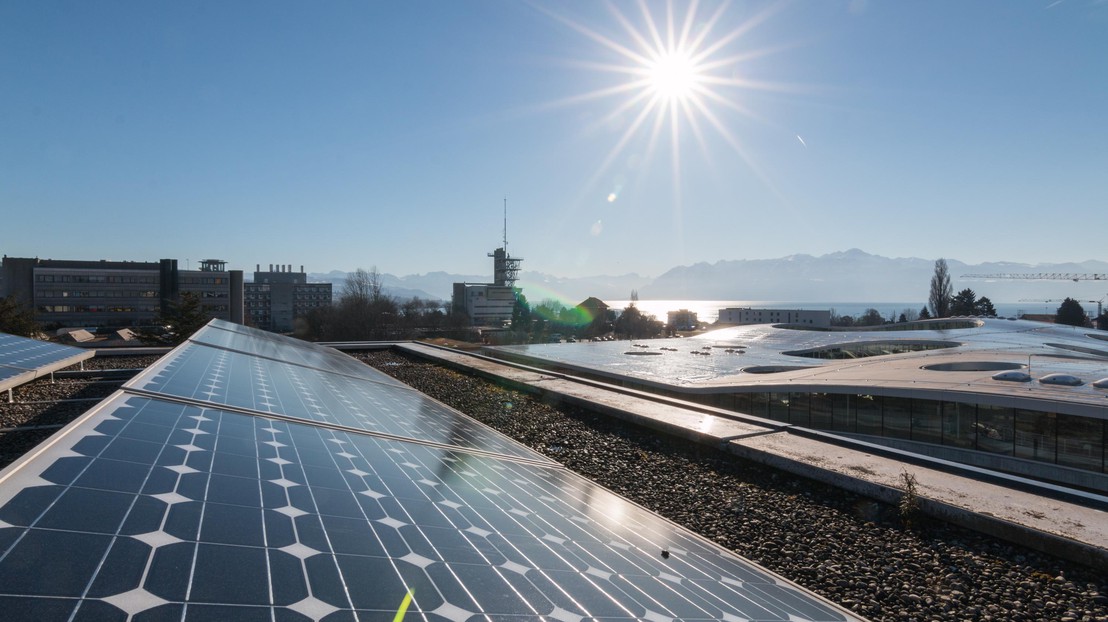 Romande Energie and EPFL have joined forces to build the largest solar park in Switzerland, which is integrated in an existing building complex on the EPFL campus. The solar park, which is being inaugurated today, has a surface area of 15,500 m2 and covers the roofs of more than 25 buildings – it is like a power plant on all the rooftops of a neighbourhood. It will also serve as a major research and teaching laboratory for EPFL.

The project to build the Romande Energie-EPFL solar park was announced in 2009, and construction took place in phases. When it comes fully online today, the solar park will generate 2.2 million kilowatt-hours of electricity per year, which is equivalent to the annual consumption of 610 households. Phased construction meant that the project's technical solutions kept pace with advances in the state of the art and the market. A technological showpiece, this solar park is proof of the maturity of solar energy and its enormous potential.
Promoting renewable energies through an innovative partnership
The partnership between Romande Energie and EPFL goes beyond simple electricity generation. The construction of the solar park is coupled with a strategic partnership focussed on encouraging innovation.
In fact, 15% of the investment is devoted to projects at several EPFL laboratories working on solar energy and to related applications. EPFL is engaged in several cutting-edge research projects in this area. Evidence of them can be seen, for example, in the Grätzel panels lining the western side of the SwissTech Convention Center and in the coloured panels gracing the southern facade of the ELL building – two projects supported by Romande Energie. In addition, a "Romande Energie Solar Lab" will open this summer, allowing researchers to evaluate the performance of solar panel prototypes from their labs in the real-world environment.
Marking the end of construction and the start of 25 years of power generation
The inauguration ceremony was attended by officials from both Romande Energie and EPFL, along with Jacqueline de Quattro, state councilor in charge of the Department of Planning and the Environment, and Roger Nordmann, national councilor and president of the association Swissolar.
"Today we are celebrating the launch of a solar park that, during its lifespan of at least 25 years, is expected to generate nearly 60 million kilowatt-hours of electricity," said Pierre-Alain Urech, CEO of Romande Energie. André Schneider, Vice-President for Resources and Infrastructure at EPFL, said: "Through this project, EPFL is not only breaking new ground but is also showing the real potential for solar energy production in our country. At the same time, EPFL is contributing to the development of new photovoltaic technologies by virtue of the ideal testing ground found on its own rooftops."
The general public will be able to see the solar park up close beginning on 1 July 2015 when a walking tour is opened!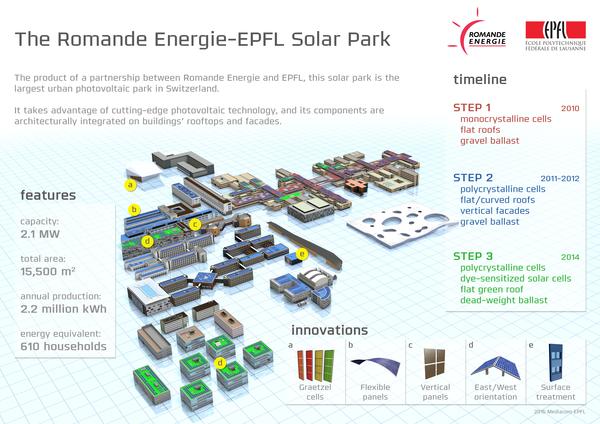 ---
Author:
Communiqué Romande Energie / EPFL
---